>

>

>

SDLC Automation Solution, (Overview) Henry Ford st...
turn on suggestions
Auto-suggest helps you quickly narrow down your search results by suggesting possible matches as you type.
Showing results for 
Categories

Solutions
Topics
Products
Company
Welcome

Categories

Blogs

Quick Links

SDLC Automation Solution, (Overview) Henry Ford style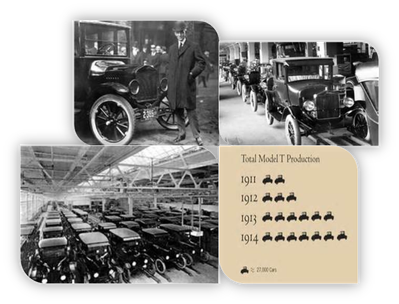 In a previous article "Learning from the past to improve the SDLC process of today" I mentioned that when Henry Ford developed the modern-day, assembly-line over 100 years ago, it was the catalyst for what we now know as our global economy. The key to this revolutionary idea was its simplicity. The concept was to automate the assembly process using the conveyor belt. In other words, Ford didn't address the fabrication of the car; he addressed the process in which the car was manufactured.
In turn he was able to reduce the costs of assembly while increasing the quality of the product. HP has taken the same approach to the application lifecycle development process. Each team within the Software Development Lifecycle (SDLC )process has become extremely specialized and highly effective within their area of expertise. However, this has left them very siloed and ineffective when it comes to the whole SDLC process. HP believes that by building-in automation, integration, real-time performance indicators and reliability into the complete software-development lifecycle process, IT organizations can now focus on reducing costs and improving quality."
Tearing down those IT walls
HP Application Lifecycle Management (ALM) SDLC solution is targeting the four key groups within the SDLC to increase quality as well as speed to market. ( release management teams, design teams, development group and testing teams). This concept is absolutely critical to the future success of IT industry as a complete Center of Excellence while still focusing on driving down the cost across both the development and operations of IT. The simplicity of the answer sometimes gets lost in the complexity of the question. This is why sometimes developers struggle to build clearly superior products and services for clients that clearly need those products and services.
While most groups want to point to the cost of development or poor quality, I would definitely counter with the fact that most IT groups are increasing their budget yearly to address:
Efficiency (time to market)
Operational support (poor quality)
Technology (lack of road map)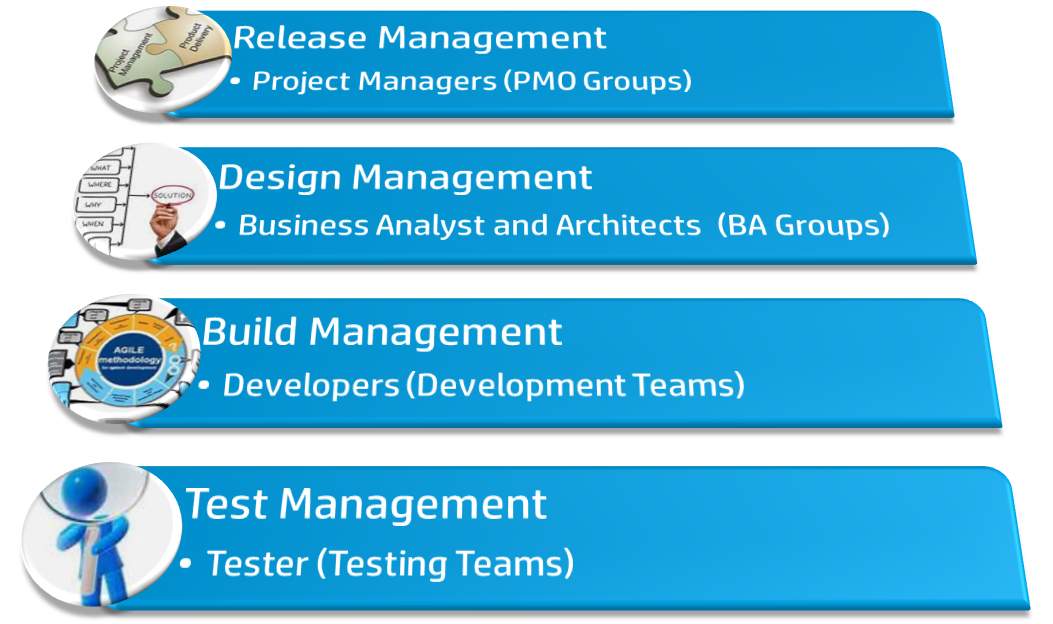 The key in my mind is that we must stop catering to a specific group or team. While it's great to have an advocate for a specific group or tool, has anyone stepped up to advocate for the complete SDLC process within your company? There are four potential groups that can own this responsibility. Keep in mind that release management teams are tasked with juggling time, money and quality. This is also the same group that is in best position to mitigate risk, but is the last to know about issues within the reporting cycle. The design team has the most impact for new innovation within IT; however it uses the most antiquated tools and lacks the capability to track change.
The development group has what some people call the "middle-child syndrome" and they often have issues with shareware—which typically leads to internal process improvement and external chaos. Testing teams tend to have the smallest amount of discretionary funds and even less influence. Typically testing groups have to complete multiple types of testing with short testing windows. These factors require testing groups to adopt a highly process-driven technology and tools.
As you can see there is not a clear group that can take the full responsibility of advocating for the complete SDLC process within your company. This is why I suggest focusing in on four key aspects which specifically target those organizations/teams at each stage of the SDLC process.
All four groups have one thing in common and that is delivering a high-quality product in the least amount of time to the customer. To achieve this goal each group has specific and highly specialized characteristics. The answer to the complex question listed above is to "Tear down the walls of an antiquated and archaic process and replace it with automation and integration"
Where do we begin?
Of course the most logical place to start is with release management by addressing key aspects that concern project management. The PMO groups of most corporations are the only group that has direct access to a capital project's funding, which drives the largest majority of IT discretionary funds outside of operations or support. Release management primarily focuses on project and application management from the aspect a single platform for clear and concise multitier reporting, tracking and management. This drives a single initiative through the SDLC process and offers flexibility to handle one or more customized methodologies/strategies.
To approach the SDLC process project managers need to look at tools such as PPM for their specific needs and not at the overall SDLC process. We must elevate the conversation beyond budgeting and issue management and instead focus in on the more technical aspects of an application under development.
For the most part, most project manager and medium to small corporations will look at the Project and Portfolio Management (PPM) product as too much overhead for their company. Tools like Application Lifecycle Management (ALM) are really what they need to manage the application development process and achieve a clear and concise picture of an application under development.
For larger companies with a centralized PMO office, the combination of tools such as PPM communicating directly with ALM make the perfect combination to drive down costs across projects. They have also driven initiatives as well as application development with real-time reporting and governance.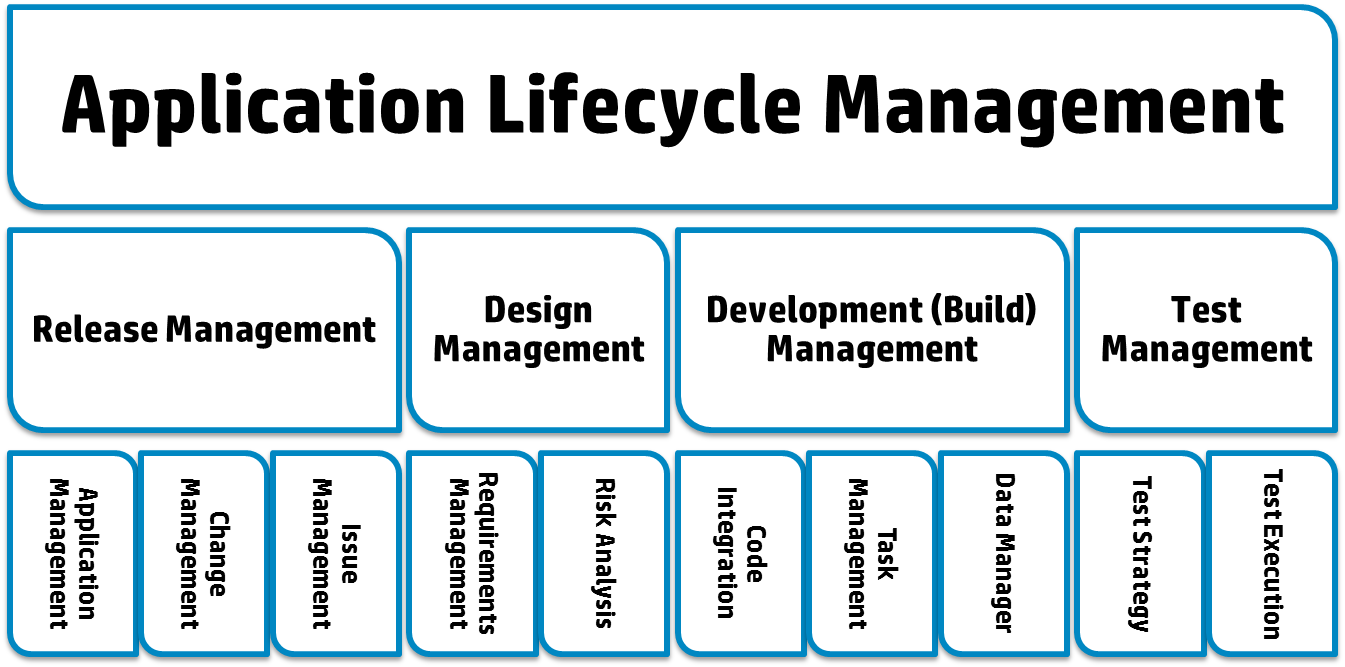 What happens during the phases of the development process?
The design phase is by far one of the lowest tech areas of the SDLC process and by far been the lowest priority for innovation and automation of any single group. (This is based on the typical experience and level of a business analyst.) While design modeling products are being marketed today, for the most part, business analysts/business architects still rely on word documents, mockups, use cases, user stories and spreadsheets.
This phase is also most defects are introduced into the SDLC process—either through poor communications, invalid business rules and most of all ambiguous requirements. The other characteristic of this phase is the project delays or the inevitable scope creep that plagues SDLC process. This is a clear win for ALM against any other SDLC platform on the market today. In a later article I will elaborate on every design and define phase of the software development process.
The development phase and dealing with development groups has definitely been ALM's Achilles' heel since the inception of the ALM platform. However the abilities of Application Lifecycle Intelligence (ALI) and its capabilities integrate with the development toolset, (specifically using IDE) has definitely helped push ALM from the back of the pack into the realm of product thought leadership quadrant. ALI is a complete SDLC solution/platform that uses integration as its cornerstone. We integrate with all most of the popular products in the market today. I personally believe that ALM/ALI is the most aggressive, simplistic and innovative open-ended architecture to automate and link requirements as well as defects/tasks and any other product on the market today. In a later article I will elaborate on the development phase of the project in more detail—please stay tuned.
The test management and testing teams which spawned ALM's innovations in structure are currently undergoing growing pains and experiencing internal issues in a lean SDLC process. They are realizing that the continuous testing and highly specialized expanded roles for testers and testing groups such as security, integration and even the responsibility of unit testing are quickly becoming a reality. The introduction of Application Lifecycle Intelligence, Agile Manager, and the integration of Quality Center with Performance Center into a single suite of products within the SDLC process, has improved the scalability of testing groups. It has also given teams visibility into the complete SDLC process—which will relieve some of the stress of being at the end of a project or going into production and ideas such as continuous integration are just another pipe dream.
In later articles I will talk more about how relieve some of the pressure on test teams by having more visibility within the SDLC process and coping with shorter testing cycles?
HP Software's latest generation of Application Lifecycle Management Intelligence and integration, Quality Assurance, and Performance Validation products are squarely aimed at addressing velocities and quality arch enemies of the typical IT manual process.
To help break-through organizational challenges, HP Software delivers collaborative systems that:
Can be deployed globally
Provide deep, real-time visibility and
Give up-to-the-minute health and associated action-items of complex software projects]
With integrated social technology and full lifecycle traceability, HP Application Lifecycle Management helps ensure that business analysts, project managers, developers and testers can constantly share vital information with each other—in full context.
Quick Tip 1 of Automation the SDLC process:
One way to increase speed to market while reducing the Cost of IT is when test or developing composite application or integrated system teams are constantly face delays associated with limited access to share services and environments, but it doesn't have to be this way. Through the use of HP Service Virtualization, teams are able to build a dev/test cloud of virtualized (or simulated) services, thus removing impediments caused by limited access and providing a smooth path to obstacle-free development and testing.
There will be additional quick tips in later articles.
Streamlining the SDLC process
HP's Application Lifecycle Intelligence process and professional services modular approach to the SDLC process operates much in the same way as Henry Ford's conveyor belt system. Pairing a modular approach to the SDLC process allows us to focus on key deliverables and processes for specific teams within the IT organization. This allows for a great deal of customization while still maintaining a consistency and continuity across the complete SDLC process.
If you would like to know more about this innovative approach to the SDLC process please feel free to contact me at any time. In addition if you are planning to attend HP Discover you can bring your interesting, intuitive and innovative, ideas for the SDLC process to the HP Professional Service Guru Bar. I look forward to seeing you there or you can also contact your local HP sales respective.
This series of articles are based on a presentation given at HP Discover Las Vegas. I encourage you to view my slides from this presentation here. The presentation addresses the process of developing software is a lean development environment with shrinking timelines and growing stress levels.
Look for future blogs on the SDLC Automation process:
SDLC Automation Solution, (release management) Henry Ford style
SDLC Automation Solution, (Design management) Henry Ford style
SDLC Automation Solution, (Development) Henry Ford style
SDLC Automation Solution, (Testing) Henry Ford style

Thanks
@wh4tsup_Doc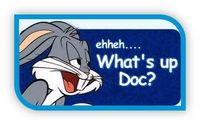 © Copyright 2016 Hewlett Packard Enterprise Development LP