>

>

>

While Software-Defined holds the promise of changi...
Converged Data Center Infrastructure
turn on suggestions

Auto-suggest helps you quickly narrow down your search results by suggesting possible matches as you type.
Showing results for 
Categories

Blogs

Community Knowledge Base

Quick Links

While Software-Defined holds the promise of changing everything – you need to do your homework.
Guest Author:
Helen Tang, HP Converged Infrastructure WW Solution lead
As the WW Solution lead for the HP Converged Infrastructure initiative, I constantly receive feedback and read a lot about how the Software-Defined Data Center (SDDC) movement is going to change everything. Never one to miss a fun discussion about my favorite topic – the data center, I feel it's an opportunity to weigh in on conversation and shed some light on the hype vs. realities of SDDC.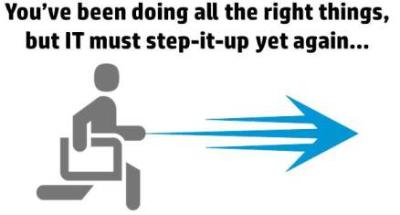 Let's start with what we all know. The ever-increasing demand on IT is growing faster than what you, and millions of other enterprise IT professionals, can keep up with. The gap is constantly widening between what your business needs (and is asking for) and what IT can deliver. New requests come at you often faster than you can handle. We also know the old way of just throwing more disparate technologies at the problem is not the answer. What is needed is a complete full lifecycle approach that's integrated, streamlined, automated, efficient, and simple. The emerging Software Defined Data Center approach definitely holds the promise of getting you there.
In simple terms, the vision of a 'Software Defined Data Center' – or SDDC – is where 'control-enabled' business applications will influence their own infrastructure based on business conditions; in concert with an application control plane that prioritizes all resource requests. The software defined environment is policy-based and controls virtually all aspects of the data center. This increase in IT's ability to execute is driven through automation, orchestration, and application aware APIs at all levels of the infrastructure – with open and hardware-independent management and virtualization software.In other words, SDDC is a promising way to better align IT to the speed of your business with open choices regarding how best to consume and/or deliver IT to maximize business value and IT agility.
Wow, this sounds wonderful. I want one. In fact, why wouldn't everyone want one?
Well, like any 'evolving' trend, the promise (as it often does) runsahead of the reality. Which is another way of saying: "Be cautious" and do your homework. Be very very careful when you hear anyone say that hardware is no longer relevant in our brave new software defined world. Yes, SDDC is very much a major direction for the industry, but getting there will take a while, and there is a lot of groundwork that needs to be laid correctly to ensure you arrive at a software defined data center that meets all your business objectives while maximizing your return on investment.
Let me share some of the key points about the HP SDDC vision and approach.
We started our SDDC solution development years ago and continued to build upon it by extending the proven benefits of HP Converged Infrastructure. The goal remains the same: To enable IT to optimize the rapid creation and delivery of business services, reliably.
The HP approach to SDDC is as much about being real about what must come together to deliver the full value of SDDC as it is the need to deliver value each and every step in your journey. We recognize that implementing a more integrated, software defined approach within IT will be as much a transition for your staff and your organization as for your technology base. Here are a few key points about the HP SDDC approach:
It's about both Physical and Virtual ...
SDDC enables IT to optimize the rapid creation and delivery of business services, reliably, through policy-based automation, from the infrastructure up to the application using a unified view of physical and virtual resources – it is not wand waving and the creation of a magic realm. It is however, enabling application level controls for your entire data center, from infrastructure to operations and management, spanning physical and virtual.
It's about Open choices ...
SDDC aligns business and IT like never before by providing open choices regarding how best to consume and/or deliver IT for maximum agility, security and business value. To be effective, this must be accomplished through an integrated abstraction layer, that is Open Source that does not lock you in to any single vendor's vision. Now the industry has not completely defined this layer yet. HP and other IT industry key players are driving this – as a key piece to the SDDC puzzle. And we intend on making this SDDC abstraction layer rock solid and enterprise ready, even though it comes from open source.
It's about control at three different levels ...
We're talking about control of all functions and resources in the data center from 3 perspectives: the application, the users, and the IT administrator. It's going to be an integrated environment that weaves together control from these three angles, in a holistic, automated and streamlined fashion – this ensures dynamic, efficient control of IT services.
So when you put it all together, it looks something like this: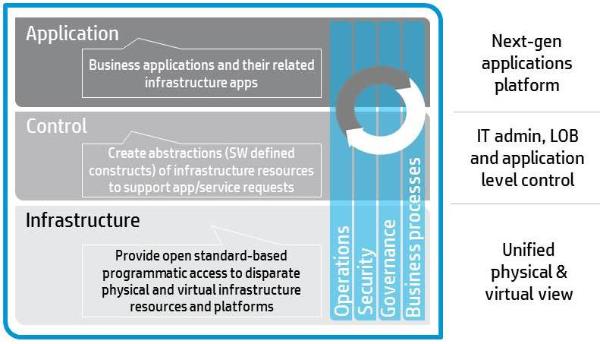 What You Need to Do to Get There
As you can probably imagine, a lot of changes must be set in motion to pave the road to SDDC. For starters, you need to do these three things:
Abstract and virtualize all workloads and activities

Automate all your underlying infrastructure to completely eliminate manual configurations

Migrate all applications to modern operating systems that support application aware APIs
But that's just what you need to do yourself. To get there, you'll also need a lot of help from your strategic vendors. If we're talking about the complete picture, what you really need are:
Software Defined Infrastructure Solutions

Converged Management Software (that span physical and virtual)

Flexible Facilities – yes, don't forget your physical data center facilities

Reference Architecture that is open and extensible

Open Source that is enterprise ready, hardened and fully supported

And very likely, consulting services to help your teams make each of the component transitions in moving to an SDDC approach
Not that I'm tooting my own horn here (and I have every reason to do so), but HP provides some very compelling offerings in each of these areas. For example:
At the core is: The continued leadership with the HP BladeSystem; we're leading the Software defined networking revolution with the largest number of SDN enabled switches shipped; and, we've been shipping software defined storage for 6 years, yes, way before it was cool.
Our HP OneView Management solution is true software-defined management, simplifying the management of both physical and virtual environments. It's simple, it's fast, it's extensible so you can automate the roll-out of hundreds of active/active highly available Virtual Connect configurations at the push of a button ... or deploy a vSphere cluster from VMware vCenter in just 5 easy steps. HP OneView is the only solution that integrates server, network, and storage management together within VMware vCenter.
Moving from custom brick and mortar data centers to modular data centers and PODs, HP gives you the flexibility, efficiency, and intelligence needed for your facilities to plug into the same "matrix" that also allows your facility to be controlled by the admin, user and application.

HP is dedicated to driving an open, extensible SDDC architecture that's able to run the worlds largest and most demanding data centers. From HP Labs down to each of our business units, HP is working feverishly on making this happen. We're thinking big, a 20 million node data center that's all visualized and managed from one place – powered by photonics, memoristors and uber efficient compute units. Yes, you bet, those are definitely in the cards.

And as thousands of customers can attest, HP has strong services credibility and a global force of some of the world's pre-eminent data center consultants. We're here to help drive your strategy, plan your roadmap, and to deploy SDDC solutions on-premise, cloud, and/or as a managed service.
The point of this introduction to SDDC is that the vision of SDDC is exciting, it's real, but it's not fully baked just yet (regardless of what you might hear from other vendors). You need to have the right source delivery model (traditional IT infrastructure - networks, servers, storage, management - and Cloud solutions) ... but it also requires the 'right shaped' organization (people, process, governance, operations) ... and the 'right size' in terms of facilities, buildings, power and cooling, etc. These are all areas HP has been, and is, investing in to bring the SDDC promise to life.
I will explore these areas more in future blogs, but it's as important that you see how to gain SDDC value today, while being poised to build-on and gain-on the promise of SDDC tomorrow.
There will be much more on this topic coming your way ... stay tuned.
Thanks,
Helen
© Copyright 2015 Hewlett Packard Enterprise Development LP