Check out the new and improved HP ProLiant DL360 Gen9 Server
Xani
on
‎10-24-2014
01:31 PM
Have you seen the new HP ProLiant DL360 Gen9 Server?
This industry-leading server platform1 delivers increased performance, thanks to increased memory and I/O expandability, all packed in a dense 1U/2-socket rack design. Continuing its legacy of reliability, serviceability, and continuous availability.The ProLiant DL360 Gen9 server is the ideal choice for space constrained workloads, such as SMBs, service providers, compute intensive workloads for HPC, dynamicdatabase environments, or low-latency and transactional applications, such as those used in the financial services industry.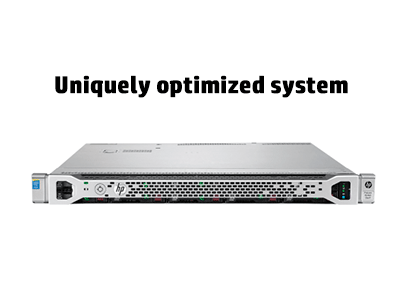 Designed with performance in mind, the HP ProLiant DL360 Gen9 Server leverages the latest Intel® Xeon® processors and supports Microsoft Windows operating systems such as Windows Server 2012 R2. Delivering on the promise of a modern datacenter, modern applications, and people centric IT, Windows Server 2012 R2 provides a best-in-class server experience that cost-effectively cloud optimizes your business. Pairing the DL360 Gen9 with Windows Server 2012 R2 Standard or Datacenter edition provides you with an ideal server solution for businesses of all different sizes and maturity levels.
With up to 18 cores and 24 DIMM slots of HP DDR4 Smart Memory and 1.5TB of max memory2, the DL360 Gen9 server offers improved performance and efficiency. In addition, you get a greater choice of networking with the embedded 4x1 GbE plus, HP FlexibleLOM, PCIe standup 1GbE or 10 GbE adapters, which provide flexibility of networking bandwidth and fabric so you can adapt and grow to changing business needs. Finally, support for the newly redesigned HP Flexible Smart Array or HP Smart SAS HBA Controllers allow you the flexibility to choose the optimal 12 Gb/s controller most suited to your environment.
Purpose built for a dense performance, the DL360 Gen9 paired with Windows Server 2012 R2 provides you with a choice of features and functions for today and tomorrow.
Learn more about HP ProLiant Gen9 and Microsoft Windows Server 2012 R2 and be sure to join the Coffee Coaching community on Facebook, Twitter, YouTube, and LinkedIn
1 Q114 IDC WW Quarterly Server Tracker, May 30, 2014.
2 Support to be available by early 2015.