HP introduces the new ArcSight Logger 5.3 (Universal Log Management solution)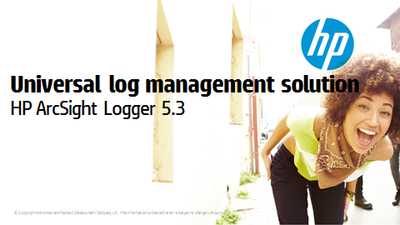 HP introduces the new ArcSight Logger 5.3, an update to industry-leading universal log management solution that unifies searching, storing, and analysis of logs, events and flows to a single-pane-of-glass. The new Logger 5.3 has been enhanced overall from the way it is deployed and used. A unified installation and configuration process helps you to deploy log management solution in only minutes, and start to see the log analysis in the first 15 minutes.
The Logger 5.3 can now be deployed on Windows-only shops through Windows support through the Hyper-V image. This Hyper-V Logger 5.3 helps you to deploy Logger on Windows 2008 R2 and start collecting logs without knowing any Linux commands. You get the best of usability and reliability of log management solution.
The hundreds of enhancements in the product enable users to handle and manage raw and unstructured data even better. The raw data is enriched with rich metadata, ad-hoc, while searching. The auto-completion during search query helps you search anything easier and faster. With Logger 5.3, you can manage your search jobs centrally for enhanced performance from your Logger deployment.
Along with Logger, the Connector Appliance is also enhanced for rapid deployment and easier management of Connectors. The SmartConnectors are also updated by HP improving the breadth and depth of collection. So with all these enhancements, now, you can deploy Logger in minutes on ANY environment, deploy Connectors easily and collect logs, events, and flows from more than 315+ distinct log generating sources, manage Connectors easily, and manage both structured and unstructured data efficiently with better search tools, and better inline dashboards, and drill-down reports. This is truly the BEST universal log management solution in the market.
Experience the all NEW Logger 5.3 completely FREE for 6-months using the trial version at www.hp.com/go/HPLogger