The HP Security Research group details Iranian cyber capabilities
markpainter
‎02-24-2014
10:44 AM
- edited
‎07-07-2015
09:19 AM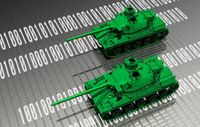 The HP Security Research group (HPSR) has done some incredible work in detailing the cyber capabilities of Iran. It's fascinating stuff. Cyber warfare is simply the best way for smaller nations or groups with a malevolent agenda who could never compete with a superpower military to level the playing field. And while Iran might not have the tanks and aircraft to match the western world, they definitely have the keyboards. Their hacking acumen firmly places them as a first tier cyber power.
While the western world continues to negotiate with Iran over its nuclear ambitions, the cyber cold war is in full swing and shows no signs of abating. In light of our own security failings, the findings of this briefing should give anyone ample food for thought to what happens if that cold war becomes hot. Remotely conducted warfare, whether by drone, robot, or keyboard, is simply the way of the future for big and small alike. And at some point, we're going to have to get serious about cyber security in the same way we did about missiles and technology in the last cold war.
To view the full report, follow the HPSR Threat Intelligence Briefing Episode 11, February 2014 link.
To read the HPSR's own blog post on the matter (which summarizes the full report), visit here.
Or to see some of the other recent groundbreaking analysis conducted by the HPSR, read the HP 2013 Cyber Risk Report.