Just released-HP BSM 9.23! See how the improvements will help you
haimsnir
‎12-19-2013
01:57 PM
- edited
‎06-09-2015
12:30 PM
By Haim Snir
I am very excited to share the latest and greatest in our new Business Service Management (BSM) 9.23 with you. We have worked incredibly hard to bring this release to you.
We focused on four main themes for this release: Mobility, Simplification, Resilience and Content.
For Mobility we have a new RUM Mobile Health Report that supports iOS, Android and hybrid applications. This is an exciting new report in a new UI technology which gives the user an overview and allows for troubleshooting of mobile applications. This ability increases performance and availability and includes a map and breakdown according to devices, carrier, OS and application version. I encourage you to read more on this blog.
Also for BPM, we adopted the latest mobile recording capabilities with a new Vugen and with the newest QTP\UFT version (11.52). We are also introducing a new over-the-air (OTA) Monitoring service so you can get insight into Carrier performance and availability via HP SaaS Global point of presence (Ask for a free 30-day evaluation of BAC Anywhere )
For Simplification here are some of the highlights of the improvements we made:
- In OMi Monitoring Automation, the workflow configuration has new parameters for ease of use.
- We simplified the Service Health Top View 'Top-down Isolation Flow" by adding a smoother movement, hover to display and transition animations.
- MyBSM 'read-only pages' for easy cross-IT collaboration – Administrators now have an option to disable view selection and filters, effectively "locking" the display of MyBSM pages.
- BPM transaction can be invoked directly from Service Health for fast performance and availability validation.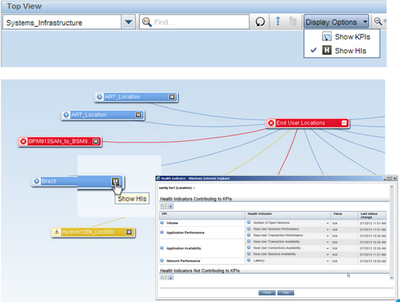 We also performed a ton of work focused on Content. This includes:
New BSM Connectors for Oracle Enterprise Manager and Zenoss
New Management Packs for hybrid environments (physical, virtual and cloud)
New SiteScope Big data monitoring and a new BPM Monitoring Solutions for CRM and E-Mail Cloud service providers. You can learn more about this here.
We continue to invest in Resilience and Quality where we updated the support matrix, Certified SLM to Support 2,000 SLAs, added 'Event Age' in the OMi Event Browser, added SNMP v3, and added OMi Event into System Health. We also added many usability improvements, enhancement requests and other fixes.
You can review the full list on the 'BSM 9.23 what's New' document(requires HP Passport login).
BSM Installation Instructions
For complete instructions on how to install, see the relevant documentation:
New customers should follow the instructions in the BSM 9.23 Installation Guide.
Existing customers installing BSM 9.23 on top of an earlier BSM 9.2x version should follow the instructions in the BSM 9.23 Patch Installation Guide.
Existing customers upgrading from 8.x, 9.0x, or 9.1x should follow the instructions in the relevant BSM 9.23 Upgrade Guide:
BSM Support Matrixes
BSM system requirements and support matrix information, including BSM server and database support matrixes as well as support and compatibility data for BSM data collectors and other BSM components, is now located in the separate BSM System Requirements and Support Matrix document.
Information about supported integrations between BSM and other HP or third-party software is now available on the HP Software Solutions and Integrations portal. Every integration that is listed includes a description of the integration, support matrix, and links to integration configuration documentation.
All Manuals can be found on the HP Software Product Manuals web site. (requires HP Passport login).