Monitor end user experiences outside the firewall – Get a free trial of HP BPM Anywhere
haimsnir
‎06-10-2014
12:36 PM
- edited
‎06-09-2015
12:16 PM
We just announced some exciting news at HP Discover: our cloud service that lets you rent Points of Presence around the globe has a new name! What was previously called Business Availability Anywhere (BAC Anywhere) is now BPM Anywhere, and it now comes with additional scripting services.
If you're accountable for ensuring that critical applications meet their uptime requirements, you know all too well some of the challenges of application performance monitoring outside the firewall. Typically it requires setting up a vast infrastructure of external points of presence, managing contracts with outside vendors or integrating third-party monitoring tools.
HP BPM Anywhere synthetic monitoring service makes it easy — and now you can try it for free.
HP BPM Anywhere provides you the flexibility to extend your on-premise Business Process Monitor solution to the HP Software as a Service (HP SaaS) Cloud.
HP BPM Anywhere is delivered by HP SaaS, which maintains Points of Presence (POPs) in key geographic locations around the world (see the current list below), leveraging an extensive global network of large ISPs. The collected data is sent to your HP Business Service Management (BSM) platform, allowing you to correlate the end-user experience from both inside and outside the firewall.
Also new is the BPM scripting services available with BPM Anywhere to help recording and maintaining VuGen and TrueClient scripts. With BPM Anywhere, BSM customers get the HP SaaS engineering team's 12 years of experience developing end user monitoring of production applications.
Expand your monitoring capabilities - Click here to start a free trial of HP BPM Anywhere.
Get all the details about how BPM Anywhere works in the data sheet.
Watch a short demo video of how you can get started (Note: BPM Anywhere was formerly called BAC Anywhere)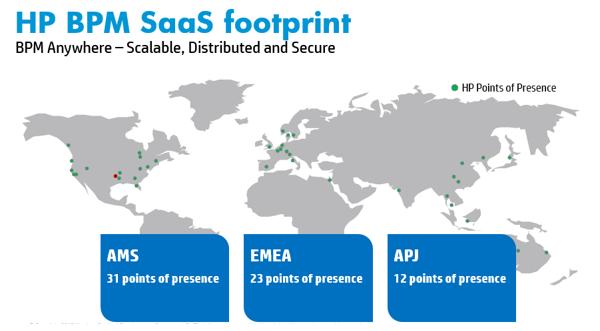 Here is a complete list of the locations currently available for monitoring in the HP SaaS Cloud:
Americas
Atlanta, GA (AT&T)
Boston, MA (Qwest)_
Boston, MA (AT&T Wireless)
Boston, MA (Savvis)
Boston, MA (Verizon)
Charlotte, NC (AT&T)
Chicago, IL (AT&T)
Chicago, IL (Verizon)
Cleveland, OH (AT&T)
Dallas, TX (AT&T)
Dallas, TX (AT&T Wireless)
Dallas, TX (Qwest)
Dallas, TX (Sprint)
Hamilton, NJ (AT&T)
Los Angeles, CA (AT&T)
Los Angeles, CA (Verizon)
New York, FL (AT&T Wireless)
New York, NY (Savvis)
New York, NY (Verizon)
Newark, NJ (Qwest)
Orlando, FL (AT&T)
Orlando, FL (AT&T Wireless)
Philadelphia, PA (Paetec)
San Francisco, CA (AT&T)
San Francisco, CA (AT&T Wireless)
San Jose, CA (Qwest)
Santa Clara, CA (Verizon)
Seattle, WA (AT&T)
Seattle, WA (AT&T Wireless)
Seattle, WA (Savvis)
Seattle, WA (Verizon)
Tacoma, WA (Sprint)
Toronto, Canada (Telus)
Vancouver, Canada (Telus)
Washington, DC (AT&T)
Washington, DC (Savvis)
Washington, DC (Verizon)
EMEA
Amsterdam, NL (Colt)
Amsterdam, NL (Verizon)
Brussels, Belgium (Verizon)
Brussels, Belgium (SkyNet)
Copenhagen, DK (Colt)
Frankfurt, DE (Verizon)
Haifa, IL (Netvision)
Helsinki, Finland (Song Networks)
London, UK (Easynet)
London, UK (Webfusion)
London, UK (Interoute)
London, UK (Telecity)
London, UK (Verizon)
Madrid, Spain (Telefonica)
Milan, Italy (Verizon)
Muenster, Germany

(Deutsche Telekom)



Muenster, Germany (Globe)
Munich, DE (Colt)
Oslo, Norway (MCI)
Oslo, Norway (Telenor)
Paris, France (Colt)
Paris, France (Telecity)
Paris, France (France Telecom)
Stockholm, Sweden (Verizon)
Zurich, SW (Cable & Wireless)
APJ
Bangkok, Thailand (CAT Telecom)
Bangkok, Thailand (LoxInfo)
Beijing, China (China Unicom)
Ho Chi Minh City, Vietnam (Viettel)
HongKong, China (PCCW)
Jakarta,Indonesia (Telekom Indonesia)
Manila, Philippines (Globe)
Melbourne, Australia (Optus)
Mumbai, India (Tech Mahindra)
Shanghai, China (China Telecom)
Singapore, Singapore (SingTel)
Sydney, Australia (Optus)
Sydney, Australia (Pacnet)
Taipei, Taiwan (HiNet)
Tokyo, Japan (NTT)
Visit the HP BPM website for more information about end user experience monitoring