Find out what over 1/3 of the world uses to power their private and hybrid clouds…
I just got out of the HP Converged Cloud press conference here at HP Discover and there are some exciting enhancements that HP has announced specific to enterprise and service provider customers looking to build and manage cloud services. After almost 2 years, HP now has over 850 CloudSystem customers in 75 countries…that's over 1/3 of the world!
It's no wonder customers around the world, from healthcare to transportation to service provider industries, are delivering services across private, public and hybrid clouds built on HP CloudSystem.
PosteMobile powers their private cloud deployment in a dev/test environment, where CloudSystem helps in the deployment of new projects and in the pre-launch validation of new services.
Osiatis, a European IT service provider, was able to reduce the deployment time of new services from 3 days down to 40 minutes, while increasing customer agility with HP CloudSystem.
Brighton and Sussex University hospitals NHS Trust, one of the UK's largest teaching Trusts, provides more than one million people with general hospital and specialist acute hospital care. With HP CloudSystem, they are able to provide a fully-integrated and virtualized platform, supporting the delivery of on-demand cloud services across two sites.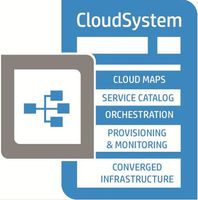 With today's announcement, HP has extended their offering to include:
Now manage even more cloud resources in the same way with support for KVM virtual machines.
New options to broker service delivery across multiple clouds from a single, integrated point of control
Continuous delivery integration accelerates app deployment by automating application and infrastructure roll out from development to production.
High availability technology provides uninterrupted access to the cloud management platform
Automatically provision and enable security threat protection when users order cloud services.
In addition to these announcements, there are now over 200 HP Cloud Maps to provide the fastest way to create repeatable new application services. In Q4FY12, HP announced HP CloudSystems optimized for VMware and Microsoft. Your customers can now order factory built, pre-integrated solutions that combine HP Converged Infrastructure, virtualization software from VMware, and cloud management from HP.
What does that mean for you?
More choice…more confidence… more consistency…
-cynthia
For more information on HP CloudSystem, visit www.hp.com/go/cloudsystem
Follow me in Twitter @HPCloudSystem
Join the Cloud Advisors discussions on LinkedIn