What's new with HP CSA3.2? – Heterogeneous Support
collinchau
‎06-05-2013
12:10 AM
- edited
‎10-26-2015
08:09 PM
Vendor lock-in has been a persistent challenge faced by IT organizations since, well, the beginning of IT. In the emerging cloud era, most enterprises are rightfully wary of repeating past mistakes. But cloud really should change all that, by offering enterprises a much more open ecosystem of platforms and tools.
The IT industry is clearly in transition today, with the usual jockeying for position among technology vendors. At HP, we are committed to enabling enterprises greater choice and flexibility in both cloud platforms and technologies that they select to meet their business needs.
Enabling New Resource Providers through HP CSA 3.2
We do so via the ease in which we enable new resource providers for enterprise consumption today. Which is why the recently unveiled HP Cloud Service Automation (CSA) 3.2 comes with an expanded number of resource providers, supported natively on the platform (Figure 1). Specifically, HP CSA 3.2 adds KVM and Microsoft Hyper-V to its roster of hypervisors (joining VMware), and it now also includes Amazon EC2 as a public cloud resource, in addition to HP Public Cloud Services.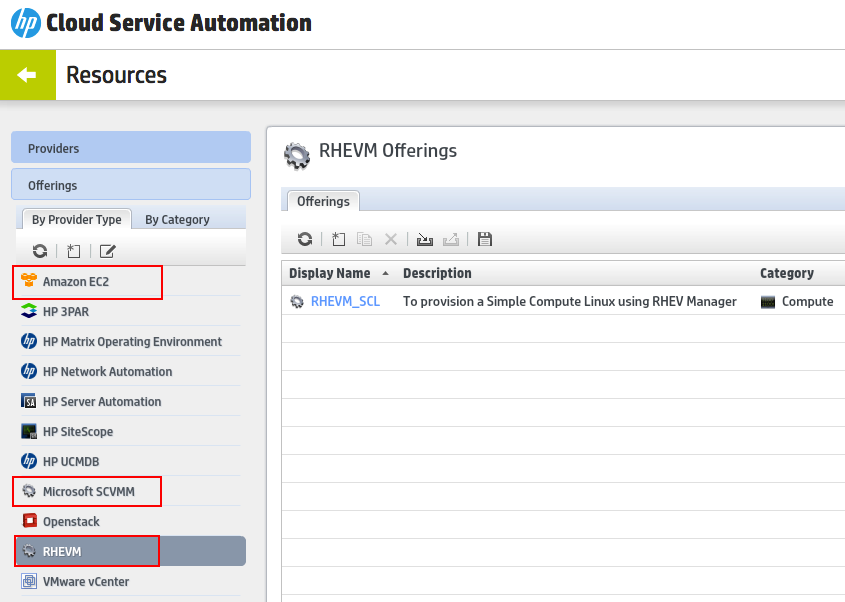 Figure 1
HP CSA's open, extensible architecture allows enterprises to integrate any type of private, managed and public cloud resources as well as traditional IT systems. This architecture provides administrators with a single platform for creating, provisioning and managing cloud services. Read more about HP's approach to heterogeneous support in an earlier post, "How many sources does your Cloud come from?"
Built-in workflows
The benefit of these new resource providers (now available as standard) is that automated workflow actions are built-in for service designs. Administrators simply inputs the proper account information, instead of having to custom create them. In some cases, administrators merely downloads a template from HP Live Network for further content integration. Providing businesses the ease to which resource providers are easily consumed and content integrations consistently refreshed.
As detailed in the blog post "Streamlining Cloud Service Design Using HP Cloud Service Automation," Service Designs are delivered with a lifecycle that defines different transition states, allowing administrators to sequence workflows to perform service actions (Figure 2). This integrated, highly automated lifecycle management system significantly simplifies cloud service provisioning and monitoring for IT and the line of business.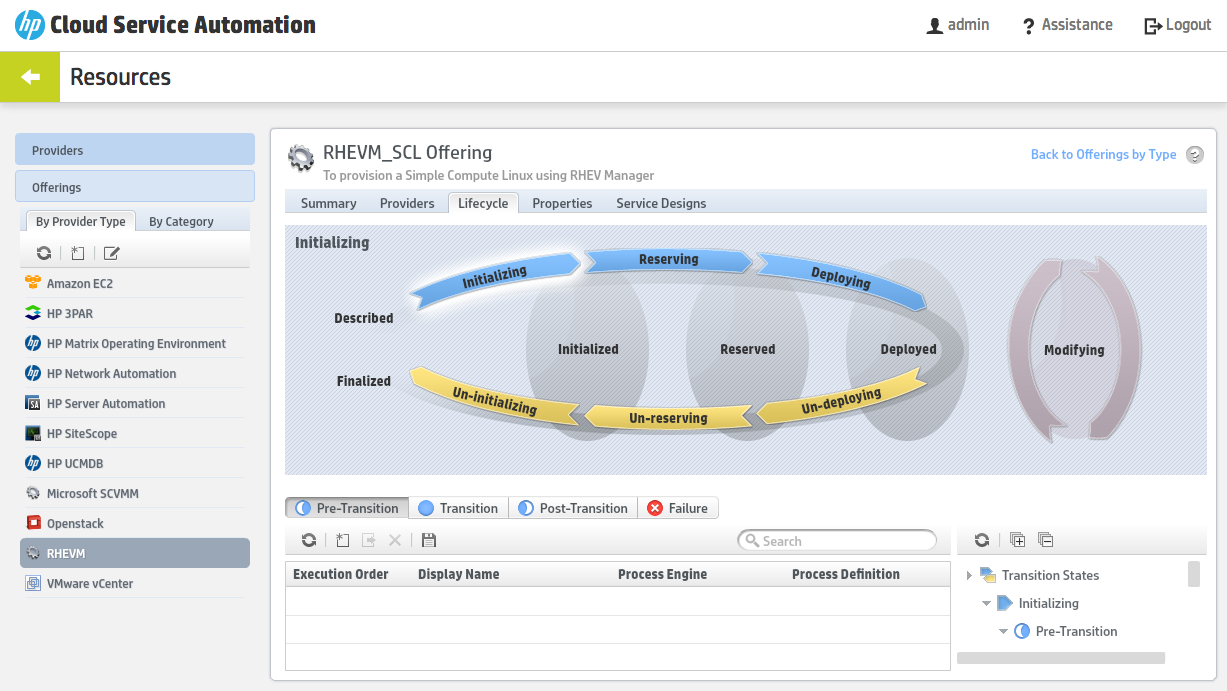 Figure 2
Learn more about HP CSA 3.2
HP continuously adds more resource providers based on customer demand. If you have preferred providers that are not available as standard, administrators can still easily create a new resource provider in HP CSA or just download and import ready and relevant templates. Meanwhile, templates with new integrations to HP and non-HP products are constantly being made available by HP CSA through the HP Cloud Solutions Lab team.
To get more information:
Explore the product page for HP Cloud Service Automation 3.2,
Watch a short video on how HP Cloud Automation delivers an end-to-end automated infrastructure to application services
View our recent webinar on the Top Five 2013 Data Center and Cloud Automation Success Strategies, featuring insights from IDC Research VP of Enterprise Systems Management Software, Mary Johnston Turner
Now is also your chance to hear and see more of HP Software's new set of Automation, Orchestration and Cloud Management solutions live in action at HP Discover in Vegas. Register today and save $300 off conference pricing with code DSCVRSW. Feel free to stop by the lounge of HP Software's community partner Vivit Worldwide at the Discover Zone. Ask Vivit for details on how you can win some fun prizes – including the new HP Slate7!