From Automation to Orchestration : A Roadmap to Starting the Transformation
collinchau
‎12-16-2013
12:05 AM
- edited
‎10-23-2015
01:23 PM
by Muneer Mubashir, Director Product Marketing (Automation and Cloud Management)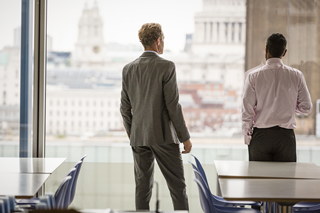 If you're like most IT executives, you know that something's got to be done about the costly, resource-intensive complexity of your IT data center. How are you otherwise going to effectively respond to rapidly changing business needs? You need to enable more agile and flexible IT environments with lower management costs.
According to research by IDC, IT management staff represent an estimated 68% of total IT operations costs in 2013, up from 38% in 2000. It should come as no surprise then that an IDC survey also reports 51% of enterprises have prioritized improving IT staff productivity and operational efficiency between this year and 2015, with 26% of respondents aggressively investing in automation and orchestration.
"IT teams need to find ways to work more effectively to better empower end users and reduce day-to-day operational complexity.", IDC notes. But how to get started?
Automating repetitive maintenance tasks
Data center automation and orchestration solutions such as HP Operations Orchestration help to control costs and reduce human error. Based on customers' successful deployments, there are a few common automation strategies that deliver quick and proven ROI.
The first step is to free up IT staff so they have time for more innovative projects related to process orchestration. On a daily basis, IT operations must react to critical alerts but they must also allocate significant resources to address routine maintenance tasks. Automating these repetitive tasks eliminates manual steps and lowers the cost for performing routine maintenance.
8 tasks to automate
Here are some of the most common maintenance tasks that customers typically target for automation first:
Restarting simple services
Rebooting file and print machines
Changing passwords
Creating users
Reviewing log files
Rotating log files
Predict disk space growth trends
Performing data backups
Extending Automation to Orchestration
But automating maintenance tasks is just the beginning. From this starting point, organizations can begin tying automated tasks together into orchestrated processes in order to further reduce the cost and complexity of IT operations. Two categories of IT operations that are particularly ripe for process orchestration are Incident Management and Change and Configuration Management.
1. Incident Management
It's not uncommon for large enterprise data centers with thousands of servers to generate
thousands of alerts almost daily. Automating incident resolution significantly accelerates the triage, diagnosis, and repair process of common alerts and incidents.
Here are a few examples:
Basic application and infrastructure health checks — This is a first line of defense by automating the lengthy process for checking all interconnected infrastructure components to determine problematic links, including health checks for servers, services, networks, databases, configuration and connectivity, as well as scanning log files for error conditions
Automatic triage and resolution of high volume alerts where human diagnosis is impractical — Critical alerts always take priority, which usually means other noncritical reports never get addressed. Automate processes to eliminate false alerts through basic verification, perform basic self-healing through automatic server reboots or services restarts and capturing and documenting all resolutions for incident and problem analysis
Server farm reporting and troubleshooting — When an alert is triggered in a clustered or virtualized server farm environment, it can be difficult to track individual servers. You can helps alleviate some of the burden of managing a large server environment with process orchestration to proactively report on the health of server farms, dynamically triage and diagnose servers and provide consistent procedures for adding, removing, starting and stopping servers and virtual machines
A fully integrated alert and incident management system can also help alleviate manual operation of monitoring and ticket tracking in network operating centers. The goal should be to implement a seamless system that includes automatic ticket creation, update and closure, as well as automatic acknowledgement, updating and closure of enterprise security management (ESM) alerts.
2. Change and Configuration Management Orchestration
As you add applications, servers, and devices in a data center environment, the sheer number of changes that need to be propagated grows significantly. Automating change and configuration management eliminates the inconsistencies and misconfigurations that often plague data centers. Some of these automation strategies include:
Gracefully removing servers from clusters for provisioning
Orchestrating end-to-end change management processes from generating initial change requests to effecting configuration changes in production environments
Scanning servers to see if they meet compliance requirements and documenting compliance failures
A big step toward the cloud
Executing a systematic program to automate tasks and processes will go a long way to reducing the costs and complexity of managing your data centers. But these are also important strategic steps toward preparing IT Operations for the future of cloud-based IT service delivery.
Learn more …
If you like up to read more about the cost benefits of various automation strategies, download the white paper, "Accelerate ROI: IT process automation and orchestration"
Find information about HP Automation and Orchestration here.