What to do when "Software eats the World"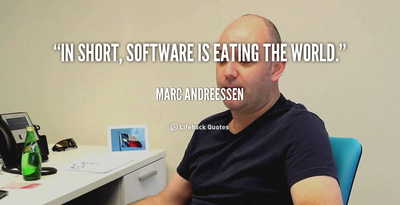 Guest post by Mike Zuber, VP of Go-to Market Sales, HP Software
In 2011 Marc Andreessen was quoted as saying "Software will eat the world". In 2011 this quote was catchy for its imagery but if we are honest most people probably just had a quick laugh and moved on.
Fast forward three years and with the advent of big data, cloud, social and the ever-increasing importance of security the quote should take on new meaning. First, let's acknowledge the forward thinking Andreessen as he nailed it. With that done we can sit back and ask ourselves what "Software will eat the world" means to us and our organizations.
I see three critical elements we should all consider when "Software eats the world".
1- The importance of the developer
When I sit back and think about this quote from a strategy perspective the first thing that jumps out at me is the "developer" becomes more important (and frankly critical) to the organization. Because after all it is the developer that builds the software.
So as we look to build the next great thing, create new applications or just look to enhance legacy applications at our organizations, let's make sure we remember that the folks on the assembly line of software manufacturing are the developers.
If you are like me and believe the importance of developers is increasing then we need to step back and ask, "How can I encourage them to do more while still protecting the enterprise and the production applications?" It should go without saying that the average developer wants speed and wants their stuff in the hands of end users or customers ASAP.
2 – Captain, I need more speed!
Simply knowing or appreciating this fact is not enough. You have to ask yourself what you are going to do different to help the developers accomplish this goal. Good news! I believe the answer is easy. Your goal should be to empower the developers to test their code early, often, and in a way that mirrors production or the end-user experience across all platforms and networks. To break this down, think end user testing, load and performance testing executed by the developer whenever they want to. Watch this video to learn how Shunra Network Virtualization can help.
3- Making sure it all works together to make beautiful music
The last element that jumps out at me is the need to orchestrate the data center or lifecycle of development to production to maximize your IT operations management. Think about all the technology, resources and checks and balances your organization has in place. What if you could automate and integrate all of these and short the lag time to get something in the hands of end users by 50 percent? You can learn more by reading this white paper.
Software is more prevalent today and is only increasing in both amount and importance. It is time that we step back and appreciate the developer community, deliver assets that help them while protecting the enterprise and we need to be looking for every avenue to Orchestrate the entire development lifecycle.
Download HP Operations Orchestration Community Edition here to see what is possible when you coordinate and orchestrate your data center.
Join us at HP Discover
At our semi-annual HP Discover event enjoy the many specially prepared topics on automating, orchestrating and transforming your IT environments. Join session DT3249 and learn how you could change the way you manage your organization in 4 simple steps. Next, swing by the immersive demo experiences over at the Automation and Cloud Management booths. We look forward to seeing you there!