My journey to HP World—Saudi Arabia
Guest Post by Ferhan Kilical, HP Software Senior product marketing manager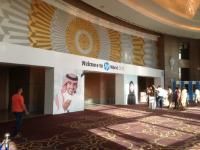 I was honored to be invited to the biggest HP Saudi event of the year—HP World on September 14th and 15th in Riyadh. Saudi Arabia is the second country (after China) that hosted this prestigious event. More than 6500 IT professionals were invited to the event and attendance was high. The keynote address was delivered by HP's Ziad Mortaja and George Kadifa.
During the event we had a chance to meet with major financial institutions, telecommunications, manufacturing companies (from the private and the public sectors), along with government, educational institutions and strategic partners. We heard their challenges and success stories and advised them on ways to meet these challenges head on.
There were six main topics for the breakout sessions:
Converged Cloud
Information Optimization
Security
Application Transformation
Mobility
Software Defined Data Centers
All the sessions were full and for some additional seats needed to be added. There were demos and booths in the Exhibit Hall area all throughout the day. At the Exhibit hall, we talked to numerous HP customers and shared HP's tools (software included) and vision. There was a lot of interest from the businesses who are planning to use HP tools in the future—a good sign of the robust opportunity in the region.
The session on Application Transformation was one of the full sessions. The first day we had Agile Manager, ALM and Service Virtualization sessions that I presented with Mike Eckhoff. We answered many questions and received very positive feedback from the audiences. There appears to be major interest for Agile Manager and Service Virtualization in the area.
The second day we had six additional sessions. The day started with a presentation on CDA (Continuous Delivery Automation) discussing the challenge of providing continuous application delivery to the hybrid cloud, and bridging the gap between development and operations. The presentation was followed by a session on the payment and cards solutions that HP provides to its customers. The morning session concluded with a presentation on our project management tool Project and Portfolio Management (PPM) and its integration into other key HP software products like Application Lifecycle Management (ALM), and Quality Center (QC) to create an end-to-end software delivery platform.

Getting a closer look at the impact of women in the workplace and the role of IT in this transition
In the afternoon of the second day, I was invited to attend a meeting with the PNU (Princess Noura University) IT department and later a meeting with the President of the University along with George Kadifa, Khaled Alsaleh, Ernest Sales, Gabi Zedlmayer, Alaa Saade and Sarah Alsalman. These incredible meetings gave me the opportunity to see how our solutions improve organizations in the real world.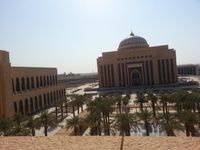 Princess Nora bint Abdulrahman University is a women's university in Saudi Arabia. It is one of the ten largest universities in the world and is the largest university only for women. It is composed of 32 campuses and a new library capable of holding 4.5 million volumes along with integrated digital systems to the world's major digital libraries. The campus is an educational mecca that houses a wide variety of colleges including medicine, computer science, early childhood education and others.
Within the campus the students can take a metro (11.5 KM) and reach to different colleges without worrying about the hot climate conditions and traffic. All the students have access to e-mail, Internet and web-based activities just like any other university in the U.S. and western countries. The PNU campus is spread over eight million square meters with 800 buildings and ten gates between Riyadh and the university campus.
The second meeting was with Dr. Huda the President of the University and Fawzia bint M. Abalkhail Vice Presidentand the CIO Dr. Nasser. I attended the meeting with HP SW Vice President Mr. George Kadifa, Gabriele Zedlmayer, Rafa Brugnini, Ernest Sales, Khaled Alsaleh, Alaa Saade and Sarah Alsalman.
We discussed a major issue in the workforce of the area. Women comprise 58 percent of Saudi Arabia's college students but only 14 percent of its labor force is females. 85 percent of employed Saudi women work in education, 6 percent in public health, and 9 percent in the public sector. The major challenge for these well-educated women is finding jobs that foster opportunities. We talked about the possibilities of HP tools helping women in education and helping provide skills to assist in getting them employed in the IT industry.
We had three proposals for the group:
Gabriele Zedmayer's web based entrepreneur on-line training for female students
HP tools general training in the universities proposed by Ernest Sales
I also suggested a HP web-based ALM/test tools training for female students
We were offered to take a tour of the PNU by Dr. Huda. Gabi Zedlmayer and I happily agreed to join the tour. We met with one of the faculty members of the Art College and had a tour of the campus with her. The campus offers all kinds of services to the students and has all the degrees available. The computer labs were fantastic!
They were using HP desktops and laptops which made us all very happy. We saw a lot of students who were studying or working on their assignments in the computer labs, running around in white coats which we guessed were from the medical school and carrying big book bags. They were all bright and eager to learn. The architecture of the campus is very contemporary with a touch of Saudi and Islamic culture. When our tour ended we faced the traffic which was like any other big city in the world, at peak hour!
HP World was an amazing opportunity to meet with organizations in the area and hear about their specific needs. It was also encouraging to address the issue of women in the workforce. It will be interesting to see if the decisions made and actions taken today have any impact on the future of working women in the Middle East.
To find out other ways to think about Service Virtualization, I encourage you to read my other blogs here: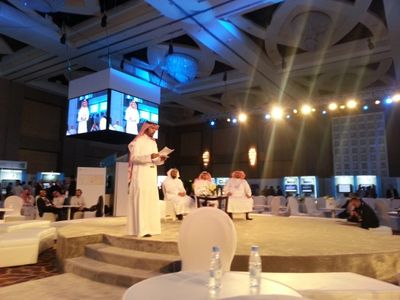 Ferhan Kilical has over 20 years of experience in Information Technology with expertise in application development and testing as a Test Manager, Test and QA Director. She is currently a Sr. Product Marketing Manager at HP, supporting Service Virtualization and ALM tools. Prior to this role Dr. Kilical was a Technical Lead for Application Life Cycle Management (ALM) tools in test and test management for Professional Services for Federal and Department of Defence organizations. Previously she was with Northrop Grumman as a Technical Fellow for testing, test automation, SOA and Agile methods and Test Manager for major mission critical enterprise systems supporting the warfighter. Ferhan brings a wealth of knowledge with HP test tools and domain knowledge to assist customers in understanding, applying the tools and achieving successful software development and deployment in modern application architectures in hybrid/cloud, mobile and web systems. Her multi lingual capabilities and exposure to many cultures is an invaluable asset for HP Marketing.
Ferhan has received many awards for team and technical leadership in Northrop Grumman, ESRI, and the Catholic University of America as well as achieving Six Sigma, Black Belt, Security + and many well-known IT certifications.
She is an evangelist where she has presented many times at HP Discover, STP, Mercury World User Conferences, Gartner and Star East. She has a Master's degree in Systems Engineering from George Mason University and a Ph.D. in Quantitative Analysis & Assessment in Environmental Planning.
She lives in Washington DC metro area with her husband and enjoys boating on the Chesapeake Bay.