Comparing your team quality to that of the world at HP Discover
What is "faster"?
Speed doesn't just apply to hardware, networks and operation. It applies to the way we develop and manage the software development process. In the past, faster meant you had to assume a level of risk—this was simply an equation of time*cost = acceptable risk level.
For people like me (who need a written equation) this is formally written as E=Mc2 or 1+1=2. Recently someone transposed the signs and now the equation is (time/budget)*repeat = Brand market strategy. Despite popular belief, I believe this equation can work if you are willing to embrace the latest technology, processes and tools on the market. You also have to take a closer look at the way to ingrate and automate the way you develop software to make it all work.
What is "Less"?
HP has embraced the concept of reducing its carbon footprint on the world, while increasing the size of storage and the access speed of this data. The best part? We have achieved all of this access for less money.
I personally believe that CIOs are looking at reducing their economic footprint on the company bottom line while improving client satisfaction scores. Businesses are also looking to increase revue by incorporating technology using things like social media.
If you are curious how your company compares with others globally I encourage you to check out this report. Thanks to HP @qacooper and Capgemini you can compare your company quality origination to the world (1500 leading Companies) using the World Quality Report App on Itunes today or
You can download the full report here.
How is this all possible?
Today George Kadifa, Executive Vice President, HP Software addressed how HP is making this all possible on the HP Discover center stage. He highlighted the following projects—which we are really excited about:
Tools like Propel which is a modern portal, service catalog,
Pronq by HP, a new website to download, read about and share information about HP software applications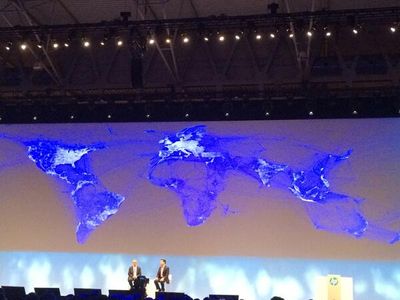 Kadifa was also joined on stage by Timothy Campos, Facebook CIO where Campos discussed how the social network is being powered by HP Vertica. Because of Vertica, Facebook is able to analyze data faster to help drive revenue by matching the user to ads.
Campos also displayed this map which displays how the world is connected because of Facebook. Every light on this map represents each user. It was quite impressive to see this view of the world.
Stay tuned to find out what else I learn here in Barcelona. I am so excited to tell you about everything I am seeing.
You can download the full World Quality report here

Thanks
@Wh4tsup_Doc