Searching for ITSM tools? 3 reasons why you should look beyond the help desk
IT has gone through some amazing shifts in the past decade and IT organizations need to look beyond the traditional help desk when searching for ITSM tools. The demand for user-centric IT is increasing with no end in sight. Mobile devices, BYOD, cloud, Software as a Service (SaaS) and social media are all changing how users relate to technology and how technology relates to the world.
Just throwing more functionality and capabilities on the help desk cannot live up to this new demand and the related challenges it brings. IT organizations need to look at fresh ways to meet business and users expectations. I can think of at least three reasons why IT organizations want to look beyond the traditional help desk in search for ITSM tools.
Achieve a higher level of maturity to deliver and support high quality services
According to industry analysts most of the IT organizations are on maturity levels 2 or lower on a scale from 1-5 with 5 being highest. An ITSM solution needs to support you on your maturity journey. It needs to support the entire service lifecycle, from initial demand to retirement of a service, covering the tool (technology) aspect as well as the people and process aspects. Without having a clear understanding of the maturity – from where you are to where you want to go – it is a challenge to get real business benefits out of your ITSM.
Become an efficient IT organization
Efficiency comes as a result of a higher level of maturity. You increase, for example, the number of successful changes. But there is more to it - efficiency also comes with automation; by selecting and integrating the right tools. An example here would be discovery, which can build the foundation to understanding the impact and risk of planned changes which helps you with software compliance.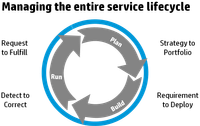 Transform into a user-centric IT organization
As I pointed out in the beginning – cloud, mobility and social media are a reality. They have changed the way IT adds value to the business for IT compared to years ago. IT needs to look at IT value streams to prove value now. There are four essential IT value delivery streams that can be identified across industries, each covering a dedicated set of activities. Together they create tangible value for IT users and the business.
What does this all mean for the ITSM tool?
When looking beyond the help desk, What capabilities should an integrated ITSM solution come with? It should come with online collaboration and mobile support but also with simple ways to configure and maintain your processes and workflows that are among the low-hanging fruits. But then again there is more. I believe that it should also include, for example, automated incident remediation by integrating your help desk with a monitoring solution.
Last but not least, you may want to look at the licensing and delivery options an ITSM tool provides. These range from standard on-premise licensing, over a subscription based model, to software-as-a-service (SaaS), ideally all from a single business partner. This way you can pick the model that best suits your needs.
Did the above catch your interest? Would you like to hear more about this? Then, do not miss this BrightTALKTM webinar on July 23.
In the meanwhile, for more information about the IT value stream model look at the power of IT value streams and download the related ebook.
Have a nice day,
Michael Pott (@michaelpott)
Join the conversation …
About the Author
michael_pott
Michael Pott is a Product Marketing Manager for HPE ITSM Solutions. Responsibilities include out-bound marketing and sales enablement. Michael joined HP in 1989 and has held various positions in HP Software since 1996. In product marketing and product management Michael worked on different areas of the IT management software market, such as market analysis, sales content development and business planning for a broad range of products such as HP Operations Manager and HP Universal CMDB.