KPI approach to Service Management Strategy with HP Executive Scorecard
Strategy begins by looking at the vision and mission of your organization to create policies and plans for building a business-focused culture and mindset throughout the company. HP IT Executive Scorecard provides key performance information that business executives need to improve IT-related decisions to show continued improvements in IT Service Manager execution. Such key performance information provides strategic direction for the provision and delivery of services through the service lifecycle. HP IT Executive Scorecard in HP Service Manager provides organizations with the right information at the right time to make accurate decisions to optimize business processes.
Organizations face many key challenges and implications to when evaluating IT decisions. Decision makers need accurate and timely information to optimize business processes for multiple stakeholders, each with a plethora of different requirements and purposes. HP IT Executive Scorecard provides an extensible data model for key areas of IT performance, out of the box metrics and a Key Performance Indicator (KPI). By combining these with ready-made data across the HP IT Performance Suite of IT management solutions, IT Executives are able to:
Define goals and objectives aligned with company strategy
Cascade KPIs to drive a performance culture
Demonstrate IT performance to leadership leveraging standardized performance-driven metrics
Make decisions faster by quickly viewing planned vs. Actual expenses alongside other performance data
Improve business agility with customized scorecard views to meet different user needs
HP IT Executive Scorecard in Service Manager automatically gathers metrics from across your IT systems to build key performance indicators. It provides scorecards and dashboards for managers to show insights in business-friendly formats that can help convey the value of IT.
Before the HP IT Executive Scorecard, IT had to pull together reports using manual processes that were slow, difficult and offered little or no governance. With HP IT Executive Scorecard users can automate information gathering from diverse sources, consolidate it, link it to a service hierarchy and present it in near real-time.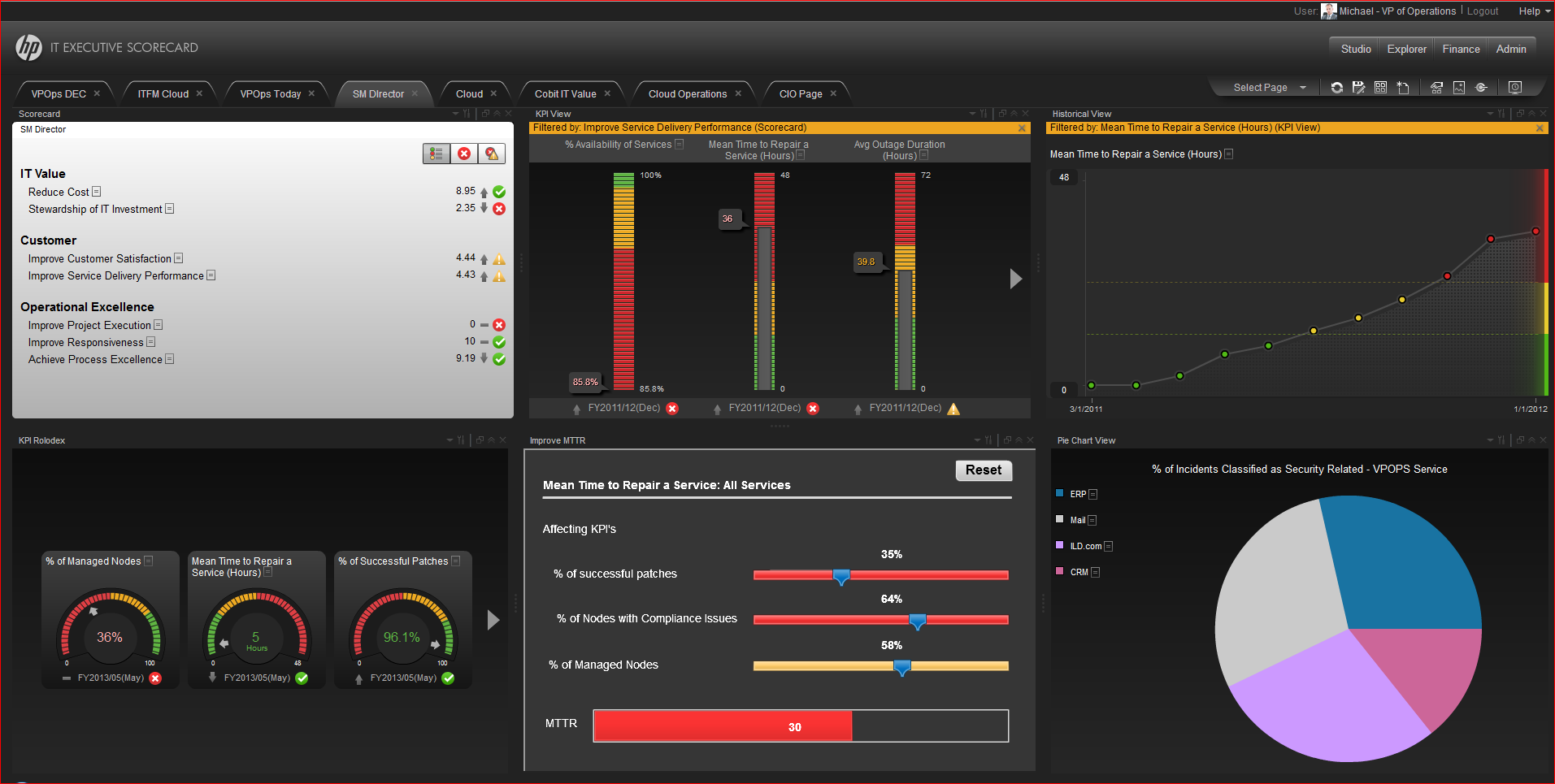 Metrics and KPI's are a source of valuable information for any organization and HP IT Executive Scorecard can provide an abundance of benefits including:
Demonstrating organizational maturity
Driving and changing the behavior of the organization and staff
Discovering opportunities for improvement
Justification for change and the cost of change
By using HP IT Executive Scorecard, a user can examine KPI alignment to customer requirements and request clarifications regarding poor KPI alignment. Users can also gain deeper insights in KPI performance by investigation and determine best practices that must be adopted to achieve dramatic improvement in the accelerated agility of KPIs. The KPI architecture supports continuous business improvement by allowing leaders to analyze and implement sustained improvement in the performance of their operations.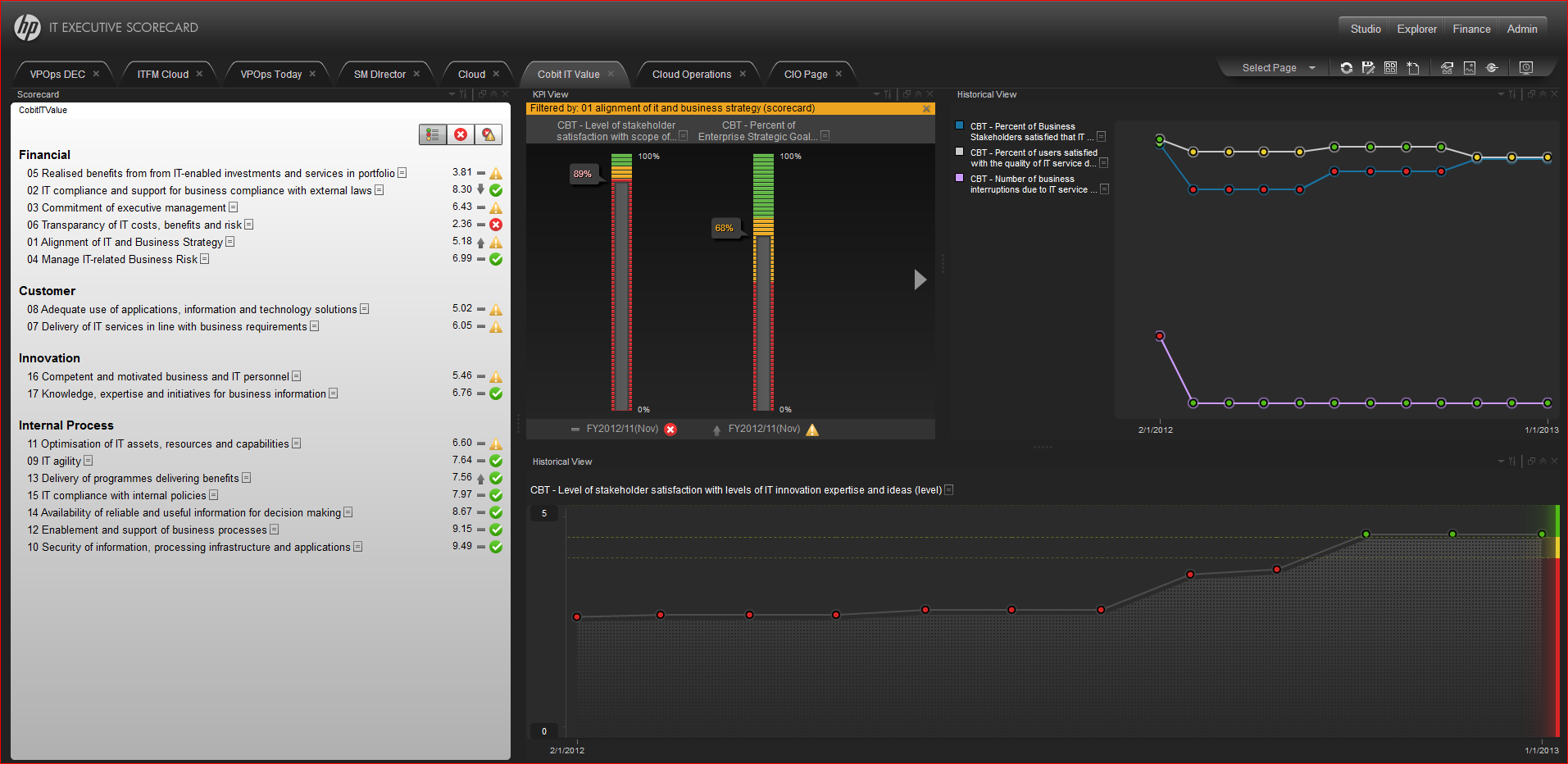 In addition to these considerations, HP Executive Scorecard helps to measure IT performance which enables:
Organizations to validate strategies that are or are not working
Multiple Stakeholders can direct improvement action
Information is no longer managed in silos so that individuals can intervene with corrective action
Users can justify decisions with facts and data
Service Manager solution automates and decreases the effort required for the data gathering process so that leaders can view performance and problem areas in real time. This allows negative trends and performance to be addressed early so that organizations can continuously evaluate and govern cost, risk, quality and the time-to-value of IT application services and processes. For a more detailed view of a use case scenario, be sure to view the HP IT Executive Scorecard Demo Digital Book.
Are you currently using HP Executive Scorecard &/or HP Service Manager? We want to know what you think! Leave a comment here or tweet us at @HPITSM @SyscoKid87

For all things ITSM please visit hp.com/go/itsm
For all things Executive Scorecard & ITFM visit hp.com/go/xs

About the Author
Mark E. Bradley
Software technical product manager for HP Strategic Analytics--Executive Scorecard (XS) and Financial Planning & Analysis (FPA). Generate technologically sophisticated IT Performance Analytics use cases in collaboration with fellow HP product managers and design partners. Liaison for XS & FPA product managers, customers, and development team. Draw upon experience and industry pulse to influence the definition of product strategy and roadmap. Primary implementer of POCs for key elements of the company's offering including executive scorecard, financial planning and analysis, and process analytics..