Management-free Knowledge Management is possible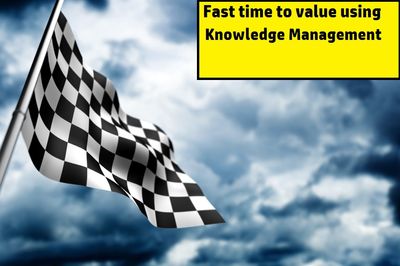 Management-free Knowledge Manage is truly possible.
Yes it is.
How does it work?
Wait… before we get ahead of ourselves, let's start from the beginning…
First, if you are already managing the IT knowledge in your organization in a mature manner, this post is not for you. You may find this post more useful instead.
If you think that Knowledge Management is a good idea, but unfortunately your organization is not there yet – this blog post is a great place for you and you'll find yourself in a good company. The truth is that many companies are not managing Knowledge today. For example, ITSMf reported a score of 2.6/4 for the adoption of Knowledge Management in 2013, as opposed to 3.7/4 for Incident Management. Yet the vast majority of the companies we talk with want to eventually get there.
We discovered this maturity barrier through our discussions with customers, and as a result we challenged ourselves to come up with a new approach. We want our customers to start benefitting from Knowledge first, and put your mind and efforts into managing it as you go.
This sounds good, how does it work? How can I benefit from knowledge without having to manage it?
You can download HP Service Anywhere here to start your Management-free Knowledge Management journey

Accelerator #1 – Standard Knowledge, out of the box
Service Anywhere comes out with out-of-the-box knowledge articles that capture solutions to common IT questions and challenges. It means that both your end-users as well as your agents can take advantage of these freely available articles, without you having to manage those.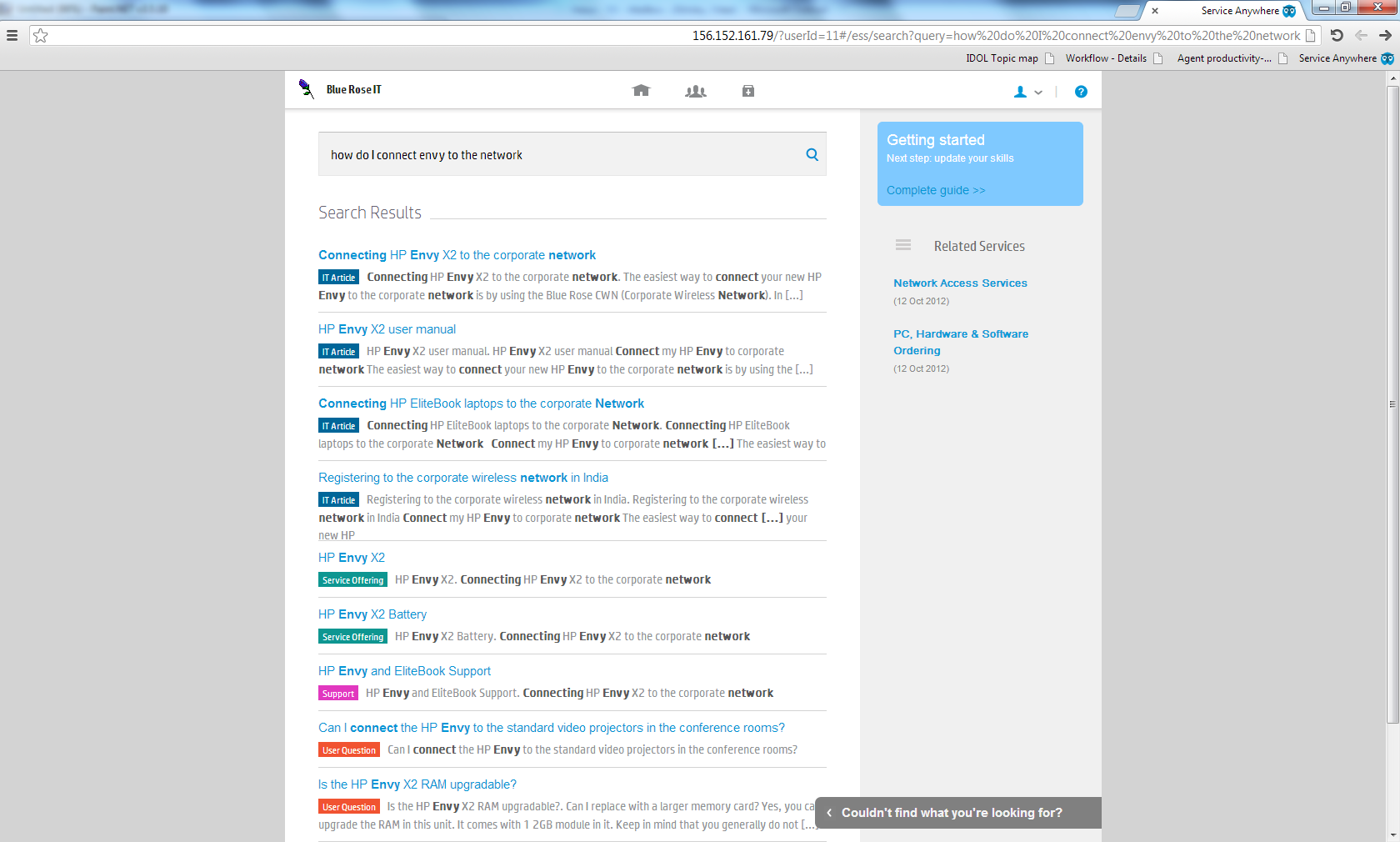 Accelerator #2 –Proactively elicit Knowledge out of past tickets
The service desk agents work just as they always have, while the system rigorously captures, stores and indexes the information within those tickets. Then, whenever an agent receives a ticket on a subject that was already addressed in the past – the system proactively suggests to her the relevant previous tickets that already addressed similar issues. With a click, the agent can copy the relevant knowledge from the historical ticket into the current one—an experience we designed specifically for this purpose.
The historical knowledge is not limited simply to the domain that the agent is focused on, but can actually be surfaced from other ITSM domains and processes. For example, a support agent may receive an inquiry from an end-user regarding a service that seems to be down. The system then proactively informs the agent that an incident occurred previously with some similar symptoms.
So in essence, all of the Big Data of current and historical records becomes useful knowledge when it is proactively served in the right context. The best part is that you don't have to manage any knowledge or take any actions to manually create knowledge out of tickets.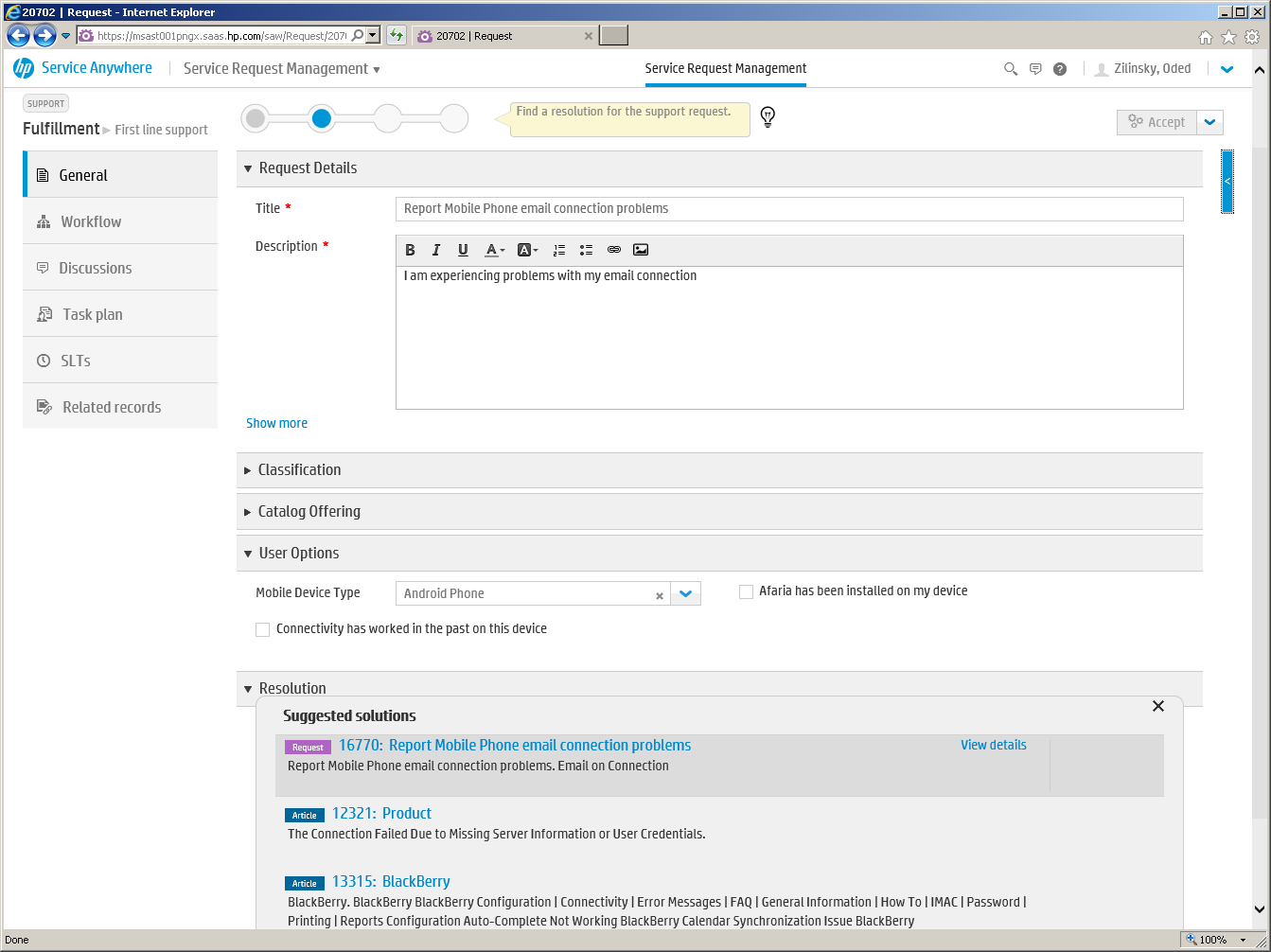 Accelerator #3 – leveraging the knowledge you have in your own repositories
Our Knowledge Management engine is powered by HAVEn; which includes myriads of connectors that can federate knowledge out of the knowledge-bases you already have on premise, such as SharePoint or Wiki.
If you already have knowledge elsewhere in your organization – this gives you a quick way to start managing knowledge in SAW.
Accelerator #4 – Organically grow knowledge, out of social interactions
Imagine this scenario: a mobile phone manufacturer just released a new model, or dramatically updated their OS. Puzzled end-users in the company seek answers on how to make this latest version work with the mobile services that their IT provides. But IT isn't yet up-to-speed on this specific model and its specifics.
Service Anywhere's Employee Self-Service Module allows your end-users to internally crowd-source knowledge. They can submit questions to their peers, and those questions are automatically routed by the system to the right experts in the company. Yes, sometimes a non-IT person may be a better subject matter expert than someone in the IT… or maybe it is just that an enthusiastic techy happens to know the answer. As end-users interact with each other, Service Anywhere harvests knowledge from these interactions. Such knowledge then becomes available for the agents. This enables the agents to learn from their end-users, and use this knowledge to serve others.
Finally – You can choose to start managing the knowledge
Just remember, knowledge that you manage can co-exist or replace the unmanaged knowledge that I described here – so you also have a gradual way of introducing the formal process when you are ready for it.
I hope the above thoughts serve you well on your Knowledge Management journey (or actually, even before you embark on it), and I would love to hear your thoughts and feedback. I know that all of the above is almost worthless if it doesn't come with the right user experience. I invite you to get a taste of how this works on a live Service Anywhere instance!
When you are ready for more information about Service Anywhere, I encourage you to read this post:
· 3 practices to help the Service Desk keep pace with BYOD
You can download HP Service Anywhere here and begin your Knowledge Management journey
You might also enjoy hearing about the role of knowledge in 3 Ways ITSM connects the business with IT. Visit this blog and HP's ITSM blog frequently to read more "Fast Time to Value" tips - simply watch for the checkered flag!