Which came first—process or technology? A pragmatic approach to automating IT Service Management
When I started to prepare for an upcoming webinar, Automating IT Service Management – a pragmatic approach (Wednesday March 12, 11am CET), I focused only on run-book automation. Just like with many things in life, tasks are broader than they first appear. This is also true for ITSM automation.
Process and automation go hand in hand
My assumption is that there is no automation without process. I think process is inherent to automation, at least when it comes down to IT Service Management. Even the simplest workflow – automated password reset can save a company thousands - even millions of dollars - has one or more inputs and outputs, certain controls and feedback loops. And, even if this password reset does not follow any ITIL best practices, for example, it follows some best practices and rules. It is a process!
The better you understand this process, the higher the gains will be from automating it. From the above example, questions to answer include:
What are the prerequisites so that a user is allowed to initiate an automatic password request?

What happens if the user posts the request three times in a short period?

What if the automation does not lead the user to a new password because the user is not able to answer the reset qualifying questions? What happens then?
It is certainly better to have a process in place to avoid ending up in a security and/or customer dissatisfaction nightmare, even in this very simple example.
There is more than just the latest run-book automation tool
Ok, we can automate a process or some major workflow within the process, but what does automation mean now? Do you necessarily need a run-book automation tool? (My marketing answer is, "Well, it depends.)
Run-book automation is very flexible in terms of what you can automate. It takes what was (often still is?) scripting to fantastic new heights. Just think about the graphical user interface (GUI) for configuration and maintenance of you run-books, creating policies, rules etc.
Depending on what you want to achieve in the first place, there are more options, some of which focus on specific aspects of automation. One of these is Discovery, which helps you automate big parts of your configuration data gathering and maintenance. A solid configuration management database is the nuts and bolts of every other IT activity. From a pragmatic perspective it is vital to understand where you get the biggest bang for the buck and take it from there.
Success with automation can come with many faces
Process improvement and automation are difficult to measure when it comes down to ROI but it is doable. ITIL provides some examples in the section "Pre-programme ROI" of the Service Strategy book, where the authors provide a guideline for estimating this ROI. This just one example.
I think that there are also pragmatic measures that help articulate the ROI, for example:
Typical service desk SLAs like MTTR (mean-time-to-resolution) can be measured and reported over time and translated into ROI.

Outages as a result of unsuccessful changes (before and after automation).

User satisfaction indices as a result from surveys (e.g. after the introduction of a service catalog, which automates huge parts of service request management.

The number of users who use self-services instead of calling the service desk measured over time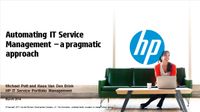 If you are interested in hearing more about ITSM automation, do not miss the webinar Automating IT Service Management – a pragmatic approach, where I sit down with Kees Van Den Brink from HP Professional Services and discuss more of the above, including an automation example.
Until then …
Have a nice day,
Michael Pott (@michaelpott)
Join the conversation …
About the Author
michael_pott
Michael Pott is a Product Marketing Manager for HPE ITSM Solutions. Responsibilities include out-bound marketing and sales enablement. Michael joined HP in 1989 and has held various positions in HP Software since 1996. In product marketing and product management Michael worked on different areas of the IT management software market, such as market analysis, sales content development and business planning for a broad range of products such as HP Operations Manager and HP Universal CMDB.