How to bring chaos under control in the wild west of vendor sprawl—Part 2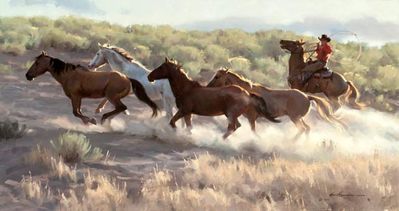 Guest Post by Sherry Ramm, ITSM Marketing Consultant
We know that vendor sprawl has loosened the grip that IT has on vendor management. As a result, the landscape has changed dramatically. Cloud services and mobile apps have become a wide open frontier to users who want access to services, anytime, anywhere. Employees have endless resources to get IT services and support in the shadows, outside of the view IT and without permission. . IT is losing consistency, insight and control—they are actively looking for solutions to rein in this wild ride
We know from the Frost and Sullivan webinar that I shared in part one of this series, that the number of trends causing vendor sprawl and lack of insight and control for IT is skyrocketing. Universally, IT Service Managers have heard the wake-up call and most are in planning stages or actively taking steps to tackle these challenges and move to a new style of IT.
But one thing is certain: IT Service Managers that maintain the status quo will get buried. Transforming to a new style of IT is vital to bringing the chaos under control today and for years to come.
Defining the IT service broker
In a recent webcast with HP, Lynda Stadmueller from Frost and Sullivan insists that the shift requires IT to become a true service broker. She defined an IT service broker as "the point when IT's role shifts from a reactive role to proactively linking the needs of the Lines of Business, including customers, partners and other constituents, directly to delivered services from a variety of sources that respond to those specific needs." She insists that IT must be the entity that understands the business needs the best. Then they must deliver the most relevant solutions to meet those needs from a vendor community. These "customers" including an array of vendor types such as:
Existing or traditional vendors
Managed Services
Professional Services
Multi-vendor solutions
IaaS, Paas, SaaS
Hybrid cloud services
The idea is to not resist or limit vendors. The idea is to open the aperture and hand-pick the specific vendors that will deliver the highest value directly to your business users. As an IT service broker, it is important to remember that IT shifts from reactive to collaborative, from the one-off to service catalogue and from single-source to multi-source, integration. It's a big shift but surprisingly doable in small bites.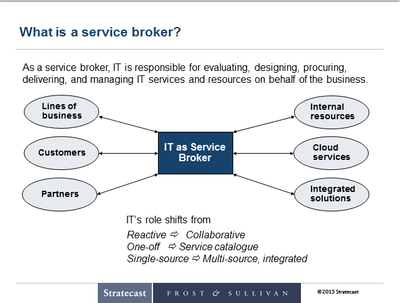 The key is to get started
Transitioning to the new style of IT is a true transformation. It demands a change in the way IT services are conceived, designed, delivered, and managed. The transition also applies to how lines of business are engaged, how IT manages relationships with its stakeholders, and how IT adds value. It's a tall order, but the transformation can be done gradually, securing impactful "wins" and building on those successes. Even tactical wins today can create huge gains throughout your organization—setting the stage for bigger gains tomorrow. But it can't happen if you don't take the first step.
Where do you begin?
Many companies begin with the Service Desk—and for good reason. The service desk is the face of the IT department. All eyes are on it, everyday, for better or worse. Moving to a more efficient, responsive customer-centric service desk is the key to transforming both the perception and the reality of business value. A "win" here will go a long way in value and reputation throughout the vendor supply chain, your business user community and your own IT organization.
Felix Fernandez, CTO, HP software professional services makes a strong case for starting the transformation at the service catalog. He claims that a predominant source of the criticism about IT is due to a typical service catalog experience. "These online portals are a window into IT's past–they break down IT services delivery into unconnected components, and force customers to put the puzzle pieces together."
He continues that the services catalog should be the point of both information and requests. It brokers the conversation between the vendor supply chain and the business. Today, business users want to have the conversation with their own IT, but instead they go to third party Cloud providers. Why? Because it's perceived as faster and easier – they get fast response and the consumer Internet shopping-like experience they've come to expect. Very simply, when IT transforms their online portal to be a consumer-friendly, Amazon.com-like resource, the perception of IT by the business user will transform as well.
How IT service managers are lassoing a big "win" with HP Propel
HP customers today want the milestone wins while moving toward broader, longer term goals. They want choice without compromise. They can't afford disruptions to the business so they want small, manageable steps of progress. Ripping out and replacing systems is just not an option. The good news is that it's not necessary in the transformation to a true service broker.
This is what HP Propel brings to the table. HP Propel is the most complete solution to transforming the IT service desk from the traditional reactive IT into a pure services broker. This sounds like a big proposition and it is. It is achievable with a steady, gradual flow of milestone "wins" in bite size pieces that won't disrupt the operations. You can begin your journey with the fully-functional HP Propel Free.
HP Propel Free includes the fully functional Propel Portal, IT News, baseline Propel Catalog, and a Knowledge Base with the most up-to-date and relevant knowledge articles from HP's own IT operations. You can get it today and use it for as long as you want and expand capabilities as you wish.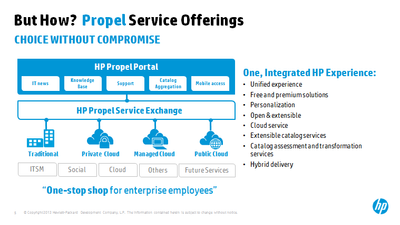 Part 3 - Learning from customer Successes
Tune back in next week for How to Bring Chaos to Control in the Wild West of Vendor Sprawl – Part 3
In part three, you will learn how one customer achieved huge gains in their first steps toward transforming to a true service broker by:
- Reducing vendor and catalog sprawl
- Reducing the time to Onboard new employees
- Reducing manual service desk activities
- Increasing customer satisfaction