Neighborhood Admin
‎02-13-2013 12:32 PM - edited ‎03-14-2013 04:14 AM
‎02-13-2013 12:32 PM - edited ‎03-14-2013 04:14 AM
Got questions on HP Servers? We've got Experts!
[ Edited ]
If you're looking for inspiration and knowledge to solve challenging issues that you come across in your everyday life as a Server Administrator, IT professional or User, then there is nothing that beats getting in touch with an HP expert.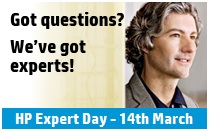 Mark your Calendar - March 14th, 7am EDT / 11am GMT through March 15th, 7am EDT / 11am GMT
What is an Expert Day?
An Expert Day is an event when HP product team members and other employees join our online HP Support Forums to answer your toughest technical questions, even for products that are out of warranty. Expert Days give you a chance to talk directly with the people who designed and made the HP products you're using, or who wrote the manuals for them.
This event has been called the "Super Bowl" of expert assistance, providing you with a day of free access to a wealth of internal and external technical experts. We always have employees, called HP Ambassadors (signified by the Pro label) on the forums, but on Expert Day, our Ambassadors are joined by many other HP employees to help get your problems resolved.
Why should you come to the HP Server Expert Day?
- Whether you own a HP ProLiant Server, HP Integrity or Alpha Server or HP Bladesystem, there has never been a better chance to learn about your product.
- When do you have a chance to talk directly with the people who designed the product or wrote the manual for it?
- This is your chance to connect with the best and brightest minds at HP for free.
- We'll share our knowledge on the best ways to:
- Troubleshoot the Server issue you are having;
- Hardware and Software Compatibility issues;
- Installation, Setup and Configuration;
- Diagnostic Tools, Utilities and Log Analysis;
- Choose the right Raid Controller, Hard Drive, Operating System, application or add the right amount of memory;
- Use the tools built into your Server that can make it run better and fix common problems;
- It doesn't matter how old the Server is or what it is connected to. We will do our best to help.
How do Expert Day events work?
Come to the Forum and post your questions. Dozens of experts will be standing by in the discussion forums and will do their best to answer your questions. They may need to get some more information from you so please check the box "email me when someone replies." An online conversation will be born!
To quickly reach the portion of our community that will have experts on-hand during this event, please visit our Servers category.
If you need assistance using the forum, there are tips and tricks here.
Access our HP Guided Troubleshooting Guide online for assistance in resolving any technical issues on your own. Review the HP Guided Troubleshooting for Servers and have a chance to provide feedback/suggestion directly to HP knowledge Management team during HP Expert Day.
I work for HPE.