Contributor
‎06-02-2013 08:29 AM - edited ‎06-04-2013 01:26 AM
‎06-02-2013 08:29 AM - edited ‎06-04-2013 01:26 AM
Performance Anywhere release 1.1 is now available!
[ Edited ]
What's new in Version 1.1:
Analytics
Improved Time To Value - Creation of baseline after less than a day of data.
Improved predictive analytics alerting: In the event of a real problem, analytics will alert users immediately - not waiting for additional sample data (to be certain it is not a momentary spike). In cases when there is not clear performance problem it will wait for an additional sample data to avoid alerting on momentarily spikes)
Mobile
Added more visibility into the mobile end user experience through the addition of wireless Points of Presence in HP SaaS. HP Performance Anywhere can now provide insight into carrier performance & availability.

Created the ability to compare between regular and mobile PoPs and see trends.
User Experience Improvements
Optimized first time user interaction: tips and tricks, user performance improvements, improved orientation, and

created getting started videos

Improved Analytics Highlights User Interface with geographical visualization

Improved navigation (linkable breadcrumbs)
Synthetic Monitoring
Added snapshot on error for better investigation of end user issues

Improved support for historical synthetic monitoring reports

Added alerts indication in overtime reports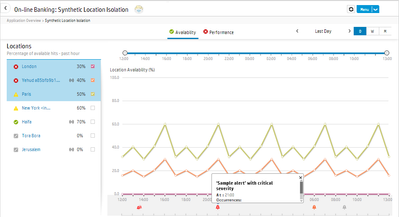 If you are still not a customer of Performance Anywhere and would like to give it a try, go to:http://www.hp.com/go/PerformanceAnywhere and ask for a free trial