>

>

>

Accelerate your HPC and AI workloads with the new ...
Forums

Blogs

Information

English

Accelerate your HPC and AI workloads with the new HPE Apollo 6500 Gen10 Plus System
Here's how the new HPE Apollo 6500 Gen10 Plus System is able to deliver superior performance at scale with faster, more reliable processing power—and help you crush your HPC and AI workloads.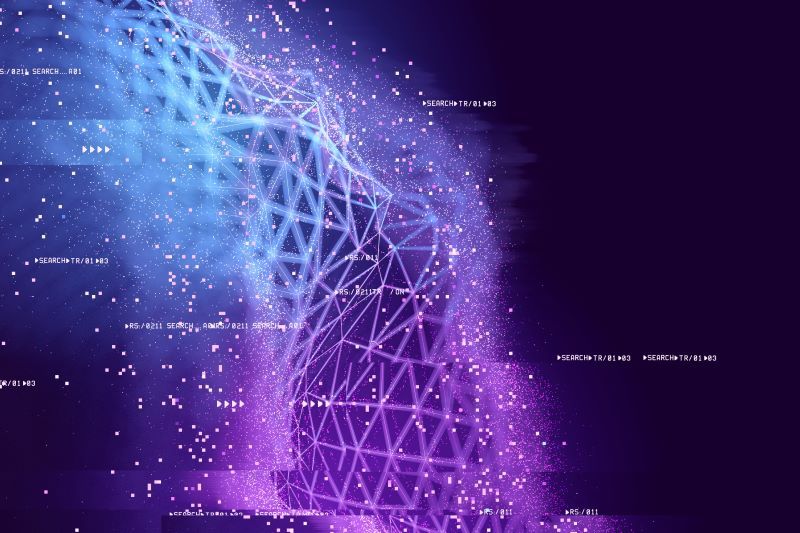 And they're off! The HPE Apollo 6500 Gen10 Plus System is available and ready to help you revolutionize your use of HPC and AI.
Revolutionize? That's a big promise. But here are the facts to back it up.
To optimize your most demanding HPC and AI workloads, you need accelerated computing. This technology provides superior performance at scale with faster, more reliable processing power.
And here's where the HPE Apollo 6500 Gen10 Plus System comes in. It's the next generation of the HPE Apollo accelerated computing portfolio with more flexibility, density, and agility to fuel a broad range of HPC and AI applications.
The HPE Apollo 6500 Gen10 Plus System is purpose-built to deliver immense value:
Faster time-to-insight for competitive advantage, allowing for better use of data
Best performance by tightly coupling compute power with industry-leading GPUs for unbeatable job throughput
Fully tested and configured HPE solution that is NVIDIA certified and designed for demanding HPC, AI, machine learning, and deep learning workloads
HPE Cray Supercomputer Architecture now featuring the HPE Apollo 6500 Gen10 Plus System as a node in its air-cooled version, coupled with HPE Slingshot interconnect and supported by HPE Cray OS
The technology inside the technology
The HPE Apollo 6500 Gen10 Plus System leverages the unparalleled processing capacity of the latest NVIDIA® A100 Tensor Core GPUs, AMD Instinct™ MI100 GPU with Infinity Fabric™ Link, and 2nd Gen AMD EPYC™ processors to eliminate the strain of legacy infrastructure and empower data-driven innovation.
Starting with the GPU technology, NVIDIA A100 GPUs ensure low latency at high throughput to enhance these powerful accelerated computing solutions. With third-generation Tensor Cores, the NVIDIA A100 can efficiently scale up to thousands of GPUs, or, with NVIDIA Multi-Instance GPU (MIG) technology, can be divided into seven isolated GPU instances to accelerate diverse workloads. The NVIDIA A100 offers vast improvements in Tensor Core and double-precision work, breaking numerous AI performance records and delivering up to 4.2x faster processing speeds than previous generations.
Each A100 GPU is available in 40 GB or 80 GB configurations (80 GB available starting in February), so HPE customers can tailor deployments to fit their specific requirements. Businesses can achieve extraordinary performance with standard 40 GB—the original A100 GPU configuration—as well as 80 GB of memory. A100 40 GB (HBM) is a highly cost-efficient option for mainstream AI. A100 80 GB (HBM2e) has doubled the high-bandwidth memory of these powerhouse accelerators while increasing GPU memory bandwidth by 30% faster. A100 80 GB delivers the world's fastest memory bandwidth at over 2 TB/s, making it the ideal choice for use cases that require large, memory intensive datasets or models.
Instead of deploying two 40 GB GPUs to complete a memory-limited complex job, businesses can implement a single larger GPU to drive critical efficiencies. Reducing the number of A100 GPUs in a system or cluster decreases latency and provides dramatic increases in performance. According to projections based on A100 40 GB measurements, HPE estimates that a single A100 80 GB node will speed up recommender training by up to 3x compared to two A100 40 GB nodes. Additionally, the A100 80 GB is expected to deliver the same level of performance to execute data analytics workloads with half the GPU.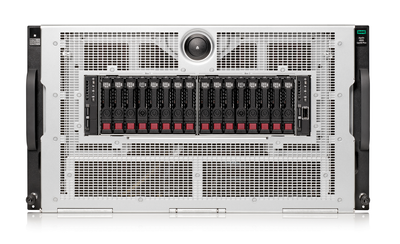 HPE Apollo 6500 Gen10 Plus System
The HPE Apollo 6500 Gen10 Plus System maximizes GPU utilization with up to 16 PCIe GPUs per server or 4 and 8 NVIDIA NVLink GPUs to rapidly capture, analyze, and operationalize intelligence, regardless of the HPC and AI workload requirements. NVIDIA NVLink establishes a seamless connection between GPUs, so they can work together as a single robust accelerator. NVLink interconnects provide dedicated communication which enables memory to migrate from GPU to GPU. A single A100 supports up to 12 NVLink connections for a total bandwidth of 600 gigabytes per second.
2nd Gen AMD EPYC™ processors offer tremendous bandwidth and a high core count to continuously feed data-hungry GPUs. These high-frequency processors integrated with NIVIDIA Mellanox HDR InfiniBand add up to 200 Gb/s of bandwidth for every two GPUs, so even businesses operating at the cluster level can communicate at twice the speed. HPE's first optimized 4 GPU server (available end of January), which delivers better price performance than ever for HPC. Also, with a refreshed 8 GPU offering with 2P AMD (available immediately), enterprises can harness up to 16 PCIe GPUs, more than twice than HPE has supported in the past.
This platform supports the newly announced AMD Instinct™ MI100 GPU with Infinity Fabric™ Link. MI100 GPUs are expertly engineered for the next wave of HPC and AI, enhancing accelerated computing so that enterprises can propel world-changing discoveries. Powered by the first AMD Compute DNA architecture (AMD CDNA), MI100 GPUs deliver a giant leap in compute and connectivity, offering nearly 3.5x the performance for HPC (FP32) matrix and nearly 7x the performance for AI (FP16) workloads, compared to AMD prior generation accelerators.
In addition, the HPE Apollo 6500 Gen10 Plus System offers extensive storage options, with up to 16 front-accessible storage devices, SAS/SATA solid-state drives, and up to 6 NVMe drives to access data faster while consuming less power. HPE has plans to roll out new solutions through Q1 2021 which will feature a staggering 16 NVMe drives for almost 6x greater bandwidth. Now, HPE customers can harness the robust power, frequency, and processing capacity of accelerated computing to drastically reduce time-to-insight.
Accelerate innovation with a trusted partner
The fun doesn't begin and end with processing speeds. HPE provides total flexibility that other vendors on the market cannot, equipping customers with end-to-end solutions that are thoroughly tested, secured, and backed by a variety of financial and professional services.
The HPE Silicon Root of Trust secures our Gen10 portfolio in firmware protection, malware detection, and firmware recovery down to the silicon. This technology ensures that our servers will never boot with compromised firmware, making them "The World's Most Secure Industry Standard Servers." HPE iLO server management software enables customers to securely configure, monitor, and update HPE systems seamlessly, from anywhere in the world, so customers can operate with confidence.
HPE offers a rich set of Pointnext services to provide customers with the support they need to accelerate innovation. Our areas of expertise include services for hybrid cloud environments, computing at the edge, IT modernization, and AI adoption.
HPE GreenLake also provides a support team to help customers create a roadmap from your needs to your ideal solution. HPE GreenLake is a consumption-based payment model that aligns cash to actual usage. Cloud services deliver business outcomes faster with an as-a-service model, so customers can achieve the cloud experience in just a few clicks, without the cost, risk, and time to move data or refactor applications.
You've arrived at the future of HPC and AI. Visit us online to learn how HPE can help you innovate your business.

Greg Schmidt
Hewlett Packard Enterprise
twitter.com/hpe_hpc
linkedin.com/showcase/hpe-ai/
hpe.com/info/hpc

Find out about the latest live broadcasts and on-demand webinars
Read more

Visit this forum and get the schedules for online Expert Days where you can talk to HPE product experts, R&D and support team members and get answers...
Read more
View all
© Copyright 2022 Hewlett Packard Enterprise Development LP