>

>

>

Accelerate your competitive edge with AI: HPE and ...
Forums

Blogs

Information

English

Accelerate your competitive edge with AI: HPE and NVIDIA collaboration puts businesses a step ahead
Dealing with the complexities of finding the right deep learning and machine learning solutions? The good news is, HPE has the right people, technology, and partners to help you harness the power of AI for your competitive advantage.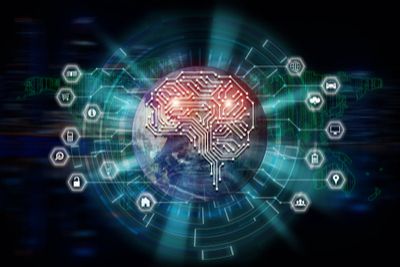 Implementing the right deep learning (DL) and machine learning (ML) solutions can be complex. No doubt, you've got questions, like: What system and accelerators are best? Who can I turn to for advice? Which DL/ML software should I use? How do I scale and operationalize my DL/ML environments in production?
From choosing systems, accelerators and software to finding the right scale to operationalize your DL/ML environments in production, many elements are involved that can confuse and even discourage your organization from fully leveraging artificial intelligence (AI) to accelerate your business.
Luckily, HPE is here to help—with answers to your questions and solutions for your enterprise. We're delivering integrated as part of our comprehensive edge-to-cloud portfolio, backed by years of expertise and a robust, global ecosystem of partners. With our best-in-class people, technology and partners, we make it possible to unlock growing data with AI, discover new insights and actions, and gain value that was never before possible.
Getting to production faster with the support you need
Through technology advancements and partnerships, HPE is offering new ways to help you gain a competitive edge faster—no matter your AI needs.
Extending NVIDIA NGC-Ready program
HPE enables organizations to get up and running faster with your preferred AI, ML, DL, and high-performance computing (HPC) applications. We make this possible with the recently announced NVIDIA NGC-Ready validation on the HPE Apollo 6500 Gen10 system. Our NGC-Ready validated systems provide a replicable way to roll out AI and HPC applications from development to production. When using powerful systems like the HPE Apollo 6500 Gen10 with NVIDIA Tesla V100 SXM2 GPUs, users can deploy with confidence and gain unprecedented performance.
Fast forward to today, as we extend the NGC-Ready program to include HPE's bestselling server, HPE ProLiant DL380 Gen10 server[i]. You can now gain maximum utility for DL, ML, HPC, and virtualization with the powerful combination of the ProLiant DL380 and the acceleration of the NVIDIA T4, the world's first GPU for accelerating mainstream enterprise service, plus validation as an NGC-Ready platform.
Gain peace-of-mind through dedicated support
Deploying AI and HPC software in development and production environment is complex and time-consuming. While NGC, the hub for GPU-optimized software, simplifies the deployment process, IT and DevOps organizations will require support to minimize downtimes and drive user productivity and revenues. HPE offers customers the option to buy enterprise-grade NGC software support, directly serviced by NVIDIA. This gives users direct access to subject matter experts to resolve issues faster. And with the ability to easily submit service requests with a clear escalation path, IT organizations can deploy the systems with confidence. HPE will offer the optional NGC Support Service for the Apollo 6500 Gen10 with Tesla V100 SXM2 and HPE servers with T4 GPUs[ii].
Expertise when and where you need it
HPE Pointnext advisory capabilities around AI, big data, and analytics can help your enterprise explore, experiment ,and deploy AI use cases in hybrid cloud powered by HPE, NVIDIA technologies, Also, HPE Education Services partner with the NVIDIA Deep Learning Institute (DLI) to offer hands-on training in artificial intelligence (AI). DLI workshops are delivered by NVIDIA certified HPE instructors.
Boost productivity and create amazing content, faster
Content production is undergoing a massive surge as render complexity and quality increase. Designers and artists across industries continually strive to produce more visually rich content faster than ever before, yet find their creativity and productivity bound by inefficient solutions. To help designers increase productivity, HPE is now validating the HPE Apollo 6500 Gen10, HPE ProLiant DL380 Gen10 and HPE ProLiant ML350 Gen10 servers as NVIDIA RTX Server solutions. With these NVIDIA RTX Server validated platforms, content producers gain GPU-accelerated power and performance to deliver the most efficient end-to-end rendering solution, from interactive sessions in the desktop with support for the NVIDIA Quadro virtual Workstation to final batch rendering in the data center.
Soon to support the NVIDIA Quadro RTX 6000/8000 GPUs, which brings the most significant advancement in computer graphics in over a decade to professional workflows, Apollo 6500, ProLiant DL380 and ML350, will be powered by the NVIDIA Turing architecture and the NVIDIA RTX platforms. Designers and artists will have the ability to wield the power of hardware-accelerated ray tracing, deep learning, and advanced shading to dramatically boost productivity and create amazing content faster than ever before.
Waiting around for data will be a thing of the past
As your deep learning model moves from R&D into production training and inferencing environments, datasets will grow in leaps and bounds, exceeding local storage capabilities. The deep learning training process involved in production AI will require a high-performance, scalable, shared storage solution. HPE and our partners, NVIDIA, WekaIO, and Mellanox, used a parallel file system to handle production-sized data sets and maximize compute resources. Data is key for production so stop waiting in line for it!
Accelerate time-to-value for your AI initiative
BlueData, recently acquired by HPE, provides a turnkey infrastructure software platform that is purpose-built for deploying distributed AI, machine learning, and deep learning workloads in the enterprise - whether on-premises, in the cloud, or in a hybrid architecture. With this container-based solution, you can improve agility for your data science teams, reduce your infrastructure costs, and accelerate your innovation with AI.
Using BlueData's software platform together with NVIDIA GPUs, HPE Apollo Systems, and HPE Pointnext professional services is a powerful combination. Now data scientists and developers can quickly build prototypes, experiment, and iterate with their preferred ML and DL tools for faster time-to-value. Additionally, IT teams can ensure enterprise-grade security, data protection, and performance with elasticity, flexibility, and scalability in a multi-tenant architecture.
High-density virtual desktops
In the modern workplace, the media requirement needs for GPU acceleration in VDI environments is driven by the increasing graphics requirements of dynamic, webGL browsers, productivity applications, and the pervasive use of video and multiple, high-resolution monitors. As end of support for Microsoft Windows 7 approaches, organizations upgrading VDI infrastructure to Windows 10 should include GPU acceleration to meet the increasing graphics requirements of the modern digital worker. The HPE ProLiant DL380 Gen10, combined with NVIDIA T4 or M10 GPUs and NVIDIA GRID software, delivers on high density and low TCO, making GPU-accelerated VDI obtainable for every knowledge worker.
Best virtual workstation performance
Creative and technical professionals rely on NVIDIA Quadro systems for the best performance. With the HPE ProLiant DL380 with NVIDIA T4 and Quadro virtual Workstation software, professionals can get Quadro performance from the data center, including real-time simulation and rendering.
Consumption-based services
Building on the success of HPE GreenLake Flex Capacity, our next generation of on-premises consumption-based services go beyond pay-per-use infrastructure to pay-per-use outcomes. HPE GreenLake VDIaaS is now offered with NVIDIA GPUs bringing together all the infrastructure, software, advisory and operational services deployed in your data center, so that you receive a monthly bill based on number of named users. Your enterprise can choose from a range of fixed performance tiers in any combination. HPE deploys the hardware and software required to deliver those desktop experiences to your data center, keeping desktops close to applications and users.
HPE addresses AI solutions at GTC 2019
Attending this year's annual GPU Technology Conference in San Jose? Stop by HPE booth #1129 to learn more about our latest offerings and solutions, which include a BlueData demo and technologies featuring speech-to-text, quality assurance, video surveillance and VDI, all of which are supported by our best-in-class people, technology and partner ecosystem.
HPE's HPC and AI spokespeople and partners will also lead the following speaking sessions:
See you on the competitive edge
We continue to empower our customers to learn how to obtain faster insights with accelerated IT using HPE technology featuring NVIDIA GPUs for DL, ML, and VDI, propelling a journey to a competitive edge.
Please contact your HPC/AI specialist or email AI_MadeEasy@hpe.com to learn more.
[i] HPE internal: FY18 server shipments as of 2/25/19.
[ii] Optional support available in mid-2019.
---
Pankaj Goyal
Vice President, HPE AI Business
Hewlett Packard Enterprise

About the Author
PankajGoyal
Pankaj is building HPE's Artificial Intelligence business. He is excited by the potential of AI to improve our lives, and believes HPE has a huge role to play. In his past life, he has been a computer science engineer, an entrepreneur, and a strategy consultant. Reach out to him to discuss everything AI @HPE.
Starting June 22

THE FUTURE IS EDGE TO CLOUD Prepare for the next wave of digital transformation. Join our global virtual event. June 22 – 24
Read more

Find out about the latest live broadcasts and on-demand webinars
Read more
View all
© Copyright 2021 Hewlett Packard Enterprise Development LP