>

>

>

Accelerating HPC Applications with HPE Performance...
Forums

Blogs

Information

English

Accelerating HPC Applications with HPE Performance Software – Message Passing Interface
HPE is one of the few vendors who still offer their own MPI solution, helping customers to harness the full power of their HPC systems with enhanced performance, scalability, and interoperability.
As hardware and processor technologies continue to scale, software development and high performance computing (HPC) workloads adjust to larger scale so organizations around the world can take full advantage of the latest innovations in HPC. HPE continues to enhance Message Passing Interface (MPI) at scale to support future exascale-sized systems.
MPI plays a crucial role in HPC as a standard distributed communications framework for scientific and commercial parallel distributed computing. It continues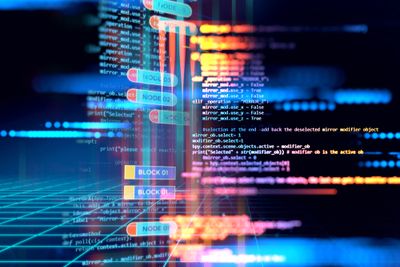 to be the best choice for codes that run on large-scale systems, especially those with relatively simple communications patterns.
To help customers make the most of their HPC deployments, Hewlett Packard Enterprise (HPE) recently introduced HPE Performance Software - Message Passing Interface (HPE MPI), a high-performance MPI library complemented with profiling and runtime optimization tools designed to boost performance of existing MPI applications – without the need to recompile the existing code.
HPE's HPC strategy is to offer customers leading solutions to satisfy all of their compute requirements. We are committed to offering customers a portfolio of software solutions designed to address all their HPC needs. The HPE Performance Software Suite offers customers essential HPE-authored software for system management as well as HPC software development with HPE MPI. We also offer our customers best-in-class HPC solutions for workload management, software development, and more – all of these solutions are validated, integrated, performance-optimized, and supported to offer the best performance for HPE HPC systems.
HPE is one of the few HPC vendors in the market who offers customers a performance optimized MPI solution, rather than relying on third-party or open source technologies. HPE MPI is designed to help them achieve Top500-level performance for their HPE system while using our reliable and highly scalable MPI development environment. Our largest current HPE MPI installation is 241,108 cores and growing, and we are making major investments for exascale deployments in the very near future.
Empowering customers with MPI
The main components of the HPE MPI are the MPI library as well as profiling and runtime optimization tools.
The HPE MPI optimized library offers customers the ability to quickly set up and take full advantage of existing underlying architecture – capable of launching 100,000 cores in seconds. The library accelerates performance of all HPE HPC servers utilizing Intel® processors (HPE SGI 8600, HPE Apollo 2000, 6000, 6500, 20, and 40 , HPE ProLiant servers) as well as the world's most scalable in-memory computing platform HPE Superdome Flex. HPE MPI supports the latest high‑performance interconnects: Multirail Intel Omni-Path Architecture, Multirail Mellanox Infiniband and HPE Superdome Flex Grid. It is compliant with MPI 3.1 as well as SHMEM 1.3 standards.
HPE MPI offers the ultimate performance-accelerating environment:
Boost performance of any MPI application at runtime: An HPE MPI tool intercepts and runs MPI operations to boost performance and/or scale the application at runtime without the need to recompile your code. The tool can accomplish this even if the application has a different MPI library. Supported libraries include Intel MPI, Mellanox HPC-X MPI, IBM Spectrum MPI, and Open MPI.
Remove bottlenecks and load imbalances: Profiling and performance analysis tools capture communication analytics, pinpoint bottlenecks, and identify load imbalances when running MPI applications. These tools also provide the data for guided placement of threads to improve performance for the next application run, which is coordinated through the job scheduler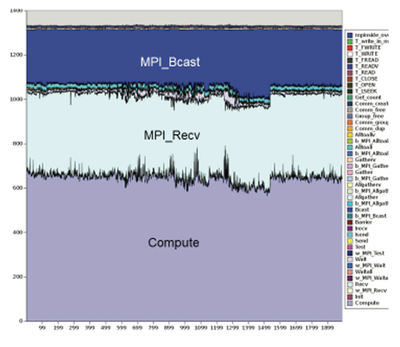 Example report generated based on the statistics generated by the HPE MPI allowing users to analyze how much time is spent on computation, communications, and file I/O to pinpoint bottlenecks and load imbalances.Improve job placement: Specialized allocation and profiling tools work together within HPE MPI to improve job placement, as well as to prevent MPI process migration that can negatively affect application performance.
Leverage dedicated CPU and memory resources: System administrators can allocate the number of CPU and memory resources used for a specific MPI job in order to improve runtime performance.
Integrate: HPE MPI supports integration with Intel Parallel Studio XE, debugging tools and support for HPE MPI job launch in the leading workload management tools.
Achieving world records
dominated SPEC MPI® 2007 benchmark tests for many years. The SPEC MPI® 2007 benchmarks measure real-world HPC application performance and serve as a good performance indicator for anyone considering use of running MPI-based applications on HPE Apollo and SGI systems.
Time Evolution of SPEC MPI® 2007 World Records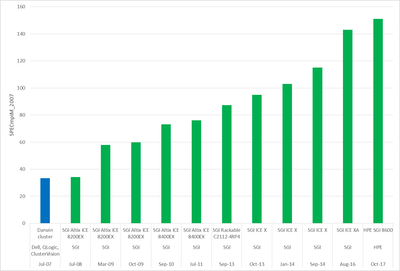 https://www.spec.org/mpi2007/results/
HPC software is actively helping to solve the biggest HPC challenges such as scale, performance, and complex workloads. Achieving optimal performance relies on not only the right hardware and software offerings, but also the comprehensive knowledge of HPC applications engineers. HPE's HPC applications engineering team has decades of HPC application optimization experience with the leading commercial and open source codes. They are available for advisory and benchmarking services, performance tuning, and much more.
For more information about our offering, please visit our website or check out this video on the HPE HPC software portfolio. I also invite you to follow me on Twitter at @Bill_Mannel and HPE at @HPE_HPC for the latest news and updates.
* SPEC® and SPEC MPI® are registered trademarks of the Standard Performance Evaluation Corporation (SPEC). All rights reserved. The stated results represent the highest SPECmpiM_2007 score at the date of publication and are based on published results as of 01-25-18; see spec.org.

Bill Mannel
VP & GM - HPC & AI Segment Solutions
Starting June 22

THE FUTURE IS EDGE TO CLOUD Prepare for the next wave of digital transformation. Join our global virtual event. June 22 – 24
Read more

Find out about the latest live broadcasts and on-demand webinars
Read more
View all
© Copyright 2021 Hewlett Packard Enterprise Development LP