>

>

>

Catalyst UK program honored at HPCwire Readers' Ch...
Forums

Blogs

Information

English

Catalyst UK program honored at HPCwire Readers' Choice 2019 Awards
The Catalyst UK program was recently awarded the HPCwire Readers' Choice Award for Best HPC Collaboration. Learn more about what we achieved so far, our plans, and how you can get involved.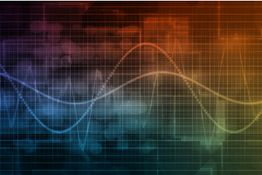 As we enter a new year and look back at what we achieved this past year, I am especially proud of a project we set up with partners and which received an award from the wide HPC community.
I am talking about the Catalyst UK program, which was recently awarded the HPCwire Readers' Choice Award for Best HPC Collaboration between Academia, Government and Industry. The prestigious award was handed out at the annual Supercomputing Conference, held in Denver last month. The recognition comes for the ambitious collaborative project between HPE, ARM, SUSE, Marvell, and Mellanox, along with three major UK universities—the University of Bristol, the University of Edinburgh (EPCC), and the University of Leicester.
The annual HPCwire awards are highly coveted and respected within the industry, and are decided through a nomination and voting process, as well as selections from the HPCwire editors. People are obviously seeing this project as something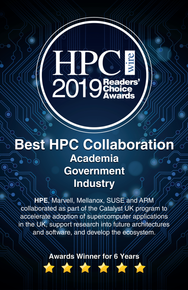 important, and it is truly humbling to receive this incredible recognition from our colleagues across the HPC community.
Catalyst UK was originally set up to to accelerate adoption of Arm-based supercomputer applications in the UK, support research into future architectures and software, and expand the Arm software ecosystem for HPC. We also sought to validate the viability of Arm, not just as a high speed processor but as processor that users could comfortably navigate and build homogenous systems around. To learn more, please watch this video made by my colleague Ben Bennett. The video is shared on Twitter.
We are now halfway into the three-year project. The three HPE Apollo 70 supercomputers used by the universities are up and running, over two dozen applications have been ported to Arm, and a number of papers have been published[1]. CataIyst UK has demonstrated already to the HPC community that Arm is a viable alternative to the status quo.
Catalyst UK sites are now moving onto the science and industry collaboration phase. At SC19 in Denver we were able to show results of one of the first commercial applications ported to Arm on our systems: Radioss™ from Altair, an application used, for example, for car crash simulations. Engineers from Altair, Arm and University of Bristol worked very collaboratively to make this happen demonstrating that Radioss running on Arm Marvell ThunderX2 delivers very good scalability.
Following the HPCwire Award announcement, my colleague Larry Wikelius from Marvell, with whom I've worked closely with on this project, noted:
"The Catalyst Program is an excellent example of how the Arm ecosystem continues to accelerate software application availability and optimization. This unique partnership between academia, government, research and industry is something we have supported and will continue to support in the future as we demonstrate not only the viability of Arm-based servers but the ultimate advantages to our end users and partners."
You will be hearing more about the Catalyst UK Program in the new year. We are keen to have more people join us on this journey as we progress even further. so if you or your organization want to get involved, please email us at Catalyst@arm-hpc.groups.io.
Happy Holidays!
[1] For example: "Evaluating the Arm Ecosystem for High Performance Computing", Adrian Jackson, Andrew Turner, Michele Weiland, Nick Johnson, Olly Perks, Mark Parsons, PASC Conference, June 2019

Bill Mannel
VP & GM, HPC & AI Segment Solutions
twitter.com/Bill_Mannel
linkedin.com/in/billmannel/
hpe.com/servers
Starting June 22

THE FUTURE IS EDGE TO CLOUD Prepare for the next wave of digital transformation. Join our global virtual event. June 22 – 24
Read more

Find out about the latest live broadcasts and on-demand webinars
Read more
View all
© Copyright 2021 Hewlett Packard Enterprise Development LP