>

>

>

Celebrating innovation and insight: Happy 8th birt...
Forums

Blogs

Information

English

Celebrating innovation and insight: Happy 8th birthday, dear Blue Waters supercomputer!
Learn about the Blue Waters supercomputer as it celebrates its 8th birthday So far, it's delivered 38 billion core-hours to thousands of scientists and engineers. Large-scale production with 4,228 NVIDA GPUs began in March 2013—when most people still thought AI stood for "American Idol" and GPU for "Global Photographic Union"!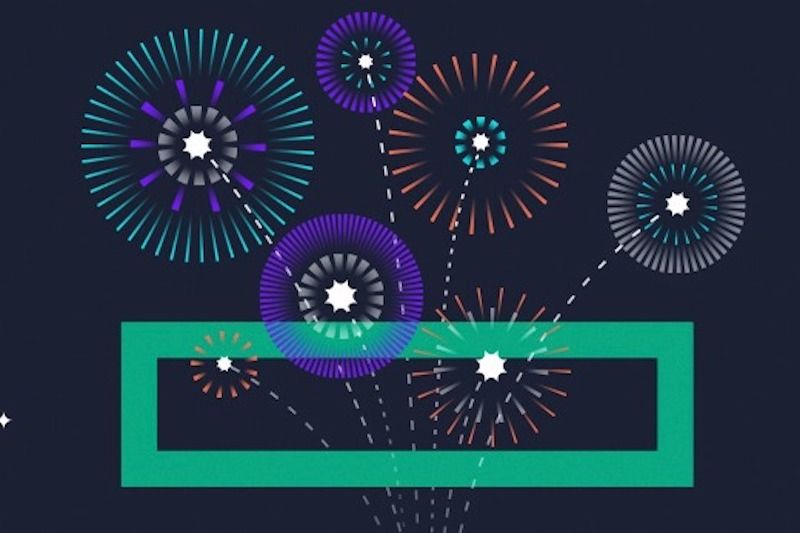 The Blue Waters supercomputer must be one of the most productive computing machines ever built. You went into production on March 28, 2013, at the National Center for Supercomputing Applications (NCSA) at the University of Illinois Urbana-Champaign. Since then, you have provided 38 billion core-hours to thousands of scientists and engineers across the U.S.
And you're still going strong as your core-hour counter proudly displays.
More than eight years ago, you were built on technology that already had "longevity" designed in on the drawing board:
Even at this advanced age (for a computing machine), your reliability remains excellent as reported by your "parents" at the HPC User Forum at Argonne National Laboratory.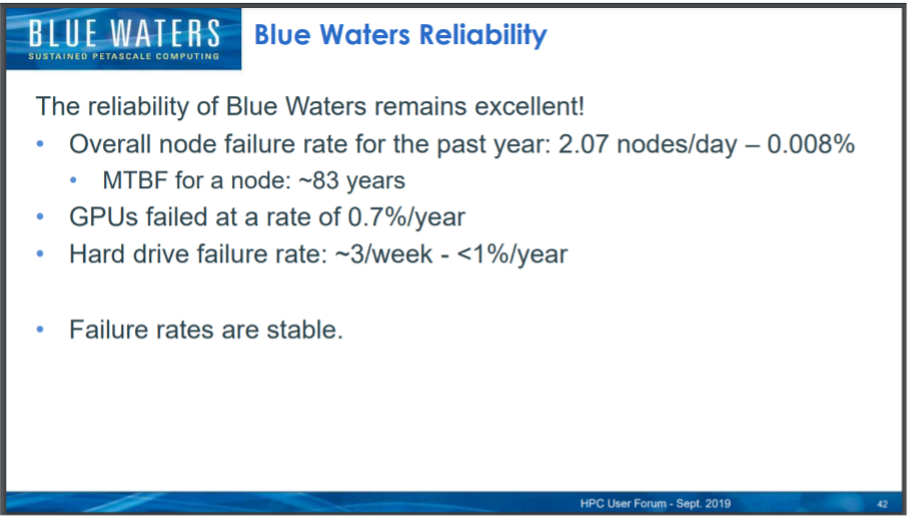 Source: Research on Blue Waters presentation
This short time-lapse movie of your construction is still interesting to watch for anyone who has never seen how a very large machine for modeling, simulation, AI, and high performance data analytics is built.
It is good to know from a sustainability perspective that in cool months your home—which is about 40-50 percent of the year—uses its own evaporative cooling towers so almost no energy is used for cooling you. Your home—the National Petascale Computing Facility—one of the first computing facilities to achieve a Leadership in Energy and Environmental Design (LEED) Gold certification.
So thank you for very much for your energy-efficient superpower that's enabled accelerated innovation and insight for humanity in the last eight years. It would take a person 423 million years to do what you can do in one second.1
Go Blue Waters! We love you.
Let me add one more thing: Here's a shoutout to the whole NCSA team and the scientists who have used Blue Waters in the last eight years. Even is this age of artificial intelligence, the best HPC and AI machines and tools are worthless if they are not combined with the best and brightest minds—with their brilliant human intelligence. This is what really enables new breakthroughs, innovations, and insights.
Go NCSA team and HPC community! We love you too!
-Your HPC & AI team at HPE
Inspired by the Blue Waters story? Looking for a strategic partner to assist you in going from AI Proof of Concept (POC) to large-scale production? I invite you to look no further. We have been delivering energy-efficient, large-scale AI systems like the Blue Waters supercomputer with 4,228 GPU nodes with longevity and reliability built-in longer than anybody else. Contact your HPE representative today.
Learn more today about AI, HPC, and storage for AI and HPC.
---
Uli Plechschmidt
Hewlett Packard Enterprise
twitter.com/hpe_hpc
linkedin.com/showcase/hpe-ai/
hpe.com/us/en/solutions/hpc
---

About the Author
UliPlechschmidt
Uli leads the product marketing function for high performance computing (HPC) storage. He joined HPE in January 2020 as part of the Cray acquisition. Prior to Cray, Uli held leadership roles in marketing, sales enablement, and sales at Seagate, Brocade Communications, and IBM.

Find out about the latest live broadcasts and on-demand webinars
Read more

Visit this forum and get the schedules for online Expert Days where you can talk to HPE product experts, R&D and support team members and get answers...
Read more
View all
© Copyright 2021 Hewlett Packard Enterprise Development LP