>

>

>

Don't compromise performance for efficiency: Choos...
Forums

Blogs

Information

English

Don't compromise performance for efficiency: Choose energy-efficient HPE Apollo systems for HPC
Learn how the new highly dense HPE Apollo 2000 Gen10 Plus system with HPE ProLiant XL225n Gen10 Plus servers is the most efficient multi-node platform that delivers real space and power savings to data centers of any size.
Succeeding in the Exascale Era depends largely on turning mountains of new data into actionable insights. It is a time where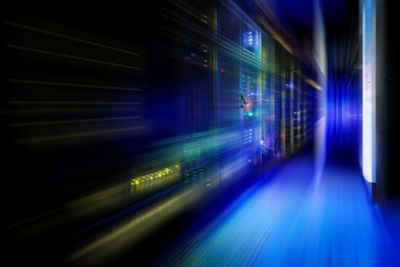 modeling, simulation, and analytics techniques are no longer siloed but need to work together—and a time were the sum of the parts magnifies results greater than if working independently.
Deriving value from high-performance computing (HPC) includes tackling the unique challenge of powering servers while staying within specific rack-level power draw thresholds or data center constraints that come from physical limitations or simple economics.
At the same time, companies need to invest in platforms that have long-term investment protection and can provide benefits over the long haul. That is why the multiple #1 records in power efficiencies on the HPE Apollo 2000 Gen10 Plus with HPE ProLiant XL225n Gen10 Plus servers powered by second-generation AMD® EPYC™ processors are important. But what do these results mean to your company's bottom line? Let's take a look.
What does the SPECpower_ssj®2008 benchmark measure?
The industry-standard SPECpower_ssj2008 benchmark measures the energy efficiency of enterprise servers. It's server-side Java workload exercises the CPUs, caches, memory hierarchy, and the scalability of shared memory processors (SMPs) that allows for a fair server comparison across the industry. It measures the power and performance characteristics at eleven different load levels from idle, 0% utilization up to 100% active to mimic real world situations. Once all this data across the load levels is gathered, an overall power-performance metric is calculated. Since the SPECpower_ssj2008's is a defined measurement standard, it allows for an easy comparison to other configurations and servers.
Java is used in many applications across a wide variety of industries including financial services, manufacturing, and health and life sciences. For example, Java is used in the financial services industry for trading, stock monitoring, and web applications, as well as scientific applications like natural language processing, manufacturing usages, or visualization tools.
But these benefits are not just for Java applications. These can easily be extrapolated for other server-side coding languages that power other HPC applications.
Putting this efficiency to work in your data center
Energy and space efficiency are top data center concerns where IT professionals are constantly challenged to do more, with less, for a longer period of time. This is where the Apollo 2000 Gen10 Plus System can deliver significant results with next-generation density-optimized, scale-out supercomputing to data centers of all sizes. Optimized for rack density, the HPE ProLiant XL225n Gen10 Plus server is a 2-processor 1U half-width server tray, built on the 2nd Gen AMD® EPYC™ 7002 processors that support 10,752 cores and 80 server nodes per 42U rack.
This platform delivers impressive performance with a peak performance per node result that is 121% more than the previous. Additionally, this is the first multi-node system that beat the 17,000 overall ssj_ops/watt barrier beating the previous top multi-node result by 41%. And given the energy-efficient design of this system and infrastructure, it is estimated that customers can see up to $15,000 US in annual energy savings, requiring 70% less BTU/h for cooling in less than half the rack space compared to the next leading competitor.*. This infrastructure is also built to last as it will support the follow on AMD processors, so you will see the benefits from the platform for years to come.
Accelerating value in HPC
At HPE, we are here to deliver the products that enable data centers of all sizes. Our new Apollo 2000 Gen10 Plus platform is the energy-efficient, rack-optimized, high-performance system ready to power the HPC workflows that are defining this next era of computing and enterprise digital transformation.
Need help getting started? HPE is here to help with valuable services and flexible financing options to get you on there right path for your business.
*NOTE: Annual energy cost and rack space calculated based on performance envelope of a 42U rack populated with HPE ProLiant XL225n Gen10 Plus servers running at 100% versus the energy and rack space required by competitor products to achieve the same performance. Average price for kWh = $0.0693 US. AMD and EPYC are trademarks of Advanced Micro Devices, Inc., in the U.S. and other countries. Intel Xeon is a trademark of Intel Corporation in the U.S. and other countries. Windows is either a registered trademark or trademark of Microsoft Corporation in the United States and/or other countries. SPEC® and the benchmark name SPECpower_ssj are registered trademarks of the Standard Performance Evaluation Corporation (SPEC), see spec.org as of April 22, 2020. All rights reserved. All third-party marks are property of their respective owners.
---
Brandon Draeger
Hewlett Packard Enterprise
twitter.com/HPE_HPC
twitter.com/cray_inc
linkedin.com/showcase/hpe-servers-and-systems/
hpe.com/servers

Find out about the latest live broadcasts and on-demand webinars
Read more

Visit this forum and get the schedules for online Expert Days where you can talk to HPE product experts, R&D and support team members and get answers...
Read more
View all
© Copyright 2021 Hewlett Packard Enterprise Development LP