>

>

>

Empowering HPC innovation with the HPE Apollo 6500...
Forums

Blogs

Information

English

Empowering HPC innovation with the HPE Apollo 6500 Gen10
The HPE Apollo 6500 Gen10 is taking HPC capabilities to the next level. This innovative system is engineered for ease of use with the reliability, availability, and security for a variety of enterprise workloads.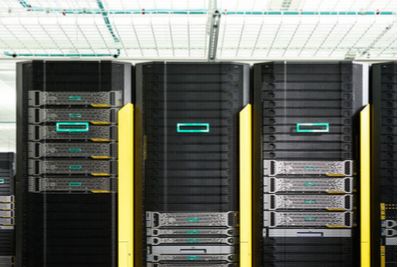 In an age where rapid data growth is pushing the limits of traditional IT and businesses are determined to evolve, a new breed of technology is required to enable growth and success. High performance computing (HPC) is key to staying one step ahead of the competition, but today's systems are merely scraping the surface of the potential speed, efficiency, and processing capabilities.
Industries like Retail Banking, Life Sciences, Oil and Gas, and Manufacturing are under tremendous pressure to transform in order to survive. Hewlett Packard Enterprise (HPE) is committed to preparing all businesses for the future, introducing groundbreaking HPC solutions to increase performance, enhance the customer experience, and improve business outcomes. HPE is leading the pack in HPC development with technologies designed to quickly develop new and better products and services, drive digital transformation, and create new opportunities for innovation across all markets.
The HPE Apollo 6500 Gen10 is the flagship of HPE's efforts in HPC. This enterprise platform for accelerated computing is driving compute capacity and performance to tackle the world's most demanding workloads. And with optimal density, efficiency, and security features, businesses can operate with the utmost confidence.
A new frontier of HPC innovation
Advancements in HPC are revolutionizing nearly every human and business process—from boosting workplace productivity, deriving insights from massive datasets, to fueling scientific, economic, and technological breakthroughs.
HPE is dedicated to helping businesses harness massively parallel processing power and superior performance compared to other industry standard servers on the market. HPE's robust solutions provide the extreme compute necessary to solve highly complex problems in real time, while simplifying IT management. The HPE Apollo server family is purpose-built to address the needs of HPC workloads as well as big data analytics, object storage, and many others. HPE Apollo servers are density-optimized for the highest levels of performance and efficiency, and with rack-scale compute, storage, and networking solutions designed for massive scale-out, businesses can continuously adapt and innovate.
HPC servers from HPE offer several benefits:
Deliver an agile and flexible platform that is optimized for specific workloads
Provide greater accuracy, product quality, and user experiences
Accelerate time to value by reducing implementation time
Ensure architectural flexibility with both scale-up and scale-out solutions
Reduce capital spending and operational costs
The HPE Apollo 6500 Gen10 is taking HPC capabilities to the next level. This innovative system is engineered for ease of use with the reliability, availability, and security for a variety of enterprise HPC workloads. Leveraging industry-leading accelerators, the HPE Apollo 6500 Gen10 delivers exceptional performance and parallel processing capabilities to improve business outcomes, execute data-heavy workloads, and drastically reduce time to insight. Accelerators enable optimum HPC compute, resulting in dramatic boosts in application performance as well as increased consistency and dependability. HPE integrates HPC solutions and powerful accelerators to harness cutting-edge speed and scalability, equipping business with a new breed of enterprise server to improve I/O performance, networking, and data movement. And with a choice of accelerator topologies, storage, operating system, and add-ons, businesses can fully integrate their compute environments to achieve higher bandwidth and flexibility to match a wide range of workloads and varying customer needs.
With a modular design that can fit into a standard 1-meter rack, the HPE Apollo 6500 Gen10 is purpose-built for simplified access and serviceability. In fact, the system-board module can simply slide out, providing direct access to CPU and RAM for rapid upgrades. Additionally, HPE iLO 5 allows businesses to seamlessly configure, monitor, and update their HPE servers from anywhere, at any time. HPE iLO firmware offers the next generation in server management capabilities, like the HPE Silicon Root of Trust—the first of its kind. The Silicon Root of Trust builds firmware security directly into the HPE-engineered silicon to guarantee ultimate protection against firmware attacks as well as automatic recovery. HPE Gen10 servers are equipped with this unique silicon chip, making them the world's most secure industry standard servers.
HPE Apollo 6500 Gen10 servers ensure greater resilience, simplicity, and unmatched, accelerator-driven performance for dense HPC environments, empowering businesses to achieve better results and the lowest possible TCO. These revolutionary capabilities promise to drive improvements across all industries. Key examples include increasing accuracy and timeliness in Weather and Climate, enhancing efficiency and productivity in Oil and Gas, improving quality and cost in Life Sciences, and driving product quality and time to market in Manufacturing.
Solutions that are fueling success
HPE's mission is to create a new generation of HPC machines to execute today's workloads and solve the challenges of tomorrow, all the way to exascale. The HPE Apollo 6500 Gen10 is the next step in this journey, offering economic control, unprecedented performance with industry-leading accelerators, and simplified management in addition to enterprise-grade reliability, availability, and serviceability (RAS) features.
This breakthrough platform is enhanced by a number of industry-leading solutions, including Mellanox InfiniBand, Intel® Omni-Path Architecture, and Intel® Xeon® Scalable processors. This powerful combination enables businesses to harness explosive data volumes and rapidly scale to handle demanding applications and workloads. Together, these best-of-breed solutions are revolutionizing HPC:
Lightning-fast speeds and highly accurate results
Superior resiliency with air-cooling and 2+2 power redundancy
Efficient system management and security
Seamless upgrades and easy serviceability
Flexible support options
To aid businesses with their HPC deployments, HPE also offers three types of Pointnext Services to drive rapid digital transformation. Advisory and Transformation Services are at the forefront of this effort, helping businesses create a roadmap for digital transformation. Professional Services specialize in seamless, on-time, and on-budget implementation. Finally, Operational Services offer a new way to deliver IT by managing and optimizing resources both on-premises and in the cloud.
To learn more about how you can unleash the full power of HPC, I invite you to visit me on Twitter at @Bill_Mannel. You can also check out @HPE_HPC for more information on the HPE Apollo Gen10 family and other game-changing products and services from HPE.
Featured articles:

Find out about the latest live broadcasts and on-demand webinars
Read more

Visit this forum and get the schedules for online Expert Days where you can talk to HPE product experts, R&D and support team members and get answers...
Read more
View all
© Copyright 2022 Hewlett Packard Enterprise Development LP