>

>

>

Engineering with Excellence: CAE Solutions for man...
Forums

Blogs

Information

English

Engineering with Excellence: CAE Solutions for manufacturing
HPE is a market-leading CAE platform vendor, empowering today's manufacturers to simplify system and data management, reduce operational costs and complexity, and deliver maximum performance at scale.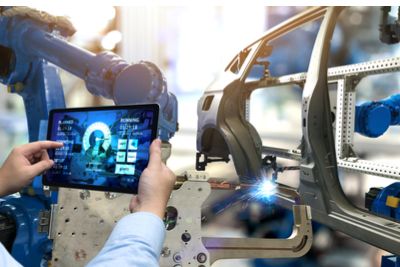 High performance computing (HPC) has opened the door to a new age of speed and productivity. Particularly in the manufacturing and engineering space, HPC capabilities are driving improvements to operational efficiencies and business outcomes. Yet as technologies and economic climates shift, companies must innovate rapidly in order to succeed. Escalating demands and a highly competitive marketplace are posing major challenges to today's manufacturers—such as complying with increasing regulations, operating faster and more effectively while mitigating costs, and maintaining a competitive edge, all to maximize Total Value of Ownership (TVO), or (Total Benefits – Total Costs).
Computer-aided engineering (CAE) is a breakthrough development that is helping manufacturers create higher-quality products and accelerate time-to-market, while lowering overall costs and risks. The economic benefit of CAE is enormous, often delivering hundreds of percent in ROI. And backed by robust HPC solutions for manufacturing, companies can leverage CAE to optimize their TVO.
Hewlett Packard Enterprise (HPE) is a market-leading CAE platform vendor who offers key technologies to maximize TVO and fuel digital transformation. With powerful HPE Apollo servers and Intel® components, the HPE CAE solutions portfolio is purpose-built to reduce complexity and harness extreme performance at scale in order to streamline CAE workflows and turbocharge time-to-value.
Improving TVO and business success
CAE is becoming an increasingly vital investment for manufacturers, as innovations continue to slash production time and optimize designs. As CAE workloads continue to escalate, companies are striving to create a highly reliable infrastructure that can boost employee productivity, from engineers to suppliers, and promote a high-performing and cost-effective business operation.
The TVO framework breaks down four cost and value drivers that are foundational to CAE—total cost of ownership (TCO), productivity and quality, revenues, and risks. Along the horizontal axis, the drivers are arranged based on whether they are primarily Technology or Business drivers. Along the vertical axis, drivers are arranged based on ease of measurability: Direct or Derived. The size of the drivers—depicted as circles—indicates the importance of each driver on a manufacturing client's TVO.
Source: High Value CAE Solutions from Hewlett Packard Enterprise, 2018
Cost and value drivers have a game-changing impact on a company's TVO. By improving in each area, manufacturers stand to gain valuable competitive advantage and position themselves as disruptors in their field:
Lower TCO – Typical expenses include one-time acquisition costs for hardware and deployment, annual software fees, maintenance fees, and operational costs. CAE enables greater performance with a similar or smaller data center footprint, which lowers data center power and cooling costs. Additionally, CAE solutions increase system reliability and simplicity, requiring fewer administrators to manage the environment and potentially lowering CAE software licensing costs.
Improved Productivity/Quality – According to the TVO Framework, productivity is directly linked to product quality. CAE can improve the efficiency and effectiveness of engineers by streamlining processes, automating critical bottlenecks, minimize downtime, and much more. Investing in a turnkey HPC infrastructure with integrated compute, storage, networking, and software dramatically simplifies setup, deployment, and maintenance, and frees engineers to focus on delivering high-quality products.
Higher Revenue/Growth – In this competitive marketplace, greater innovation is essential to drive profits and business growth. With faster time-to-value and a more comprehensive, better-optimized CAE ecosystem, manufacturers can propel their companies into the future.
Mitigated Risk – Uptime, quality, consistency, and security are paramount for manufacturers. To mitigate risk and keep their operations up and running, companies are investing in the latest CAE and HPC technologies to accelerate processes and reduce system downtime. These tools can also streamline collaboration across the supply chain as well as ensure peak data quality, security, and performance by keeping it safe in the data center.
Creating the ideal CAE environment
With a combination of industry-leading platforms, services, and deep technical collaborations, HPE is committed to helping manufacturers innovate and succeed. HPE CAE solutions are designed to enhance cost savings, productivity/quality, revenues, and risk management to maximize TVO.
Leading the HPC systems market with 36.8% market share, HPE delivers unified compute and storage capabilities to simplify system and data management, reduce costs and complexity, and scale to deliver superior performance. Anchored on HPE Apollo servers with Intel® Xeon® Scalable Processors and Intel® Omni-Path Architecture, these solutions deliver the world's best performance for compute and data-intensive workloads. HPE Apollo Gen10 servers are expertly engineered with density, energy efficiency, and memory in mind to optimize workflows with up to 4X more performance per square foot than white box rack servers. Now, companies can choose from small (HPE Apollo 2000) to medium (HPE Apollo 6000) to large supercomputers (HPE SGI 8600) to fit their needs.
Companies who invest in these technologies will realize major advantages:
Faster time-to-value with pre-configured CAE and other software installed prior to shipping
Greater productivity with lower job completion times, higher throughput, and less downtime
More new product ideas and innovation derived from solving complex CAE/analytics problems with greater accuracy
Better collaboration with enhanced data quality, consistency, and security by utilizing remote visualization capabilities and keeping data within the data center
Easy integrating with other HPE manufacturing solutions (incl. edge, IoT, machine learning, etc.)
Better reliability, availability, and serviceability (RAS) and security features in HPE systems for CAE are in place to contain downtime and security expenses. HPE Pointnext services are offered to help companies easily and cost-effectively expand and manage their HPC deployments. Whether companies need advisory and transformation services or insight into consumption-based IT, HPE experts are available to help. And for those who need further assistance, HPE Centers of Excellence and 24/7 support services are available to help companies operate continuously.
To learn more about the incredible benefits of CAE for manufacturing, I invite you to follow me on Twitter at @Bill_Mannel. You can also visit @HPE_HPC for more information on HPC solutions that are transforming business operations.
Featured articles:
Starting June 22

THE FUTURE IS EDGE TO CLOUD Prepare for the next wave of digital transformation. Join our global virtual event. June 22 – 24
Read more

Find out about the latest live broadcasts and on-demand webinars
Read more
View all
© Copyright 2021 Hewlett Packard Enterprise Development LP