>

>

>

HPE Discover 2020: Research for a Cure sessions yo...
Forums

Blogs

Information

English

HPE Discover 2020: Research for a Cure sessions you don't want to miss!
Have you heard? HPE is bringing HPE Discover 2020 to you as a FREE ongoing virtual experience. Please register and join us online for this year's event. We kick off on June 23 with a live keynote by CEO Antonio Neri, along with a host of live and on-demand sessions, demos, and training designed to help you and your organization now and into the future.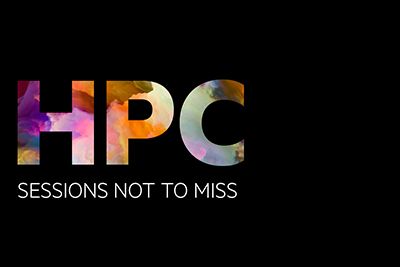 And are you interested in research for a cure to COVID-19, drug discovery, and the key role of technology in identifying new drug treatments? If so, join us starting Tuesday June 23, 2020.
B503: Short documentary - From the Frontline: One Scientist's Journey to Accelerate Drug Discovery
Dr. Jerome Baudry, a molecular biophysics professor from the University of Alabama in Huntsville, shares his journey as he pushes the accelerator on coronavirus-focused drug discovery. He is studying compounds and elements that occur in nature and their application to drug development. Using HPE's Sentinel supercomputer, he is researching the efficacy of natural products against COVID-19.
B507: Interview Q&A - Drug Discovery with PharML.Bind: A Novel Approach to a Novel Virus
Join Dr. Eng Lim Goh in a discussion about PharML.Bind with two of the developers of this open source drug discovery framework: Dr. Yuri Peterson, Research Associate Professor of the College of Pharmacy at Medical University of South Carolina and Jacob Balma, HPC AI Engineering Researcher at HPE. This new virtual screening technique, PharML.Bind, adds high-performance computing and AI to the process of predicting the affinity of drug compounds and proteins and dramatically improves its speed and efficiency.
Interested in other sessions? We invite you to explore the full line-up of sessions on our content catalog and build your own agenda. Be sure to check back often, as we add new sessions and demos daily.
As a reminder, registration for HPE Discover Virtual Experience 2020 is FREE! With your registration, HPE will donate $10 to your choice of one of 10 featured causes, so join us and give back to organizations helping people, businesses, and communities recover from the COVID-19 crisis. Read more about these organizations and the great work they are doing to support COVID-19 recovery around the world. (Terms and conditions apply.)
Featured articles:
Starting June 23, please log in to the HPE Discover Virtual Experience and search by Session ID (listed above) or by area of interest to view a session.
We look forward to seeing you virtually at HPE Discover 2020!
---
Joseph George
Hewlett Packard Enterprise
twitter.com/jbgeorge
linkedin.com/in/josephgeorge/
hpe.com/servers
Starting June 22

THE FUTURE IS EDGE TO CLOUD Prepare for the next wave of digital transformation. Join our global virtual event. June 22 – 24
Read more

Find out about the latest live broadcasts and on-demand webinars
Read more
View all
© Copyright 2021 Hewlett Packard Enterprise Development LP