>

>

>

HPE wins DoD supercomputing contract to advance na...
Forums

Blogs

Information

English

HPE wins DoD supercomputing contract to advance national security
In early 2018, HPE announced two contracts with the DoD. According to these contracts, HPE will deliver over 5 years of supercomputing capabilities and related services to the Air Force Research Laboratory and the Navy.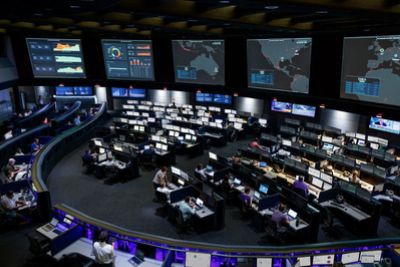 High performance computing (HPC) is the cornerstone of growth and productivity, so much so that organizations around the globe are investing in cutting-edge technologies to operate faster and more intelligently than ever. This is especially true in the U.S. where HPC is driving major developments in a variety of industries. In particular, the U.S. Department of Defense (DoD) is harnessing the massive compute power of HPC solutions to accelerate time to intelligence and bolster national security.
The HPC Modernization Program (HPCMP), controlled by the DoD, is a highly ambitious, innovation-focused research program committed to expanding HPC to address the country's most significant security challenges. Utilizing world-class compute resources, the DoD is striving to achieve five executive priorities:
Maintain leadership
Expand the applications of HPC
Increase customer productivity
Exploit next-generation technologies
Develop the workforce
In February 2018, Hewlett Packard Enterprise (HPE) announced two new contracts with the DoD to bolster the HPCMP mission. According to these contracts, HPE will deliver over five years of supercomputing capabilities and related services for seven DoD systems to the Air Force Research Laboratory (AFRL) DoD Supercomputing Resource Center (DSRC) and the Navy DSRC. This effort is designed to accelerate the development and acquisition of supercomputers for use in national security as well as provide 24/7 support with on-site system administration and applications support personnel from HPE. Together, these contracts award HPE up to $57 million over the five-year period.
Advancing national defense capabilities
In 2017, the HPCMP budgeted over $222 million to empower the research of scientists and engineers at five DoD supercomputing centers. The goal is to equip these teams with the latest hardware and software tools to ensure the U.S. military maintains a strategic technological advantage over other global powers, specifically rivals like China and Russia.
Supercomputing capabilities are key to keeping a competitive edge, enabling the DoD to rapidly research, engineer, and test new technologies to accomplish today's tasks and to meet the challenges of tomorrow. This includes employing executing increasingly complex and data-intensive workloads such as digital modeling, which allows researchers to digitally test performance and adapt designed before building expensive physical prototypes. HPC applications leverage the extreme speed and capacity necessary to support sophisticated models for a range of projects—from predicting rotor improvements in military helicopters early in the design phase, to developing alert systems capable of savings thousands of lives.
Now, the DoD has enlisted HPE to help drive innovation and achieve even greater levels of performance. With a total of seven HPE SGI 8600 systems, the DoD will have the firepower to support hypersonics research and computational modeling of air, naval, and ground weapons systems on four AFRL DSRC machines, in addition to advanced weapons development and global weather modeling requirements on three Navy DSRC machines. Combined, these HPC systems will deliver 14.1 petaflops of compute capacity and over 24 petabytes of usable storage.
Investing in a secure future
The HPE SGI 8600 is the world's most advanced production supercomputer. Expertly engineered for superior agility, density, and energy efficiency at scale, these robust platforms are redefining performance. Today, the HPE SGI 8600 is powering some of the fastest supercomputers in the world, offering petaflops of speed and scalability to thousands of nodes. All seven DoD systems feature 24-core Intel® Xeon® Scalable Processors on an Intel® Omni-Path Architecture fabric to ensure unprecedented speed and performance. Additionally, four will incorporate NVIDIA® Tesla® P100 GPUs. These systems will go into production in late 2018.
According to Bill Mannel, VP & GM, HPC Segment Solutions and Apollo Servers, Data Center Infrastructure Group for HPE, "In our data-driven world, supercomputing is increasingly becoming key to stay ahead of competition—this applies to national defense just as to commercial enterprises. The DoD's continuous investment in supercomputing innovation is a clear testament to this development and an important contribution to U.S. national security. HPE has been a strategic partner with the HPCMP for two decades, and we are proud that the DoD now significantly extends this partnership, acknowledging HPE's sustained leadership in HPC."
To learn more about the extreme compute capabilities of HPC, I invite you to follow me on Twitter at @pango. And for information regarding the latest HPE solutions that are changing the game, check out @HPE_HPC.

About the Author
PankajGoyal
Pankaj is building HPE's Artificial Intelligence business. He is excited by the potential of AI to improve our lives, and believes HPE has a huge role to play. In his past life, he has been a computer science engineer, an entrepreneur, and a strategy consultant. Reach out to him to discuss everything AI @HPE.

Find out about the latest live broadcasts and on-demand webinars
Read more

Visit this forum and get the schedules for online Expert Days where you can talk to HPE product experts, R&D and support team members and get answers...
Read more
View all
© Copyright 2021 Hewlett Packard Enterprise Development LP