>

>

>

Harness the full power of HPC servers with an effe...
Forums

Blogs

Information

English

Harness the full power of HPC servers with an effective cooling approach
Finding a superior cooling technique is vital to support HPC systems. Instead of limiting rack utilization or deploying excess cooling fans, many users are adopting a modular approach to ensure a sustainable future.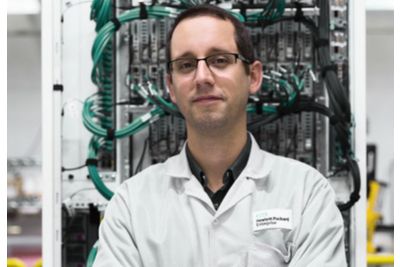 High performance computing (HPC) innovation is rapidly transforming the way we operate – with an onslaught of cutting-edge technologies designed to optimize applications and workloads, increase productivity, and enable better business outcomes. Today's users are seeking new methods to satisfy the evolving demands of supercomputing in order to extend compute resources and accelerate critical processes. As new generations of HPC solutions provide more compute power at higher densities, users must find increasingly effective ways to optimize and maintain their deployments.
High-density HPC systems are driving the need for greater rack power and enhanced cooling as users strive to execute larger and more complex workloads faster. Finding an effective cooling technique is vital to accommodate the growth in power density. Instead of limiting rack utilization or deploying excess cooling fans, many users are adopting a modular approach to ensure a sustainable future.
A modular approach to cooling
As the need for superior compute power drives the HPC market, a secondary movement has emerged to develop highly efficient machines. A modular approach enables users to support increasingly compute-intensive environments and cool high-speed processors with greater efficiency.
NASA has dramatically increased its operating efficiency by deploying a modular system named Electra. With an efficient new design, NASA now uses 2.5% of the power to cool the system, instead of 33%. Utilizing a combination of water and outside air, Electra consumes one-third of the power to cool the machine as it does to run it. Its modular architecture is expected to dramatically reduce the amount of water and electrical resources required for cooling – saving approximately 1 million kilowatt-hours of energy and 1.3 million gallons of water each year. These dramatic improvements are empowering NASA to achieve faster compute and future innovation, opening the door for new modules to realize even greater levels of performance.
The next generation of energy-efficient machines
Many users are investing in the leading-edge capabilities of HPE Apollo servers to run complex HPC workloads, including breakthrough performance with economies of power and cooling. HPE Apollo servers are optimized for enterprise-grade performance at scale, while ensuring peak operating efficiency to execute user's most demanding workloads, quickly and cost-effectively. This powerful portfolio leverages water-cooling techniques which can be 1,000X more efficient than air-cooling techniques alone.
This energy-saving approach is central to the HPE SGI 8600, the liquid-cooled modular system behind NASA's Electra. The HPE SGI 8600 offers superior power and cooling capabilities as well as substantial cost savings with an innovative "E-cell" architecture. An E-cell is a sealed unit which uses a direct-attached, liquid-cooled sink to remove heat with the utmost efficiency. Each E-cell contains two 42U high racks separated by a dedicated cooling rack which circulates air and removes heat from the system, passing it through water-cooled pads before it is expelled. This innovative architecture guarantees 99.9% heat removal.
The HPE SGI 8600 is revolutionizing what it means to compute, equipping HPC users with the ideal mix of performance and efficiency to harness petaflop speed. The modular system is fueling progress in a variety of fields, from space exploration to academic research. In June 2017, the Tokyo Institute of Technology's TSUBAME 3.0 – a robust platform powered by the HPE SGI 8600 – received the Green500 Award for most energy-efficient system. Today, TSUBAME 3.0 remains ranked among the top Green500 supercomputers in the world.
To learn more about innovative cooling techniques that are enabling sustainable HPC performance, I invite you to follow me on Twitter at @Bill_Mannel . You can also check out @HPE_HPC for the latest news and updates in HPC innovation.
Featured articles:

Bill Mannel
VP & GM - HPC & AI Segment Solutions

Find out about the latest live broadcasts and on-demand webinars
Read more

Visit this forum and get the schedules for online Expert Days where you can talk to HPE product experts, R&D and support team members and get answers...
Read more
View all
© Copyright 2021 Hewlett Packard Enterprise Development LP