>

>

>

Join HPE ForCAST online and reimagine the future o...
Forums

Blogs

Information

English

Join HPE ForCAST online and reimagine the future of HPC and AI
HPE invites our HPC and AI customers and partners to join ForCAST, our dedicated online event on June 15-19, 2020.
We knew high-performance computing (HPC) and artificial intelligence (AI) were critical to building the future. Today, we understand their importance even more.
Finding the solutions that will keep the world safe, healthy, and thriving will depend on great ideas. Those great ideas will depend on great technologies to make them a reality.
It's why we're eager to introduce ForCAST— For the Community for Advanced Scientific and Technical Computing.
The world needs great HPC and AI leadership now more than ever and this exclusive event brings HPE executives, technical staff, partners, and our scientific and technical computing community together to imagine the future of HPC and AI.
Join the ForCAST digital event
Speaking of imagining, we've reimagined ForCAST (formerly HP-CAST) for the world we're currently living in. It will take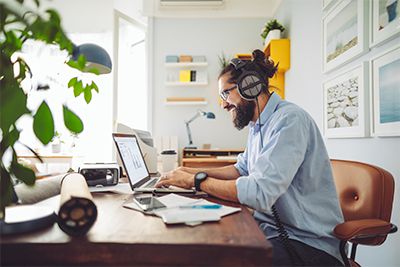 place as a digital event June 15-19. But as communities and businesses across the world are proving every day, you don't have to be in the same room to connect, collaborate, and inspire.
At ForCAST, we'll be looking at HPC and AI through a variety of lenses. HPE execs and technical staff will discuss the latest news and solutions advancements, look at roadmaps, and examine the company's strategic direction. We'll also engage with industry leaders and showcase work happening with key technology partners.
Perhaps most importantly, we'll listen to each other. Your feedback on products, solutions, what's working, and what's not is a critical part of HPE's goal to advance the way we all live and work. We've planned a series of live "meet the experts" sessions to address questions and solicit your feedback.
Not-to-miss real-time and on-demand presentations
ForCAST kicks off on Monday, June 15 with keynote talks from Pete Ungaro, Senior Vice President and General Manager, HPC and Mission Critical Solutions, and Nic Dube, Vice President, Fellow, and Chief Technologist for HPC.
Pete will set up the event with an update on HPE's HPC and AI business as well as the company's approach and strategy. Nic will guide us through the latest trends driving the HPC and AI community, discuss how HPE is positioned to address the market's coming needs, and offer a look at our vision for future technologies.
From there, we have an information-rich lineup of on-demand presentations from HPE product and solutions leaders who will present special content tracks covering our comprehensive HPC and AI portfolio. Take your pick of tracks covering Networking, Compute, Software, AI, Hybrid HPC, Storage, and HPE Pointnext Services. (Though if we're being honest, we hope you'll view them all.)
Among the over two dozen presentations, you can learn about the Slingshot interconnect, compute technologies for the Exascale Era, HPE's HPC software portfolio, why traditional approaches to storage no longer work, the evolution of deep learning, and much more. Register to get the full event schedule. (Please note that a valid CDA is required to participate in ForCAST.)
Presentations will be available on demand starting June 15 and available for you to view at your convenience. But be sure to mark your calendars for Wednesday, June 17 and Thursday, June 18. That's when we'll be hosting live "meet the experts" sessions where you can talk to the production and solution presenters from each content track directly, ask questions, and provide feedback.
If you're a current HPE customer and interested in participating in ForCAST, I invite you to reach out to my colleague, Rick Downey who can assist you with registration.
Whether near or far, community and connection make all of us better. With that in mind, we'd also like to invite you to join our exclusive HPE HPC Insiders community where you can engage with your peers and HPE solution leaders to get additional insights on how to get the best performance from your HPE solutions.
HPE HPC Insiders provides you with opportunities to network with like-minded HPC experts, get first-hand updates and a direct line of communication to the HPE team, and enjoy a number of other benefits such as VIP treatment at HPE's flagship events.
If you have any questions or would like to learn more about the program, please contact us at hpeinsiders@hpe.com.
---
Brandon Draeger
Hewlett Packard Enterprise
twitter.com/brandondraeger
linkedin.com/in/brandondraeger//
hpe.com/servers

Find out about the latest live broadcasts and on-demand webinars
Read more

Visit this forum and get the schedules for online Expert Days where you can talk to HPE product experts, R&D and support team members and get answers...
Read more
View all
© Copyright 2021 Hewlett Packard Enterprise Development LP