>

>

>

Modernize your data center with a hybrid approach ...
Forums

Blogs

Information

English

Modernize your data center with a hybrid approach to HPC infrastructure
As high-performance computing needs grow, enterprise customers frequently question their data center strategy. Hybrid HPC eases the data center modernization struggle, providing a practical "best-of-both-worlds" approach for provisioning on- and off-premises solutions.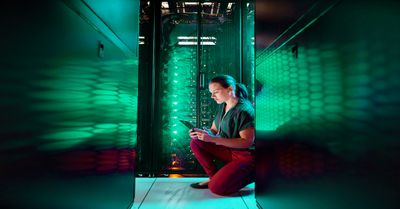 In a 2018 survey of North American IT organizations, the majority of IT managers expect to double the capacity of their data centers by the end of this year.1
At the same time, cloud computing is fast growing in 2019, with annual growth rates ranging from 10.9% for cloud infrastructure, to 17.3% for public cloud services, to 23-24% for public cloud spending in high-growth industries including professional services, telecom, and banking).2'
This begs the question: Is the IT world simply of two minds? Rapidly growing in-house data centers, while at the same time also growing cloud adoption at similar breakneck speeds?
The fact is an entire emerging field of high-performance computing (HPC) recognizes these two trends not as competing or paradoxical—but instead, synergistic and complementary. HPE's Hybrid HPC is the term that describes, as the name suggests, a hybrid approach to HPC infrastructure.
On-premises HPC capabilities for any organization are of course crucial. However, in a time of high demand on HPC assets, that same organization is also ill advised to rely solely on on-premises HPC assets. Bursting, seasonal workloads and hourly and minute-to-minute shifts in HPC usage patterns argue strongly for one or more off-premises HPC solutions as well, including colocation (an outsourced data center space) and HPC cloud.
HPE, the undisputed leader in HPC deployments globally,3 is now staking a leading position in the Hybrid HPC space. Here, I'll discuss some of the top HPC infrastructure pain points CIOs and other IT managers experience today and demonstrate how they can be mitigated (or even solved) by our Hybrid HPC offering.
Modernizing data centers with Hybrid HPC
Data center modernization is at the center of many CIOs' long-term plans. According to Gartner, by 2025, 80% of enterprises will have transitioned away from the present-day, traditional data center model.4 To be more agile and less exposed to up-front investments, many will instead be pursuing HPC consumption models that can leverage an onsite buffer—and scale up or down on top of that.
In so many words, what I've just described is a popular scenario for a Hybrid HPC solution.
For example, many systems today are moving closer to the network edge. (Think of autonomous vehicles, aircraft maintenance hangars or assembly lines.) The amount of data generated at the edge is sometimes too large and time-sensitive to be transferred to a remote location in time – whether that's an on-premises data center or a remote cloud installation. So the initial analysis must be performed close to where the data originates. However, in-depth and longer-term study on the data is better suited to a client's on-premises or cloud HPC resources.
The dual movement of HPC workloads to off-premises and to the edge requires Hybrid HPC infrastructure for the broad range and full lifecycle of your organization's data.
In order for Hybrid HPC to integrate effectively into your HPC infrastructure, substantial expertise is still needed to ramp it up, optimize its configuration and troubleshoot it for a user's unique set of workloads. This is where HPE really delivers on the Hybrid HPC promise.
Completing the circle with HPE Centers of Excellence and Early Access Program
HPE is expanding our Centers of Excellence (COE) to include a host of new regions in which we can design, test, and deploy custom-tuned Hybrid HPC solutions designed for every enterprise's circumstances.
HPE Centers of Excellence are already established in Europe via (Advania Data Centers) and now have been set up in North America via ScaleMatrix. Most recently, we added a Markley data center in the U.S. and an Opin Kerfi data center in Europe. Now worldwide, COEs are providing solutions through integrators like Accenture and Opin Kerfi.
Since 2018, through the COEs, HPE has been running its Early Access Program (EAP) to support HPC cloud environments for customers and service providers. Through the EAP, customers and service providers gain access to demos and trials. The COEs test configurations and workloads in trials enabling customers to experiment with scenarios and runtime environments without needing to commit.
Since Hybrid HPC involves a mix of off-premises and on-premises HPC, expertise available through the EAP can be integrated with the resources available at the COEs. In this way, we are offering you the chance to learn and run proof-of-concept (PoC) implementations while experimenting with built-to-purpose HPC cloud-based technologies—from HPC Infrastructure-as-a-Service (IaaS), OpenStack for HPC, and Linux containers to HPC Platform-as-a-Server (PaaS) and cloud management platforms.
Key takeaways

Enterprise customers often struggle with their data center strategy as HPC needs grow.
HPE Hybrid HPC provisions for both on- and off-premises IT.
HPE helps customers develop, test, optimize, and deploy custom-built Hybrid HPC solutions.
Beginning your Hybrid HPC journey
Today, HPE is building out our own Hybrid HPC resources and portfolio of solutions. In the process, we are helping customers to understand the changing HPC operating environments and smartly adapt with an amalgamated HPC approach that reaps the best of both worlds in on-premises and off-premises and cloud HPC.
Through the EAP, your organization gains access to demos, trials, and support for proof of concepts to begin your Hybrid HPC journey.
The journey can progress by adopting HPE GreenLake pay-as-you-go consumption-based IT solutions that deliver desired outcomes with hardware, software, and expertise on-premises or in the cloud. HPE GreenLake helps you deliver products while reducing risk, cost, and time by being able to use capacity when needed with a specifically tailored solution.
To discover how HPE can advance your organization's HPC infrastructure with Hybrid HPC resources and solutions, visit our Cloud28+ page or contact an HPE sales representative by emailing hpc-eap@hpe.com
Bill Seidle
Hewlett Packard Enterprise
twitter.com/HPE_Servers
linkedin.com/showcase/hpe-servers-and-systems/
hpe.com/servers
---
1 Andy Patrizio, "Two studies show the data center is thriving instead of dying." NetworkWorld July 13, 2018), citing 2018 survey by market research firm IHS Markit of 151 IT officers of North American IT organizations.
2 Louis Columbus, "Roundup of Cloud Computing Forecasts and Market Estimates, 2018." Forbes (Sept. 23, 2018), citing studies by IDC & Gartner.
3 In 2017, the most recent year for which final data is available at press time, HPE's HPC sales represented 34.2% of total marketplace earnings. The next closest competitor was 19%. Earl Joseph, Hyperion Research, "HPC Market Update from Hyperion Research." SlideShare.com (May 2, 2018)
4 The Data Center Is Dead, and Digital Infrastructures Emerge, Gartner report. (April 2018) https://www.gartner.com/doc/3871516/data-center-dead-digital-infrastructures

About the Author
Bill_Seidle
As the manager of HPC and AI Portfolio Marketing within the Hybrid IT Group at HPE, I lead a worldwide marketing team that develops our HPC and AI differentiated messaging, competitive positioning and value proposition, creates best-in-class supporting assets and digital content and amplifies our compelling message leveraging a variety of web, social, digital and traditional media formats.
Starting June 22

THE FUTURE IS EDGE TO CLOUD Prepare for the next wave of digital transformation. Join our global virtual event. June 22 – 24
Read more

Find out about the latest live broadcasts and on-demand webinars
Read more
View all
© Copyright 2021 Hewlett Packard Enterprise Development LP