>

>

>

Optimize your data center performance with hybrid ...
Forums

Blogs

Information

English

Optimize your data center performance with hybrid HPC
Hybrid solutions from HPE create an infrastructure which delivers superior simplicity, control, and data center capabilities. Businesses who adopt hybrid HPC can achieve extreme performance and the power of choice.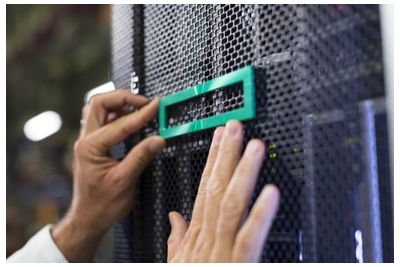 As the digital universe grows increasingly larger and more complex, high performance computing (HPC) makes it possible to analyze vast datasets without compromising on performance; yet many businesses are struggling to overcome the limited compute capacity and processing capabilities of traditional infrastructures. In order to succeed, a new style of IT is required to enable seamless scalability, extreme data performance, and ongoing digital transformation. Hybrid IT is preparing today's businesses for tomorrow's data workloads by joining the reliability of on-premises infrastructure with the agility and flexibility of the cloud. Hybrid IT lets businesses maintain data center control and quickly respond to evolving demands; however, it can also introduce complexities that hinder productivity.
We at HPE are committed to delivering a hybrid experience that will simplify on-premises environments, ease data center management, and drive productivity without breaking the bank. With a number of powerful HPC servers and software-defined solutions, HPE is empowering businesses to enhance their HPC deployments and accelerate data workloads both on-premises and in the cloud. And with a variety of solutions to choose from, businesses can personalize their HPC deployments while simplifying on-premises infrastructure. Hybrid HPC is a key driver of IT modernization, providing unparalleled flexibility and scalability.
To the cloud and beyond
Hybrid environments are transforming the way businesses operate, with a mix of traditional IT and HPC cloud technologies to handle a variety of workloads. HPC cloud—or hybrid HPC—is a catalyst for business innovation which combines the ideal mix of preferred clouds and existing on-premises infrastructure to accommodate diverse applications and data center workloads. Deployment options range from remaining 100% on-premises to migrating 100% to the cloud. According to a 2017 HPE study, 72% of businesses reported that the HPC cloud is their primary destination.
Software-defined solutions for hybrid IT reduce operational friction, offering a cloud-like experience across the entire infrastructure. Businesses can choose from offerings such as software-defined storage solutions to eliminate complexity and optimize IT resources as well as networking products to streamline data center operations, which help to ease HPC cloud adoption and management. In fact, hybrid solutions from HPE can provide 94% faster delivery of compute, 4.5X better application performance, and 43% lower hardware and maintenance costs. Businesses are opting to create a software-defined environment in their data centers to reduce operational costs, accelerate business-critical applications, and streamline data center operations. These solutions create a flexible and automated infrastructure for hybrid HPC which delivers superior simplicity, control, and data center capabilities.
Today's businesses are putting hybrid HPC technology to work, tailoring their deployments to fit their unique needs. Businesses are adapting these technologies to transform their IT resources and enhance performance in several key ways:
Rapid infrastructure provisioning: Break down barriers that limit business growth, affording on-demand infrastructure services that accelerate performance.
HPC cloud storage: Access massively scalable storage to improve collaboration, data access, and cost savings.
Transitioning to the cloud: Optimize data center performance by leveraging traditional applications off-premises to harness increased speed and scalability in the cloud.
Control and choice: Exercise the choice of building a hybrid infrastructure and managing IT services, or utilizing a third-party vendor to deliver on-premises and off-premises services in a consumption-based model.
The future of hybrid HPC
Hybrid HPC environments are equipping businesses with extreme performance and choice. HPE has a defined strategy to maximize HPC usage with a combination of industry-leading solutions, expert guidance, and financial services that businesses can leverage to drive innovation. Robust HPC servers enhanced by Intel Xeon® processors and Intel® Omni-Path Architecture are designed to reduce latency as well as increase bandwidth and performance, allowing businesses to build their ideal solution to achieve greater scalability and manageability.
For those who require further assistance, businesses can select HPE offerings such as Flexible Capacity, IaaS, and platform as a service (PaaS) capabilities that can be delivered both on-premises and off-premises. These services provide the choice of comprehensive software management tools, predictable consumption models, and flexible solutions to easily adapt their infrastructure of choice. Businesses may also utilize HPE Data Center Care Services to dramatically simplify HPC environments and optimize traditional and cloud-based workloads.
To learn more about the benefits of hybrid HPC, I invite you to follow me on Twitter at @seidleHPC. And check out @HPE_HPC for the latest innovations from HPE.

About the Author
Bill_Seidle
As the manager of HPC and AI Portfolio Marketing within the Hybrid IT Group at HPE, I lead a worldwide marketing team that develops our HPC and AI differentiated messaging, competitive positioning and value proposition, creates best-in-class supporting assets and digital content and amplifies our compelling message leveraging a variety of web, social, digital and traditional media formats.
Starting June 22

THE FUTURE IS EDGE TO CLOUD Prepare for the next wave of digital transformation. Join our global virtual event. June 22 – 24
Read more

Find out about the latest live broadcasts and on-demand webinars
Read more
View all
© Copyright 2021 Hewlett Packard Enterprise Development LP