>

>

>

Supercomputer cabinet art connects research to Aus...
Forums

Blogs

Information

English

Supercomputer cabinet art connects research to Australian roots at Pawsey
For many customers, their Cray supercomputer becomes part of the "family." It shows in the thought and attention organizations put into designing art for their system cabinet fronts. See what the process was like for Pawsey Supercomputing Centre as they went deep into their Australian roots.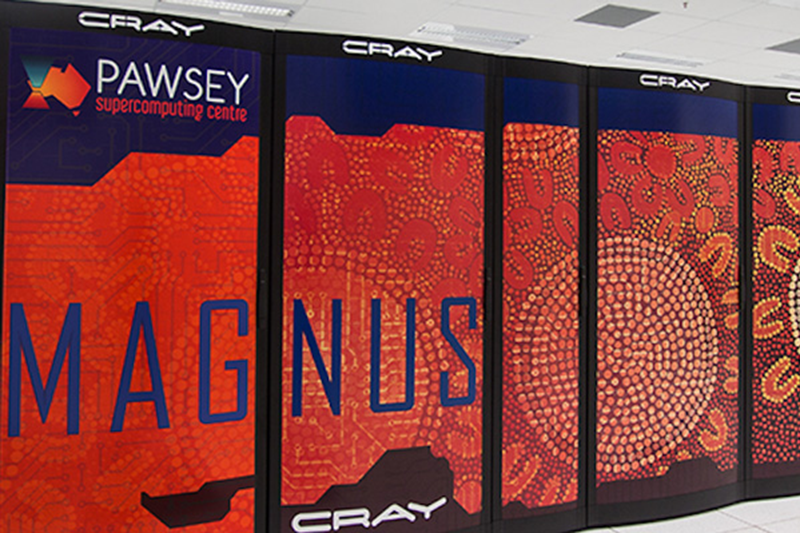 For our customers, owning a Cray supercomputer brings a lot of pride. It's easy to understand why. They're making incredible discoveries with them.
In a lot of ways, a supercomputer becomes part of an organization's "family." We see it time and time again in the thought and attention our customers put into designing art for their system cabinet fronts.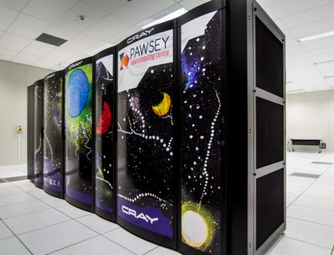 Pawsey Supercomputing Centre is one of these organizations. A national high-performance computing (HPC) facility located in Perth, Western Australia, the Pawsey Centre supports almost 200 research projects and 1,500 researchers in solving problems as varied as ending famine to understanding the nature of the universe. Supplying the HPC power are two Cray® XC™ series supercomputers—Magnus and Galaxy.
When considering cabinet artwork for both systems, Pawsey looked to its connection with the science the systems enabled as well as the Centre's Western Australian roots for inspiration. Thematically, they focused on the two scientific areas Pawsey supports most closely: energy and resources and radio astronomy. Or in other words "the ground below and the sky above." Then they sought out indigenous artists with close ties to the region to create the artworks.
As the world's only real-time supercomputing service for telescopes used in astronomy research, Galaxy was the obvious choice for representing the sky above. Pawsey commissioned local artist Jesse Pickett to create the art. The resulting works "Rainbow Serpent and the Moon" and "The Sun" pay homage to the Centre's close connection to the northwest of Western Australia as well as the earliest Australians knowledge of the stars.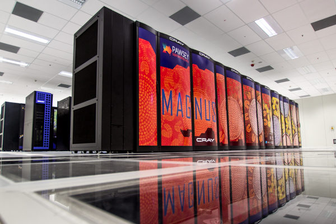 Like Galaxy, the cabinet artwork on Magnus also reflects Pawsey's connection to its Western Australian roots. Aboriginal artist Margaret Whitehurst drew inspiration from "the ground below" and Pawsey's support of geoscience research as well as her childhood growing up on the Murchison River in "SKA Satellites on the Murchison." Ms. Whitehurst comes from the Wajarri language group in the Yamaji region of Western Australia. Her paintings reflect traditional and contemporary Aboriginal styles.
Over 1,000 people visit the Centre annually. From researchers to government officials to local community members, they want to see what a real supercomputing facility looks, feels, and sounds like. And they want to hear the story of what Pawsey and its supercomputers do. And if a picture really is worth a thousand words. . . then the system art helps tell it in glorious color.
This blog originally published on cray.com and has been updated and published here on HPE's Advantage EX blog.
---

Maria Valero
Hewlett Packard Enterprise
twitter.com/hpe_hpc
linkedin.com/showcase/hpe-ai/
hpe.com/info/hpc
---

Find out about the latest live broadcasts and on-demand webinars
Read more

Visit this forum and get the schedules for online Expert Days where you can talk to HPE product experts, R&D and support team members and get answers...
Read more
View all
© Copyright 2021 Hewlett Packard Enterprise Development LP