>

>

>

Supercomputing successes around the world: Join ou...
Forums

Blogs

Information

English

Supercomputing successes around the world: Join our virtual tour
Today's supercomputers span massive implementations that now cascade to the enterprise. Let's go globetrotting to discover the huge impact supercomputing is making in all kinds of industries all around the world.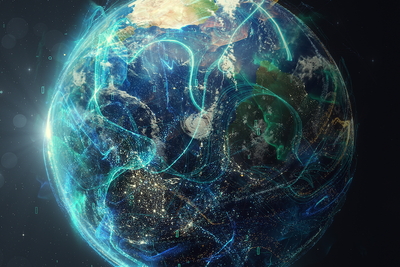 Ahhhh. . . the memories of a real road trip to wondrous places. The warm sunset-filled beach. The exciting tour of the lively big city. Or even an annual family reunion to Disney. And should I be so bold to say even a tradeshow? Yes, I even miss those days! Travel adventures are few and far between in the COVID world we live in today. So we have to be creative. Let us charge forward on a virtual tour across the globe, making stops that might not be glamorous in the way we would have imagined—but instead offer an insightful and educational look at supercomputing all around the world.
The next era of computing
Supercomputers have evolved to include not only the largest of large implementations but also enterprise applications as well. This means that in this next era of computing, systems that perform like a supercomputer and run like a cloud are powering new workloads of every type. Read on and you might be surprised to discover how and where supercomputers are bringing positive change to lives in every corner of the world. Let's begin our virtual journey.
First stop: Japan
Here, the National Institute of Genetics (NIG) is tasked with building the International Nucleotide Sequence Database (INSD) in cooperation with the U.S.-based National Center for Biotechnology Information (NCBI) and the European Bioinformatics Institute (EBI). Their other mission is to provide life science and genomic medical researchers with powerful computational resources.
Why is this so important? Data registered in the INSD is preserved permanently as scientific information and available for use by anyone without any limitation. It is an asset to be shared by all humans. With all this data, processing and analyzing becomes a huge undertaking and requires massive amounts of computing power. The NIG has implemented the 5th Generation NIG Supercomputer which achieves a total theoretical operation performance of approximately 1.1 PFLOPS, which is about 2.2 times compared to the previous system.
Business and operational benefits that come with this type of implementation include eliminating researchers' tasks related to the preparation for analysis and lets them focus on research operations. As well as, establishing analytical techniques that use AI, with expected progress in bioinformatics research. Read the full case study to see how NIG accelerates life science and genomic medical research.
On to India
Join us on our stop at IndianOil Corporation Ltd. That accounts for nearly half of India's petroleum products market share, with sales of about 90 million tons in 2018 through 2019. IndianOil has business interests straddling the entire hydrocarbon value chain from refining, pipeline transportation, and marketing, to exploration and production of crude oil and gas, petrochemicals, gas marketing, alternative energy sources, and globalization of downstream operations— and has run its $87 billion business on SAP technology for the past 16 years – one of the largest SAP-driven companies in the world. However, with the increase in volume, mixture of various workloads, and the need to bring in new capabilities, it was time for an upgrade.
After evaluating system vendors, IndianOil implemented an end-to-end HPE solution to support their SAP upgrade. The HPE team worked closely with IndianOil to design and manage the solution from the bottom up—everything from production and test environment infrastructure to high availability (HA)/disaster recovery (DR), to data backup.
Was the migration a success? Very much so. The entire IndianOil migration to SAP HANA took just less than four months to complete—impressive by any measure, but especially for such a large and complex environment. Business transactions are now happening faster—with the average response time dropping by more than half—and more invoices generated within a time interval leading to increased company revenue. Reports generated 10 times faster help IndianOil make quick and accurate real-time decisions. Learn more about IndianOil's massive migration to SAP HANA journey that accelerated business performance and prepared the company for future growth.
Heading down under
Now join me in Australia, where companies like Carnegie Clean Energy are making a difference in researching cost-effective ways to create energy from untapped, renewable sources. Using supercomputers to study the rhythms of nature could unlock unlimited supplies of clean energy. Carnegie teams up with the Pawsey Supercomputing Centre in Kensington, Western Australia for access to the HPE Cray Magnus—a petascale supercomputer.
On a quest to tap unused natural resources to produce renewable energy, study wave action to unlock its nearly limitless potential for energy creation and create floating structures to harness wave energy, living on the coast provides ample opportunity to use Mother Nature at its best. The impressive results include:
Provides emissions-free sustainable and scalable energy
Produces grid-ready electricity with zero visible impact
Creates the ability to produce 5X the amount energy our planet needs
Watch how supercomputing puts elusive clean energy source within reach and makes it all possible.
Across the globe to the United Kingdom
Welcome to Leicester, where the University of Leicester and the DiRAC high-performance computing facility provide a variety of compute resources for researchers to support world-leading science research. Goals to support research and calculations for astrophysics, particle physics, cosmology, and nuclear physics brought them to partner with HPE. The university teamed with HPE to design a highly specialized and finely balanced supercomputer based on HPE Apollo and HPE SGI components to boost research in the region and the world.
Performing cutting-edge simulations and larger calculations, the team was able to deliver more than 3x the number of processing cores of the previous cluster and has eliminated the beta testing phase to go directly into production for research. Explore more on how the University of Leicester and the DiRAC are elevating theoretical physics and astrophysics.
On to the U.S. and a Southern state stopover
A quick jump over the "pond" and we're at the University of Alabama that is deploying supercomputing resources to understand virus behavior by building protein models and accelerate natural drug discovery, such as researching the coronavirus pandemic with new therapies, through the use of artificial intelligence.
The need for compute power is an understatement with the requirement to provide the research power equal to the Earth's entire population doing 20,000 calculations every second. The University of Alabama is achieving these tasks with the HPE Cray XC50 high-performance computing system.
Are they making a difference? Absolutely! Results have been positive in the fight against COVID:
Delivering massive AI analytics capabilities with 147 trillion floating point operations per second
Creates the possibility to design treatments with characteristics that existing drugs do not possess
Enabling a small research team to do the work of 500,000 people
Hear from Dr. Jerome Baudry as he recounts his journey accelerating drug discovery on the COVID-19 frontlines. Victories, setbacks, and insights, and how supercomputing reduces the time required to study critical stages of drug design.
Now it's Rocky Mountain time
Our final virtual visit takes us to Colorado at the site of Argonne National Laboratory, a U.S. Department of Energy multidisciplinary science and engineering research center. Its researchers work to make discoveries and inspire new technology to meet national needs for sustainable energy, economic competitiveness, and security.
Argonne researchers are using the Theta supercomputer, based on the Cray XC series, to model potential drug candidates that could serve as antivirals against COVID-19. Argonne is part of the COVID-19 High Performance Computing Consortium, a recently announced White House initiative.
Requirements were significant with implementing power computationally intensive simulations of how billions of different small molecules from drug libraries could interface and bind with different viral protein regions. And with the use of machine learning and AI techniques to identify potential drug candidates as efficiently as possible, ample progress has been made.
How much progress? Argonne National Laboratory can now refine configurations on potential drug candidates for each viral protein from 10B to 6M contributing to advances towards the goal to identify inhibitor candidates that could serve as antivirals against COVID-19. Read how scientists worldwide are speeding up drug discovery to combat coronavirus with complex modeling, simulation, AI, and machine learning capabilities.
Everywhere you go, a supercomputer!
Wherever you call home, I hope you have enjoyed our trip around the world to see the massive impact supercomputing is having on the environment, research, and scientific discovery. Many of us don't realize we're using supercomputers in our everyday lives—like when we're checking the weather, driving to the doctor's office, watching a movie, or managing our bank accounts. So next time you put your rain coat on due to an accurate weather forecast, say a little thank you to the supercomputers.
Related articles:
---
Meet HPE Experts blogger Tracy Siclair

Tracy has worked for HPE for 24 years in various positions, all geared toward providing a better customer experience. She has a passion for thinking out of the box and finding innovative ways to share commercial insights. Using research and insights, she's putting those into action by telling stories customers can easily understand.

HPE Experts
Hewlett Packard Enterprise
twitter.com/hpe
linkedin.com/company/hewlett-packard-enterprise
hpe.com

Find out about the latest live broadcasts and on-demand webinars
Read more

Visit this forum and get the schedules for online Expert Days where you can talk to HPE product experts, R&D and support team members and get answers...
Read more
View all
© Copyright 2021 Hewlett Packard Enterprise Development LP