>

>

>

Supercomputing technologies fuel innovation in mul...
Forums

Blogs

Information

English

Supercomputing technologies fuel innovation in multiple industries
Every industry can benefit from supercomputing technologies from HPE and AMD. Countless organizations are realizing better outcomes, from increased profits and productivity to discovering breakthroughs in technology, science, and business.
Nearly every industry can benefit from supercomputing technologies. With the right combination of compute, infrastructure and software, supercomputing solutions from HPE and AMD enable customers to do more. Supercomputing promises advances in personalized medicine, carbon capture, astrophysics, market economics, and biofuels. It will enable experts to better predict the weather, solve more complex mathematical problems, explore the edges of the universe, and create a more energy-smart power grid.
In the collective drive towards the next threshold in supercomputing and the positive social impacts these systems might enable, AMD is dedicating research and resources to improve the performance, energy-efficiency, reliability, and programmability of future computing systems. Through a wide variety of use cases, countless organizations are now realizing better outcomes, whether that means increased profits and productivity, delivering better services, or discovering breakthroughs in technology, business, or science. Here's a look at how the next era of compute has advanced operations in sectors like manufacturing, financial services, and healthcare and life sciences.
Manufacturing
Implementing supercomputing technologies has spurred significant progress in manufacturing, driving improvements across product design, testing, and development, and meeting the rising demand for sustainable practices. These technologies,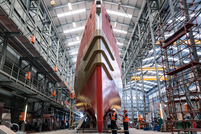 with features including high core counts and memory bandwidth, are enhancing the use of computer-aided engineering (CAE) capabilities, so today's manufacturers can accelerate and improve production. HPE and AMD have teamed up with Ansys, a pioneer in simulation software, to help manufacturers gain faster insight with the power of supercomputing. HPE Apollo Gen10 Plus systems with AMD EPYC™ server processors deliver HPC solutions that enhance product development and time-to-market. These solutions enable organizations to scale demanding CAE applications that facilitate high-resolution models and more simulations. In addition, they provide immediate and predictive insight into how products like autonomous vehicles, aircrafts, and medical devices will perform under real-world conditions. Organizations that utilize HPE supercomputing technologies will have the competitive edge to deliver safer, more effective products at low total cost of ownership.
Financial Services
Financial services institutions make millisecond-decisions that affect every area of operations—from identifying and resolving cybersecurity threats to developing better financial products and harnessing real-time intelligence to boost profit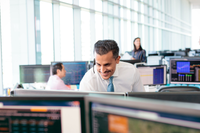 margins. Financial organizations need maximum performance that supercomputing offers to overcome congestion and latency issues caused by traditional compute. For these applications where core performance matters the most, AMD offers high-frequency SKUs with large cache/core ratios. These are available in both 2nd and 3rd Generation AMD EPYC processors with 8 core up to 32 core options. Supported on HPE Apollo platforms, these systems make it possible to reach new heights of financial performance by introducing solutions that streamline core operations and fuel compute across any IT environment. HPE supercomputing technologies powered by AMD processors are the next stage of this important legacy, making supercomputing more accessible for organizations of all sizes.
Healthcare & Life Sciences
Data growth is impacting healthcare and life sciences in profound ways. These organizations often struggle to manage the flood of data streaming from a rising number of sources in order to turn this information into actionable insights.
Outdated\ compute technologies are no longer powerful enough to analyze this crucial data, which slows innovation and causes scientists, researchers, and caregivers to fall behind. To enter the next phase of medical and scientific advancement, healthcare and life sciences are shifting to a modern infrastructure to accelerate key workloads and scale seamlessly at the pace of their data while keeping critical data secure.
How supercomputing aids discovery across industries
Today, supercomputing is revolutionizing what we know about ourselves and the world around us. Organizations are deploying powerful supercomputing technologies and platforms, like HPE Cray supercomputers, that enable the right scale with the right mix of AMD CPUs and AMD Instinct™ GPUs to execute their specific use cases. The flexibility of the AMD EPYC processor portfolio allows the ability to choose the right processor across a wide variety of disparate applications with different requirements. For example, for quantum mechanics where frequency with balanced core ratio is key, high core performance CPUs are preferred while for genomics CPUs with the highest core and thread count are more applicable.
Together, HPE and AMD are pioneering new levels of performance, speed, and insight. Our cutting-edge solutions will redefine what we know about supercomputing and how we utilize these technologies to drive transformation across all industries, at any scale. It's time for you to experience the game-changing advantages to tackle your biggest challenges.
We can help you compete, grow, and thrive for years to come. Contact us today to start your supercomputing journey.
Would you like to apply for our HPE Insiders for HPC client-only community? It is a dedicated invitation-only space to keep you informed, give you your seat at the table, and provide the opportunity to connect with your peers.
---
Bill Mannel
VP & GM, HPC
twitter.com/Bill_Mannel
linkedin.com/in/billmannel/
linkedin.com/showcase/hpe-servers-and-systems/
hpe.com/info/hpc
Starting June 22

THE FUTURE IS EDGE TO CLOUD Prepare for the next wave of digital transformation. Join our global virtual event. June 22 – 24
Read more

Find out about the latest live broadcasts and on-demand webinars
Read more
View all
© Copyright 2021 Hewlett Packard Enterprise Development LP