>

>

>

Turbocharge your hybrid infrastructure with softwa...
Forums

Blogs

Information

English

Turbocharge your hybrid infrastructure with software-defined solutions
Today's enterprises are transforming their infrastructures to achieve greater speed, flexibility, and cost-efficiency. Software-defined solutions are key to achieving high-level performance while reducing IT complexity.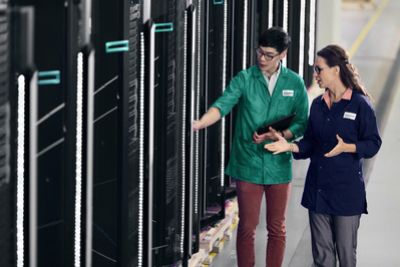 Today's enterprises are transforming their IT infrastructures to help them achieve greater speed, flexibility, and cost-efficiency. For many, the answer is finding new ways to capitalize on existing on-premises resources as well as expanding these resources in the cloud. By adopting a hybrid IT approach, enterprises can employ high performance computing (HPC) capabilities on-demand and on budget, allowing them to boost productivity, seamlessly scale to execute demanding workloads, and increase economic control.
Hewlett Packard Enterprise (HPE) is preparing IT teams to take full advantage of hybrid IT, providing the right mix of software-defined solutions to enhance scalability, affordability, and ease of use both on-premises and in the cloud. HPE is well-positioned to help enterprises harness the power of hybrid HPC, and with a powerful partner ecosystem, enterprises can utilize HPC solutions that are purpose-built to simplify and optimize any environment.
Leveraging software-defined solutions
Software-defined solutions let enterprises manage their infrastructure as code, and because the software isn't tied to specific hardware, the application can easily specify and configure the hardware it requires to run a particular code. This approach integrates and automates critical IT functions with little human intervention to dramatically simplify IT environments, allowing IT teams to focus on other tasks. Software-defined solutions—from infrastructure services to storage and networking—are helping enterprises create powerful, modernized environments to satisfy their needs, without the limitations of dedicated hardware.
Software-defined solutions empower high-level, automated operations while reducing IT complexity and manual tasks. Now, enterprises can leverage these capabilities using a composable infrastructure. Composable infrastructures harness the speed and flexibility of the cloud to rapidly deploy IT resources for any workload, utilizing software-defined intelligence to further simplify the management and cost of operations, reduce costs, and develop applications more quickly. Investing in a software-defined, composable infrastructure is becoming increasingly vital to hybrid computing, particularly as enterprises strive to accelerate both digital and business transformation.
The HPE Synergy composable infrastructure platform is a transformative new technology that enables enterprises to optimize their environments and deliver value instantly and continuously. HPE Synergy also streamlines hybrid IT management by offering a comprehensive solution for delegating compute, storage, and networking. And with cloud-like agility, enterprises can operate more, faster—like creating a new operating system volume in just 10 seconds or reducing operator time performing firmware updates by 73%.
Simplifying hybrid environments
HudsonAlpha Institute for Biotechnology is one organization capitalizing on the highly flexible and performant architecture of HPE composable platforms. 200–300 gigabytes of data-handling capacity is required to map a singly human genome, and with 250 petabytes of genomic data produced annually, HudsonAlpha needed a robust solution to converge compute, network, and storage infrastructure to services 200 researchers at 34 different companies. HPE developed a solution utilizing three HPE Synergy compute modules, an HPE Synergy D3940 Storage module, three HPE Hyper Converged 380 systems, and HPE OneView for systems management. Now, HudsonAlpha has the superior speed and adaptability to repurpose compute resources to tackle multiple workloads and accelerate time to insight—a transformation that will yield 94% faster delivery of compute resources, $7.41 million in business benefits, and 247% ROI within five years.
Migrating to a hybrid HPC infrastructure is becoming essential as enterprises strive to expand, innovate, and outpace the competition. Hybrid HPC is a critical initiative for HPE, and with a variety of industry-leading software-defined solutions, hybrid HPC adoption has never been more flexible or accessible.
To learn more about the benefits of HPC software, you can follow me on Twitter at @seidleHPC. And for information on the latest innovations from HPE, check out @HPE_HPC.
Featured articles:

About the Author
Bill_Seidle
As the manager of HPC and AI Portfolio Marketing within the Hybrid IT Group at HPE, I lead a worldwide marketing team that develops our HPC and AI differentiated messaging, competitive positioning and value proposition, creates best-in-class supporting assets and digital content and amplifies our compelling message leveraging a variety of web, social, digital and traditional media formats.
Starting June 22

THE FUTURE IS EDGE TO CLOUD Prepare for the next wave of digital transformation. Join our global virtual event. June 22 – 24
Read more

Find out about the latest live broadcasts and on-demand webinars
Read more
View all
© Copyright 2021 Hewlett Packard Enterprise Development LP