>

>

>

Unlocking the next era of compute: It's time to de...
Forums

Blogs

Information

English

Unlocking the next era of compute: It's time to demystify supercomputing
Supercomputing completely rethinks how technology can conquer challenges today and prepare for even greater challenges tomorrow. Yet the term "supercomputing" is often misconstrued. It's time to demystify the next era of compute.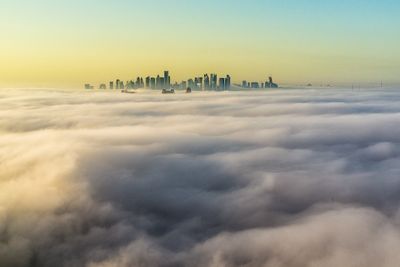 We have entered an age marked by rapid growth and explosive amounts of data. Organizations are working tirelessly to meet industry trends, the demands of their businesses, and customer expectations which are constantly evolving.
Escalating competition is putting tremendous pressure on organizations to transform their operations from the ground up. Supercomputing completely rethinks how technology comes together to conquer these greatest challenges of today, and prepare for the even bigger challenges of tomorrow. However, the term "supercomputing" is often misconstrued to apply to only the world's largest research and government groups, causing organizations to shy away from high-performance computing opportunities. Many believe they lack the financial resources, expertise, or even the need to adopt the latest technologies. As a result, the benefits of supercomputing are being widely underutilized in a number of industries. It's time to demystify supercomputing.
The high volume of data and increased complexity of workloads are requiring businesses to reevaluate their compute. Supercomputing technologies can better handle today's modern, converged workloads and deliver the parallel processing power and speed to overcome the limitations of inflexible IT infrastructure with a combination of compute, storage, interconnects, and software that are available at any scale. Organizations need the high performance and high throughput that supercomputing capabilities provide to reduce bottlenecks and latency issues. This allows organizations to accomplish an extensive range of tasks, from small-scale activities to high-end workloads at the same time. The purpose of supercomputing is to optimize and accelerate any type of workload, which makes it possible to analyze and make sense of events that are too difficult to see or measure in real life. The data-intensive nature of new applications will require ongoing innovation for the long term. These capabilities will redefine what it means to operate, leading organizations to reconsider how they think, learn, collaborate, and engage the world.
Advancements in supercomputing technologies are changing the face of the modern data center, as organizations implement capabilities today that will be relevant for years to come. Addressing important scientific, engineering, and business challenges depends on continued investments in supercomputing. Strategic adoption of these technologies gives organizations the potential to evolve and lead their industries.
In this dynamic global economy, success is built on innovation
HPE and AMD have teamed up to meet the insatiable need for compute. We provide cutting-edge technologies that accelerate critical insights as well as help boost profits through data center transformation, with the extreme performance organizations require to tackle increasingly diverse and complex workloads. Our offerings include supercomputing innovations that can be easily deployed and utilized at any scale.
Not everyone needs an exascale system, but everyone can benefit from exascale technologies. Together with AMD, HPE offers a comprehensive portfolio of supercomputing technologies, tools, and support services to organizations across all industries, regardless of the size, scope, specifications, or budget.
When powered by AMD EPYC™ Server Processors and AMD Instinct™ Accelerators, HPE supercomputing technologies are pioneering the next generation of discovery and achievement. AMD Infinity Architecture, the foundation of AMD processor technology, is built into AMD EPYC processors providing security features that help you mitigate risk It's a thoughtful design approach to accelerate computation, access data quickly, and help protect against ever-changing security threats. AMD Instinct MI100 accelerators offer robust mixed precision capabilities and P2P GPU connectivity for AI and machine learning workloads. Simply, AMD Infinity Architecture pushes the boundaries for x86 performance, efficiency, security features, and overall system throughput to deliver on the promise of next generation high performance computing. Built on the world's highest performing server processor and the world's fastest HPC accelerator, AMD provides the compute power you need to bring faster time to insight and accelerate discoveries.[1] These solutions are integrated and tuned to create an environment that can be applied today and will fuel progress in line with business growth. Organizations that adopt these solutions are driving dramatic improvements across their operations, using the same feature sets as the largest supercomputing systems to accelerate technical, scientific, and business-related insights and enable better overall TCO.
Now, your organization has the control to develop your ideal solution for the new era of compute. By deploying or upgrading individual components or implementing a full-scale supercomputing environment, you can meet any compute requirements that may emerge.
Let HPE and AMD empower your supercomputing journey with landmark exascale technologies to ensure your success, now and far into the future. Data centers that demand exceptional CPU performance, security features, and scalability count on AMD.
Would you like to apply for our HPE Insiders for HPC client-only community? It is a dedicated invitation-only space to keep you informed, give you your seat at the table, and provide the opportunity to connect with your peers.
[1] Results as of 04/14/2021 using SPECrate®2017_int_base. The AMD EPYC 7763 scored 839, http://www.spec.org/cpu2017/results/res2021q1/cpu2017-20210219-24936.html which is higher than all other 2P scores published on the SPEC® website. SPEC®, SPECrate® and SPEC CPU® are registered trademarks of the Standard Performance Evaluation Corporation. See www.spec.org for more information.
---
Bill Mannel
VP & GM, HPC
twitter.com/Bill_Mannel
linkedin.com/in/billmannel/
linkedin.com/showcase/hpe-servers-and-systems/
hpe.com/info/hpc
Starting June 22

THE FUTURE IS EDGE TO CLOUD Prepare for the next wave of digital transformation. Join our global virtual event. June 22 – 24
Read more

Find out about the latest live broadcasts and on-demand webinars
Read more
View all
© Copyright 2021 Hewlett Packard Enterprise Development LP