>

>

>

2020 was a very good year for HPE Storage
Forums

Blogs

Information

English

2020 was a very good year for HPE Storage
How do you look back at 2020 to find highlights in what has been probably the toughest year for all of us? Let's face it, it's been a tough year.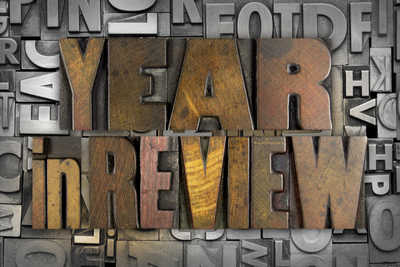 It's been tough on customers.
It's been tough on vendors.
It's been tough all over.
But despite the mess we've had to deal with, all of us, it has been a good year for HPE Storage. I don't say that lightly – I've worked in HPE Storage for 30 years and this year really stands out for me. I'm not just saying that because it's the end of the year and needed a year in review article for ATSB. So, in this article, I'll do a quick review of the year but first I want point you to a podcast that I just did looking at 2020 and the year in review.
Listen to the podcast I did with David Wang, who leads product marketing in HPE Storage.
You can subscribe to my podcast on your favorite platform: TalkShoe.com, iTunes, Google Podcast, and Spotify podcast.
It might sound a lot like a self-congratulatory podcast and article - maybe there's a hint of that – but I think what it reflects is that we in HPE with Antonio Neri's leadership have reacted and responded to the challenges that COVID has thrown at us and what we've delivered is making a difference for you, our customers. I want to start by looking at the awards and recognitions for HPE Storage.
GARTNER MAGIC QUADRANT FOR PRIMARY STORAGE
A couple of weeks ago we got the results of the latest Gartner Magic Quadrant (MQ) for Primary Storage. The MQ is about the overall HPE primary storage, not a single product – although HPE Primera and HPE Nimble Storage are our superstars. Tom Black, SVP and GM of HPE Storage wrote an article talking about the results. I want to share a quote from his article:
"Having recently assumed the role of SVP and GM for HPE Storage, I am proud we have been named as a Leader in the second annual Gartner Magic Quadrant for Primary Storage 2020..... I'm thrilled Gartner chose to recognize HPE for our completeness of vision and our ability to execute. I believe that collectively, the innovations we executed on this year have disrupted a market, created a new category, and unlocked hybrid cloud."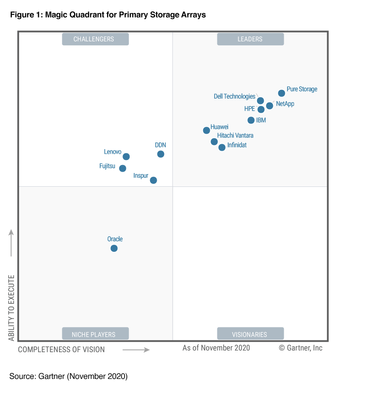 You can download a copy of the Gartner Magic Quadrant for Primary Storage here. Note that you do have to register to get a copy but this is worth it as you can get an overall view of the storage market.
I have Chalk Talks to give you a starting point with HPE Primary Storage and I think these cover why HPE is a leader. If you haven't seen them, check them out. Each of these contribute to HPE's leadership position in the MQ and Tom discusses them in his article:
CRN TECH INNOVATOR AWARDS
CRN and partners recognized HPE Storage for a couple of awards. In the category of Enterprise Storage, they named HPE Primera as the winner. This is awesome because they also recognized HPE Primera as the winner in 2019. The article says that HPE Primera "has gone beyond predictive analytics to take direct actions that optimize resource utilization, dramatically improving storage performance for customers." This is a unique AIOps feature that HPE Primera doesn't just identify what needs to change but takes that action.
In the category of Data Center Infrastructure, HPE Nimble Storage dHCI was named a finalist. The article says, "Data efficiency and independent scaling of compute and storage contribute to reduced costs with Nimble Storage dHCI, while the system features 99.9999 percent of data availability guaranteed and sub-millisecond latency." I also love that when an HPE ProLiant customer puts uses dHCI, the support model converts to the Nimble team. The importance of that is that 86% of issues are opened, resolved, and closed without you being involved.
A BEST OF VMWORLD AWARD
Keeping the topic of HPE Nimble Storage dHCI going, it was chosen as a Best of VMworld in the category of Virtualization, Cloud Infrastructure, and DevOps. I have a blog post on ATSB talking about this in more detail and we talk about it in the podcast as well. In the article, I summarize why I think dHCI won this recognition:
The value that our HCI 2.0 focus has driven us to eliminate the trade-offs made with traditional HCI. (Note: I have my latest Chalk Talk looking at HCI 2.0 and HPE Nimble Storage dHCI and it explains this in more detail).
The easy public cloud on-ramp with dHCI for either running in the cloud with HPE Cloud Volumes Block or backup to the public cloud with HPE Cloud Volumes Backup. (See my blog post with lots of information around Cloud Volumes Backup including a deep dive podcast).
"Nimble dHCI turns your current servers into an enterprise [hyper-converged infrastructure] solution, including automation and single-pane-of-glass management," is what the judges were quoted as as saying - all true!
Related to HCI, something David and I talked about in the podcast is the IDC Hyperconverged Systems market share data - as of now, the Q2 data from September 2020 is the latest but I expect that the Q3 data will be released by the time you read this. Sandeep Singh, VP of HPE Storage Marketing wrote an article HPE reshapes the HCI Landscape: Breaking away from competition that talks about how HPE grew HCI 53.5% year over year and more on HCI 2.0.
MORE CRN AWARDS
After I wrote this, I learned that HPE received more recognition from CRN, this time in the Product of the Year Awards. The CRN Tech Innovator Awards that I already mentioned honor "products and services that offer both major advances in technology" while the Product of the Year Awards honor "the very best partner-friendly products and services that launched over the past year — as chosen by solution providers themselves." Tom Black wrote an article highlighting the HPE Storage Product of the Year Awards voted on by partners that included:
HPE SimpliVity in the category of Hyperconverged Infrastructure.
HPE Primera 600 won Enterprise External Storage Hardware.
I'd also note that HPE also won product of the year with HPE ProLiant MicroServer Gen10 Plus and was a finalist with HPE GreenLake, HPE Nimble Storage, Silver Peak (acquired by HPE), and HPE Aruba.
HPE GREENLAKE (AS-A-SERVICE) AND STORAGE
In the podcast, I suggested to David that I'm considering becoming the HPE GreenLake Godfather. Ok, maybe not since I have so much invested in storage but I do think that GreenLake has a great future. So over the last few weeks, I've done a couple of Chalk Talks looking at HPE GreenLake. One is an overview that's great for someone not familiar with the HPE GreenLake and the other is specifically looking at storage as a workload. I have a blog post on ATSB where you can watch both of these and learn more about my perspective on HPE GreenLake - the cloud that comes to you.
2020 MILESTONES
There are a number of milestones, new products and enhancements that we brought in 2020. David and I talked about these in the podcast but there are also blog posts on ATSB where you can dive a lot deeper than what we covered in the podcast. Here's my list of top 2020 HPE Storage milestones:
Despite the good year we've had in HPE Storage, here's to putting 2020 in the rear view mirror and moving on to 2021. I hope you and your loved ones are staying safe and healthy and have Merry Christmas and Happy New Year.
NOTE: This article originally was published in Connect-Converge, the quarterly publication of Connect, the independent HPE Technology Users Group. If you are an HPE User, I highly recommend you join this community. It is free to join for customers.
About The Storage Godfather (formerly HPEStorageGuy)

I'm Calvin Zito and November 2020 marks 37 years with HP/HPE. I've worked in HPE Storage since 1990. I was recently recognized as a 10 time VMware vExpert. As an early adopter of social media and active participant in communities, I've blogged for over 13 years. I'm also an avid Boise State fan - and excited that they've just decided to play this fall! You can find me on Twitter as @CalvinZito. If you don't follow me on Twitter, please do it now! You can also contact me via email.
Calvin Zito
Hewlett Packard Enterprise
twitter.com/HPE_Storage
linkedin.com/showcase/hpestorage/
hpe.com/storage

About the Author
CalvinZito
I have worked at HPE since 1983, all of it around storage but 100% focused on storage since 1990. I'm expanding into other areas of focus at HPE like HPE GreenLake, compute, containers, AI, and more. I blog, create videos, and podcasts to help you better understand HPE Storage. Find my podcast at https://www.hpe.com/dmn/ATITB

Find out about the latest live broadcasts and on-demand webinars
Read more

Visit this forum and get the schedules for online Expert Days where you can talk to HPE product experts, R&D and support team members and get answers...
Read more
View all
© Copyright 2022 Hewlett Packard Enterprise Development LP