>

>

>

5 reasons why now is the time to upgrade to HPE's ...
Forums

Blogs

Information

English

5 reasons why now is the time to upgrade to HPE's new 64Gb FC SAN infrastructure
SAN traffic complexity and scale continues to grow with ever-evolving servers and storage. Throwing next-generation technology at the problem isn't enough. Data center SANs need to be more innovative, automating management tasks to simplify operations and realize performance gains.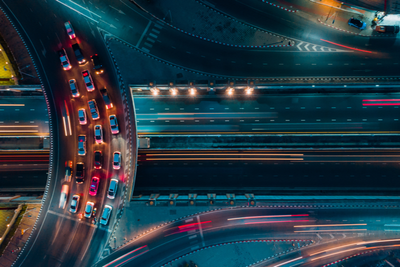 HPE's 64Gb FC SAN changes everything
HPE's 64Gb FC delivers far more than just speed and latency improvements.
It brings new levels of powerful analytics and advanced automation capabilities to realize an autonomous SAN. The exciting news is that this enables the SAN to monitor application and network performance, taking immediate action to dramatically improve application availability and reliability.
In today's article, I'll outline five ways you can benefit from autonomous SAN capabilities by upgrading to HPE's 64Gb FC SAN infrastructure.
First, we will review how self-learning identifies all devices on the network, and sets a baseline for application performance to identify potential issues requiring remediation. We will cover how self-optimizing and self-healing mitigate issues caused by device speed mismatch to alleviate common network congestion causes. You'll also see how 64Gb FC SANs protect rather than replace your existing investments – allowing you to run legacy infrastructure in tandem without sacrificing performance.
First: Remove the guesswork. Your SAN can tell you what's wrong.
The challenge
Complexity is rising, with more applications and endpoints making it a challenge to manage environments using CLIs. With so much information coming your way, it's easy to drown in the sea of alerts. How do you identify issues requiring immediate attention? The answer lies in the SAN infrastructure itself.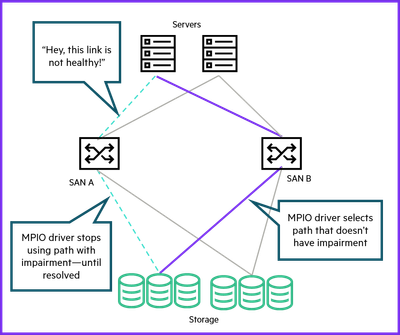 The solution
Next-gen autonomous SAN capabilities take the guesswork out of managing the SAN to resolve important issues faster than ever.
One key feature of autonomous SAN technology is self-learning. Self-learning is a collection of features that leverage B-series 64Gb ASIC capabilities, collecting a comprehensive data set. Millions of data points transform into actionable intelligence, monitoring and alerting when there are any abnormal changes. And, best of all, it requires no special configuration on your part.
With self-learning, you can identify and monitor applications and their performance across the fabric. Autonomous SAN technology also tracks a device's performance within the fabric — the switches, hosts, and storage arrays – allowing the autonomous SAN to learn data flows automatically and create health metrics for every component and application. These are presented to you through clear and meaningful dashboards to provide you with a baseline for your SAN. After all, if you don't know what "normal" looks like, how do you know the true magnitude of a problem?
B-series 64Gb FC automatically detects abnormal traffic patterns in degraded performance areas with insight into the fabric, eliminating countless manual analysis cycles. But it's not just about automating existing tasks; HPE's B-series self-learning capabilities are essential as the volume and complexity of data spiral far beyond an IT administrator's management capabilities.
With self-learning, the SAN makes sure you focus on the real issue, directing you instantly to the issues that matter most, and scaling with ever-increasing business demands.
Second: Mitigate issues caused by device speed mismatch
The challenge
The most common root cause for SAN congestion is the combination of new and old servers and storage. And now, things are happening so fast in the SAN that administrators can't identify and mitigate the impact that speed mismatch may have on other traffic. So how can you prioritize mission-critical traffic or high-performing workloads and separate them from non-mission-critical, slower traffic?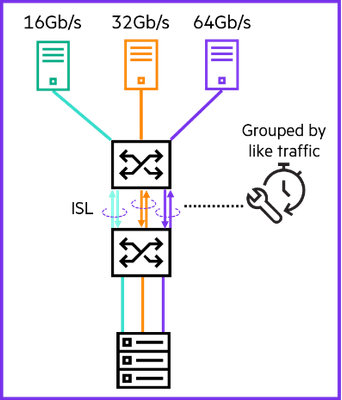 The solution
B-series 64Gb FC understands traffic flows and automatically groups like traffic together, increasing your traffic management efficiency. It makes sure slower device traffic doesn't hinder the performance of higher-speed device traffic flows. Doing this provides priority data paths to mission-critical traffic that shares similar or identical traffic characteristics.
HPE's B-series 64Gb traffic optimizer feature proactively puts similar traffic together over virtual channels, creating separate performance groups. Automatically segregating traffic by speed types optimizes application performance and eliminates the oversubscription and congestion issues caused by mismatched speeds. It also enables you to maximize your return on investment on both new and existing solutions while delivering efficiencies and performance improvements that could never be achieved manually.
Third: Avoid performance degradation due to congestion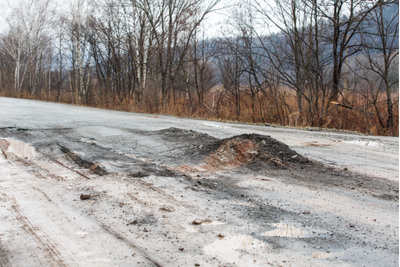 The challenge
The rising speed and complexity of traffic increase the impact of disruption and downtime. It's like driving through fog and hitting a bump in the road; the consequences are much worse at a higher speed.
Similarly, a single issue in the modern SAN can cost hundreds of dollars in lost transactions and productivity per hour. With so many devices connected, it's common for one misbehaving device to cause congestion across the fabric – like that bump in the road. But the impact of the problem often shows up in a completely different place, on a healthy server which is not the root cause, leading you to look in the wrong place for the problem.
How do you identify misbehaving devices and mitigate adverse impacts on healthy traffic flows?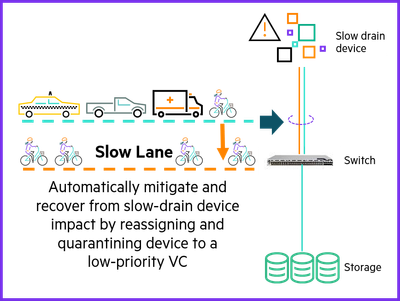 The solution
HPE 64Gb B-series makes your network work more intelligently with end devices, resolving issues without IT administrator intervention, avoiding negative performance, network disruptions, or outages.
The SAN's position at the center of the data path makes it ideal for identifying issues as soon as the first warning signs occur. The autonomous SAN's powerful self-healing capabilities mitigate potential performance issues by automatically identifying when devices or traffic are not acting correctly, setting a course for recovering or avoiding issues. Monitoring and correlating traffic behavior enables identifying congestion at the start and goes beyond determining a root cause to address the fabric congestion issue.
With this information, your B-series 64Gb autonomous SAN capabilities can detect congestion issues on a fabric and then notify affected devices to take action. This real-time notification will mitigate potential issues before they have an impact on the business.
Fourth: Keep legacy infrastructure from hindering performance
The challenge
Modernization is speeding ahead in the data center. It's all about acceleration of server performance with 32Gb PCIe HBAs and storage performance with NVMe. The SAN is the critical path, bringing everything together. This means that the SAN must evolve to keep pace with the next wave of innovation in the data center. An outdated SAN creates congestion and imbalances in performance that occurs when legacy networks connect to high-performing endpoints.
The solution
The latency of the ASIC is reduced by 50% when compared to B-series 32Gb. Significant functionality to support data collection on fabric-wide latency and I/O statistics has been added at both a device and protocol level. By architecting in the new ASIC, these measurements can be made at line rate without the type of performance overhead and the resulting impact seen in technologies like Ethernet, when a similar inspection is done. Significant capacity was added in support of the 64 input/output virtual channels per port in the ASIC to provide the automated traffic optimizer functionality.
More throughput allows organizations to increase compute density, scale more devices, add more applications, and add more workloads.
Fifth: Get the most out of your infrastructure investments
The challenge
With the advent of all-flash arrays, Moore's Law applies to enterprise storage for the first time in history. This means that technology cycle times are within the 18-month period. A SAN environment will be dealing with at least two generations of new storage technology within a five-year capital depreciation schedule. To unlock more value from your core business and stay ahead of the competition, you need to be able to transition seamlessly from where you are today to where you're headed tomorrow.
The solution
Migration should never result in a wasted investment.
The mixed blade flexibility of the B-series 64Gb director allows you to utilize both 64Gb and 32Gb blades within a single chassis so that you can migrate on your terms. If you already have a 32Gb director, you can extend your chassis's life with an upgrade and gain the full value of 64Gb technology, enabling you to run NVMe and SCSI traffic concurrently on the same network.
The new traffic optimizer makes this even more seamless. It isolates traffic according to speed, giving the SAN unprecedented ability to handle devices with different performance capabilities without adversely impacting the highest performing workloads.
It's time to upgrade to realize the benefits of the autonomous SAN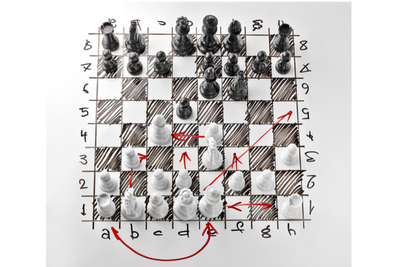 With the HPE 64Gb B-series your SAN now identifies where the bottleneck is and lets you know when it's fixed the issue. For customers who prefer to take corrective action manually, the SAN sends alerts about misbehaving devices so you can take corrective actions quickly and efficiently, and spend more time on non-automated areas of your environment. It's about automation, balanced with visibility and control when you need it. The autonomous SAN automatically identifies and resolves most of the routine problems occurring in a modern storage network.
The autonomous SAN identifies and resolves issues in the infrastructure, allowing IT administrators to stay one chess move ahead, resolving issues before end-users realize there is a problem.
Now's the time to upgrade to HPE 64Gb B-series Fibre Channel. As data centers accelerate, an autonomous SAN gives you the total visibility and control you need through self-learning, self-optimizing, and self-healing capabilities.
Visit our website to learn more about the new products launched December 2020!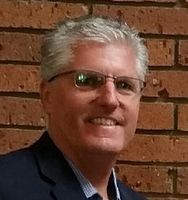 Meet Around the Storage Block blogger Rob Gee, Product Management, HPE Storage and Big Data. Rob is the Product Manager for HPE B-series Fibre Channel Switches focused on next generation fibre channel products to support storage and compute connectivity.

Storage Experts
Hewlett Packard Enterprise
twitter.com/HPE_Storage
linkedin.com/showcase/hpestorage/
hpe.com/storage

Find out about the latest live broadcasts and on-demand webinars
Read more

Visit this forum and get the schedules for online Expert Days where you can talk to HPE product experts, R&D and support team members and get answers...
Read more
View all
© Copyright 2022 Hewlett Packard Enterprise Development LP