>

>

>

Announcing NimbleOS 5.2: Continuing Our Track Reco...
Forums

Blogs

Information

English

Announcing NimbleOS 5.2: Continuing Our Track Record of Innovation for HPE Nimble Storage
It's that time again! HPE Nimble Storage has released NimbleOS 5.2 - its latest payload of features, enhancements & usual bugfixes for our customers under active support contracts. Codenamed Juno within engineering (our codenames relate to beaches around the world... somewhere we'd all rather be i'm sure!), there are 27 new features, 39 feature enhancement requests (RFEs for short), and a massive 1388 bugfixes!
First, let's recap on how we got here. Nimble has an excellent track record of delivering new and innovative features and benefits to our customers.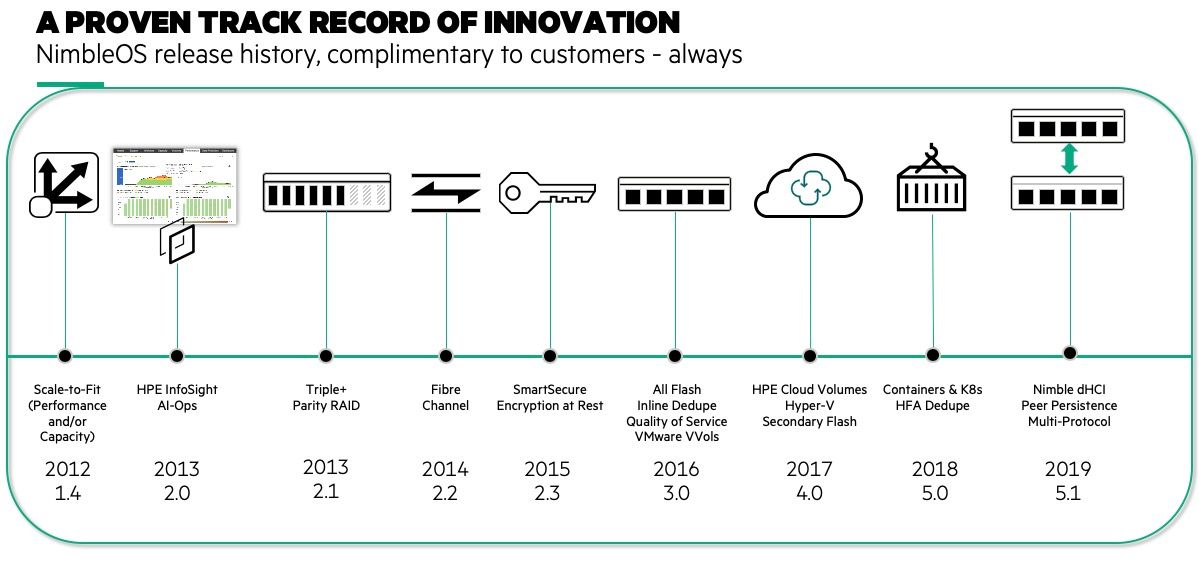 NimbleOS past innovations - lots of industry firsts!
If we look back over previous releases, it's evident that Nimble drove an staggering amount of market-changing innovation in the features it brought to market:
We are incredibly proud of our history and the things we brought - and changed - the industry with. Furthermore, all of these features have been - and always will be - free for our customers who have a valid Nimble Support entitlement.
And Now - For The Main Event
NimbleOS 5.2 is now available to customers today under "GA Candidate (GAC) status, and can be requested via HPE Infosight's approved list process through Nimble Support. You will not see this code as available to download on your array unless you've specifically been listed as allowed, which is a key part of protecting you from exposing potential issues in your environment.
The code is ready to be consumed in production environments, however we tend not to recommend it for mission critical deployments until the code reaches the GA availability milestone.
This late Spring release of NimbleOS contains many new functionality & usability features, as well as enhancements to it's asynchronous & synchronous replication technologies.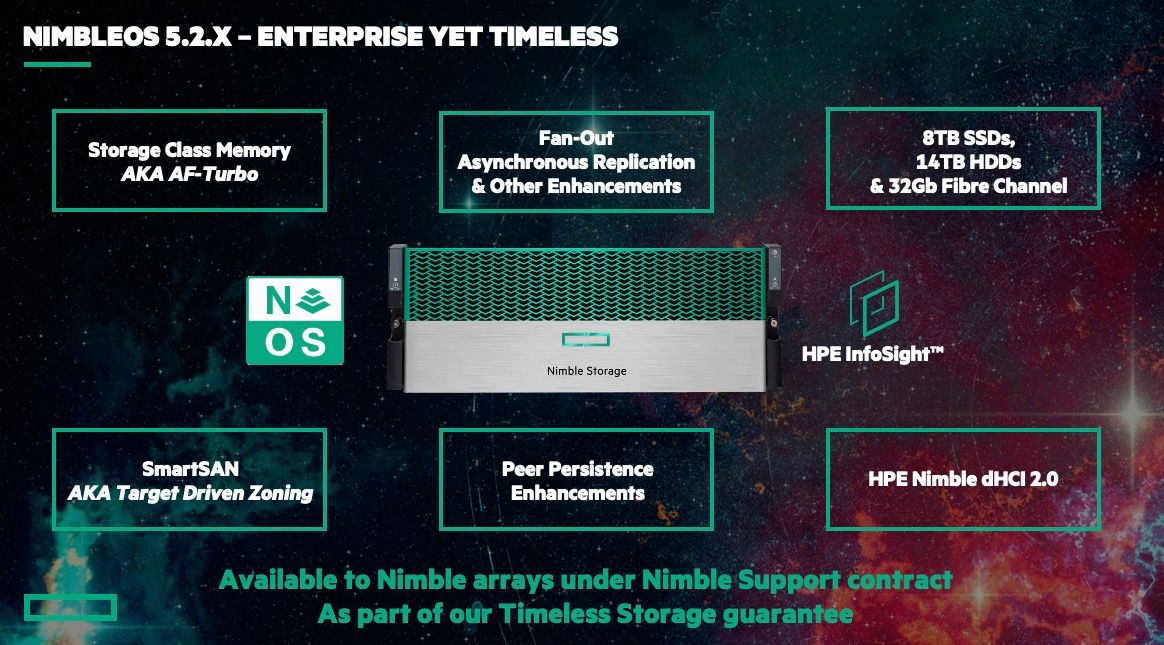 NimbleOS 5.2 - Enterprise & Timeless
Let's go over some of these new features at a high level...
Storage Class Memory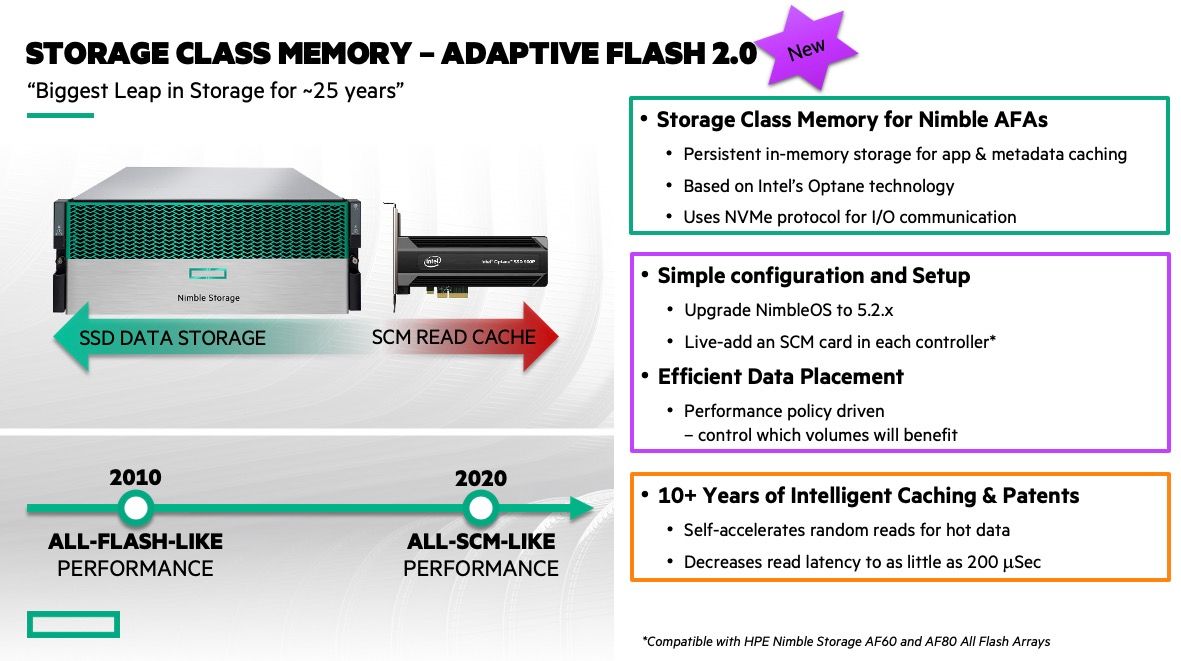 Storage Class Memory & HPE Nimble Adaptive Caching - Match Made In Heaven
We're excited to bring the concept of adaptive flash to flash media! We have over 10 years of patents and intelligence using SSDs to deliver an all-flash experience using NL-SAS drives as a capacity bucket - and now we're able to deliver all-SCM like experiences to our customers without the need to spend all that money on expensive SCM!
Customers are now able to live-convert a Nimble AF60 or AF80 array into an All Flash Hybrid array with Intel Optane flash memory. By adding this new flash media, the system will dynamically implement Nimble's market leading & patented caching intelligence, allowing for >95% of your random read IO to be services inside of Optane flash memory. The latency benefits here for transactional-based workloads are staggering. Nimble is using NVMe as the communication protocol here, and furthermore all data services - including dedupe, compression, encryption, snaps, clones, replication, QoS, and others, are supported with the SCM cache!
Fan-Out, 3-DC/Cloud Replication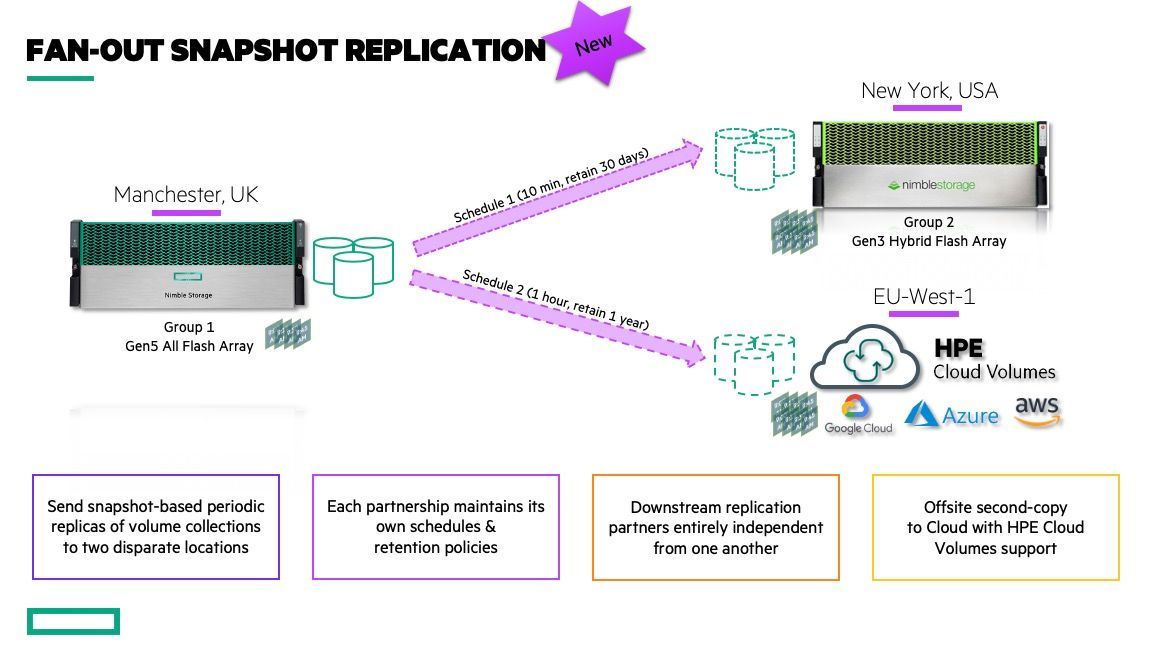 Replicate datasets to two disparate locations - even the Public Cloud!
Nimble has always had the ability to fan-out or fan-in replication traffic within the array OS, however historically a single volume could only go to a single destination. This feature is now enhanced, and allows a single Nimble volume (or collection of volumes) to be replicated & retained in two disparate locations - with their own retention policies. One or more of your destinations could even be Public Cloud using HPE Cloud Volumes! Each one is independent of eachother and provides you with two failure domains for disaster recovery.
8TB SSD & 14TB HDD
One of the secrets of Nimble's ongoing success has been the amazing CASL filesystem, as well its patented Triple+ Parity RAID design. means that it can utilise large capacity drives with no trade-offs in reliability, durability, lengthy rebuild times or dense data population. These drives are available for AFA (8TB SSD) and HFA (14TB HDD & 8TB SSD Cache).
This allows you to build some densely populated Nimble configurations. To give you a rough example, A Nimble AFA using 8TB SSDs can now deliver 744TiB effective capacity in 4u - assuming an average 3:1 data reduction without thin provisioning! (we will happily guarantee a data reduction figure for you as part of our StoreMore Guarantee should you ever need one).

To note: Nimble's design maximum is still solely based on the controller CPU and DRAM rather than spindles & media. Therefore adding larger drives does NOT increase the possible maximum capacity of the system.
SmartSAN (aka Target Driven Zoning)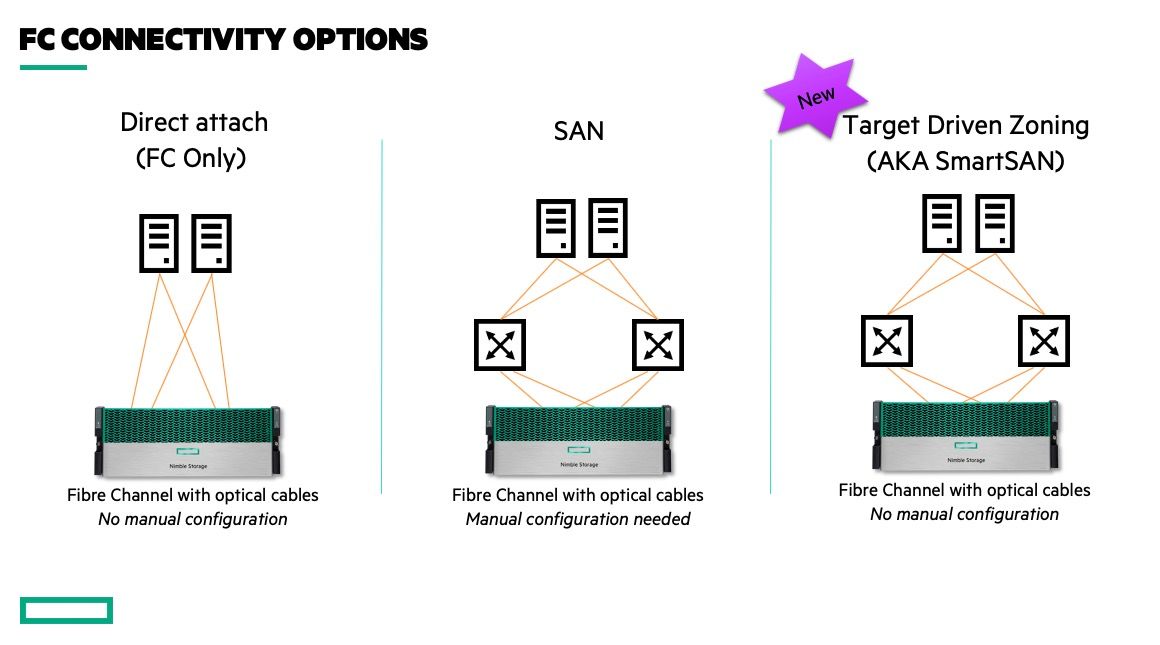 SmartSAN - Simplifying FC Deployments!
This is a cool one! Using the Fibre Channel PeerZone standard, Nimble arrays can now auto-zone your hosts to your volumes automatically in the switch fabric without you needing to do a thing! HPE dub this technology SmartSAN - however you may also hear of this as Target Driven Zoning (TDZ) - the terminology is interchangable.
SmartSAN/TDZ makes Fibre Channel almost as simple to consume as Ethernet... without the shag & hassle of DNS and dealing with IP networking gotchas. Any time a volume is created or mapped to an Initator Group within array (GUI, CLI, API or plugins) the array will integrate to the switch fabric using PeerZone and do the hard work for you.
Any HPE/Brocade switch has TDZ turned on by default - however it is disabled by default on the Nimble array, as it could be plugged into a non-Brocade FC switch, and to the best of my knowledge, TDZ is only available in Brocade-based FC switches today.
32GB Fibre Channel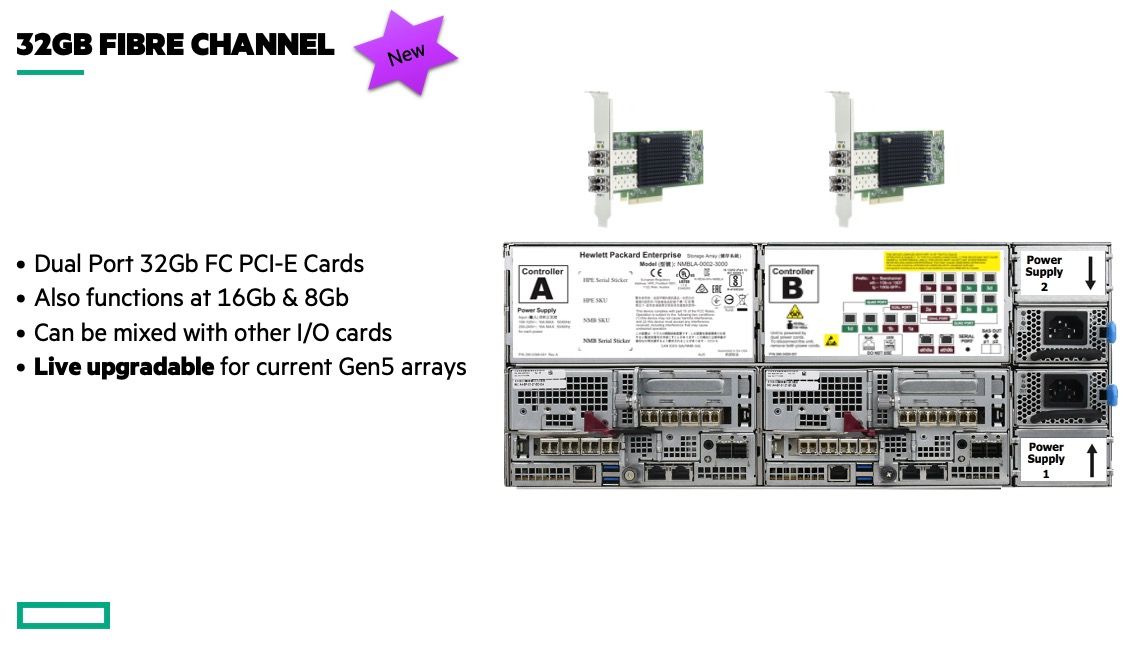 32GB Fibre Channel is here for Nimble Gen5 arrays
Available in dual port form for Nimble Gen5 arrays and live upgradable as always. These also function at 16Gb and 8Gb speeds, respectively.
Peer Persistence Enhancements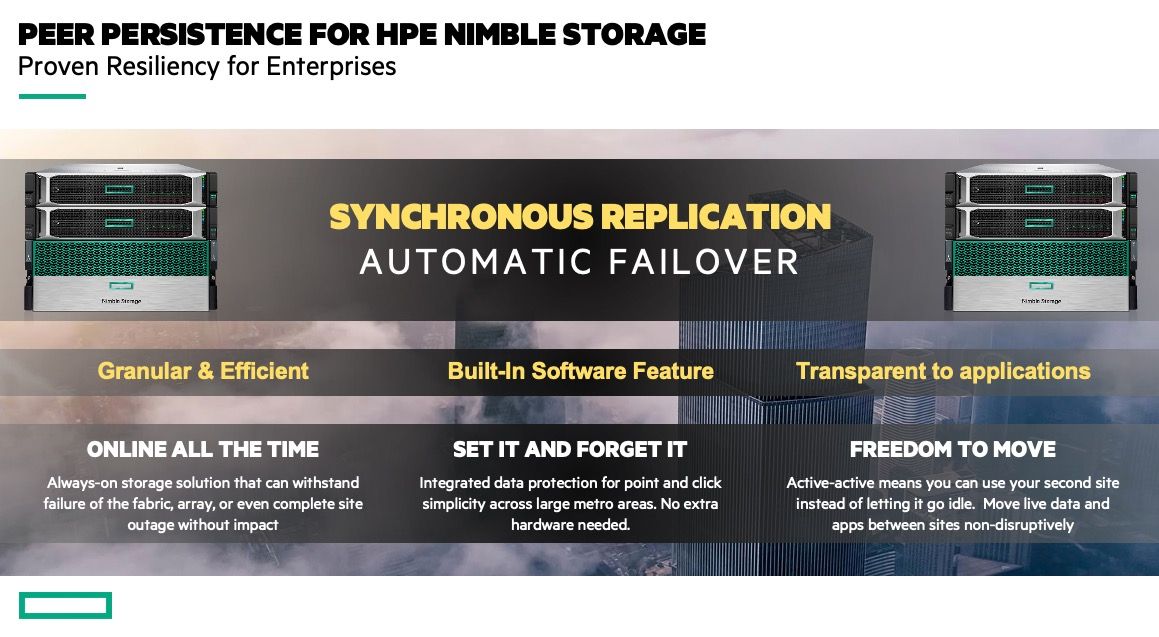 HPE Peer Persistence for Nimble Storage
Peer Persistence Enhancements: We launched Peer Persistence (Synchronous Replication with Automatic Failover) last year, and have seen a huge adoption of the feature since launch. With this release, we've made some further enhancements:
Release of a newly designed witness OVA for 1-click deployment
Significant enhancements to our Automatic SwitchOver (ASO) technology for non-disruptive site failovers.
Support for 512 volumes synchronously replicating in each direction, up from 128.
Expect further enhancements to Peer Persistence throughout 2020...!
Increased Volume Support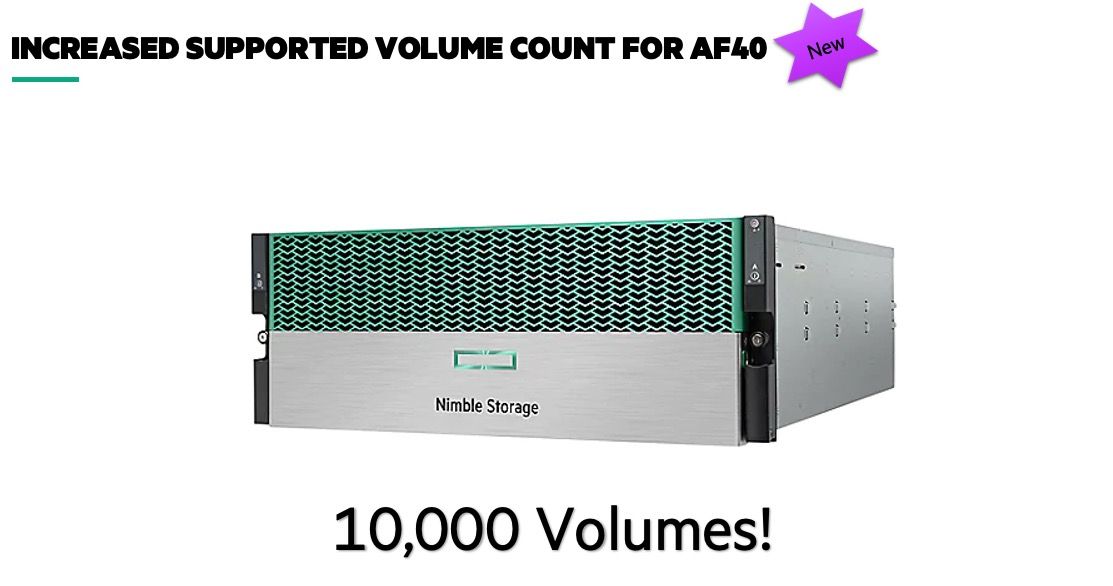 Small but mighty - we've increased the amount of volumes the AF40 can support to a maximum of 10,000; in line with it's bigger siblings the AF60 and AF80.
This means an AF40 can support upwards of 3000+ VMware vVol-backed VMs on a single system (assuming 3 vVols per VM).
Timeless Storage Cross-Generational Upgrades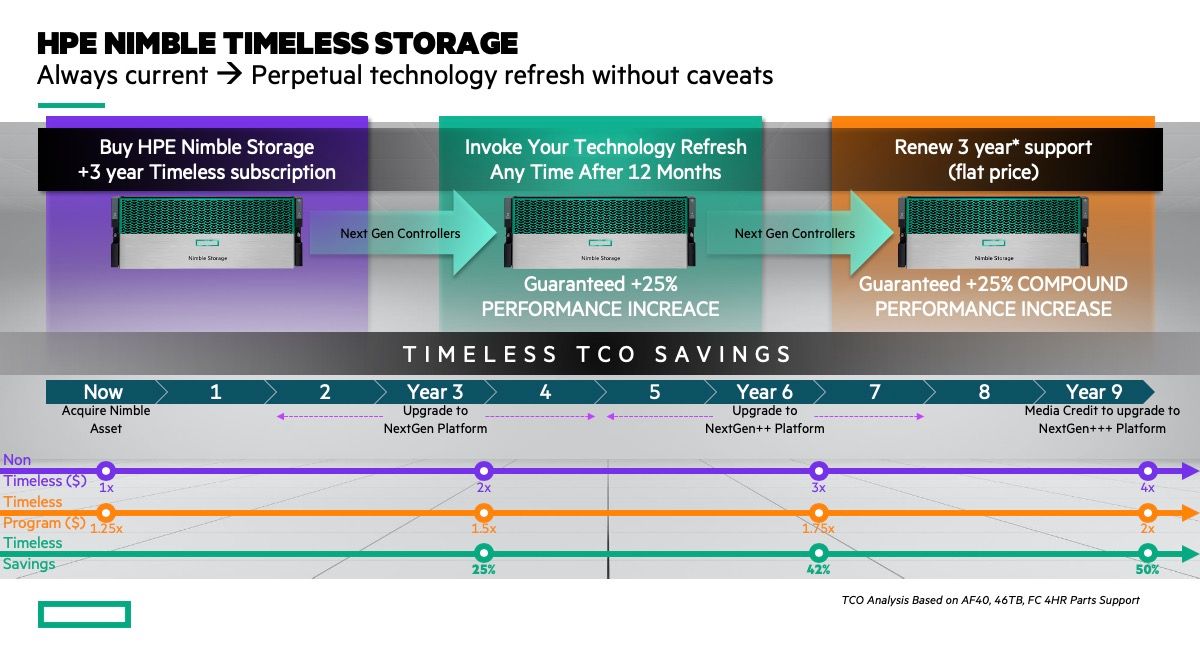 Timeless Storage is an innovative subscription program which brings guaranteed next-generation technology innovatation to customers, as well as underwritten performance increases and upwards of 10+ years of future compatibiilty - all whilst saving significant money at the same time.
Storage has long since been a market full of hyperbole & hiden gotchas. Timeless Storage - available for HPE Nimble AF and HF systems - delivers a refreshing 'no-strings-attached' roadmap with:
Next-gen technology refreshes with compounded 25%+ performance boosts each time - executable when you decide
Extended 10+ year media protection
Acompelling media credit program.
10+ years of protection no matter what projects & the industry throws at you!
Whilst the technical benefits are huge - so are the TCO savings, with a forecasted 50% cost saving in CAPEX & OPEX in the program vs performing lumpy hardware refreshes every 3-5 years.
As part of Timeless, our Gen3 CSx000/AFx000 customers under a valid subscription are now able to receive a cross-generational upgrade to the new Gen5 platform - with all data in place, as well as the guaranteed minimum of 25% performance boost when moving to the new platform (in reality, it'll most likely be between 30-200% performance boost - your mileage may vary!)
The first phase is a minimally disruptive process that takes less than 30 minutes end to end. A planned second, non-disruptive process is on it's way, although sadly impacted by the worldwide COVID pandemic.
Here's a quick GIF which shows the upgrade process - all of which is customer self installable - no professional services needed! It's incredibly simple, all data in place and can be done within minutes. In fact, it would probably take you longer to label the cables properly than it would to perform the upgrade itself!
Want more information?
We recently ran a virtual Nimble User Group where we went through these features in more detail - and have uploaded the videos online for you to consume. You can click the image below to watch, or view here.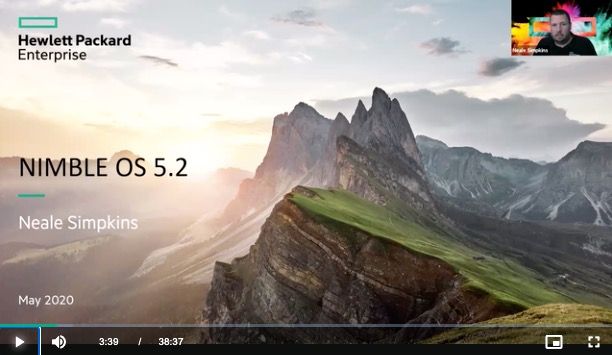 As you can see, this is an exciting release! And as we get closer to a GA release of the code, you may find that HPE Infosight has approved you for this release, and you have a notification to upgrade. This is because HPE Infosight has deemed through Machine Learning that the code is safe for you to run without introducing any known bugs - or exposing potential issues in your environment SHOULD you upgrade. In an industry where uncertainty of code stability is rife, Infosight takes this pain away by inoculating and preventing you from introducing something that could be detrimental to your environment. Here's a lightboard on this very topic...
Want the official documentation? Well, it's all on HPE Infosight: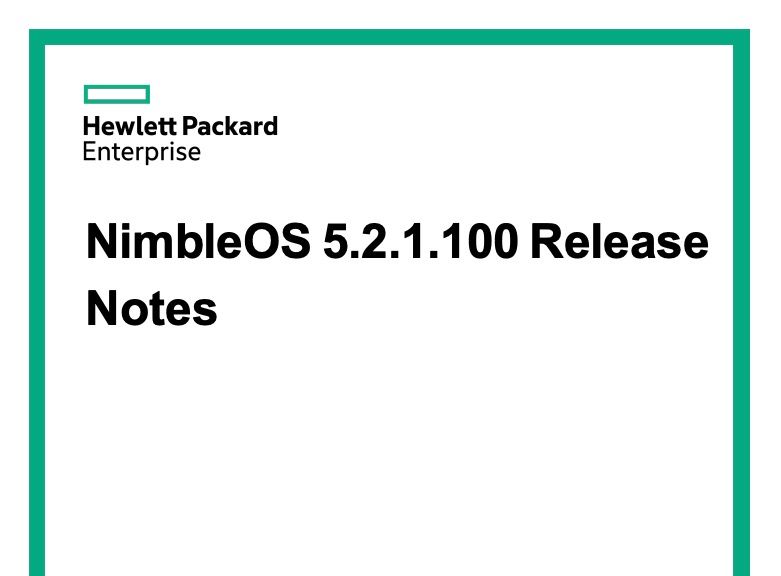 Release Notes
Admin Guide
CLI Guide
dHCI 2.0 with NimbleOS 5.2
I hope you have enjoyed this blog! Please leave a comment if these features are useful to you. I hope you get to make use of them shortly.
Until then - Be safe and stay Nimble!
For more information on HPE Nimble and Primera news please check out these articles:
As a reminder, registration for HPE Discover 2020 is FREE!! With your registration, HPE will donate $10 to your choice of one of 10 featured causes. Join us and give back to organizations helping people, businesses and communities around the world recover from the COVID-19 crisis. Read more about these organizations and the great work they are doing to support COVID-19 recovery around the world. (Terms and conditions apply.)
Note: Once registered you will be able to sign in to HPE Discover and search by Session ID or by area of interest to build your schedule.
We look forward to seeing you virtually at HPE Discover 2020!
Nick Dyer
twitter: @nick_dyer_

Find out about the latest live broadcasts and on-demand webinars
Read more

Visit this forum and get the schedules for online Expert Days where you can talk to HPE product experts, R&D and support team members and get answers...
Read more
View all
© Copyright 2022 Hewlett Packard Enterprise Development LP