>

>

>

HPE and Veeam: Co-innovation protecting digital cu...
Forums

Blogs

Information

English

HPE and Veeam: Co-innovation protecting digital currency
HPE and Veeam expand partner offerings to provide customers with world-class data protection that is simple to order, install, configure, and manage.
HPE and Veeam have been delivering a world-class data protection solution together for many years. Veeam software integrations with HPE hardware, combined with the ease-of-use of Veeam and HPE products, have overcome common customer pain-points with positive business outcomes. Customers who once failed to adequately protect valuable data in complex environments now have constant application availability with an HPE and Veeam data protection solution which is simple to order, install, configure, and manage.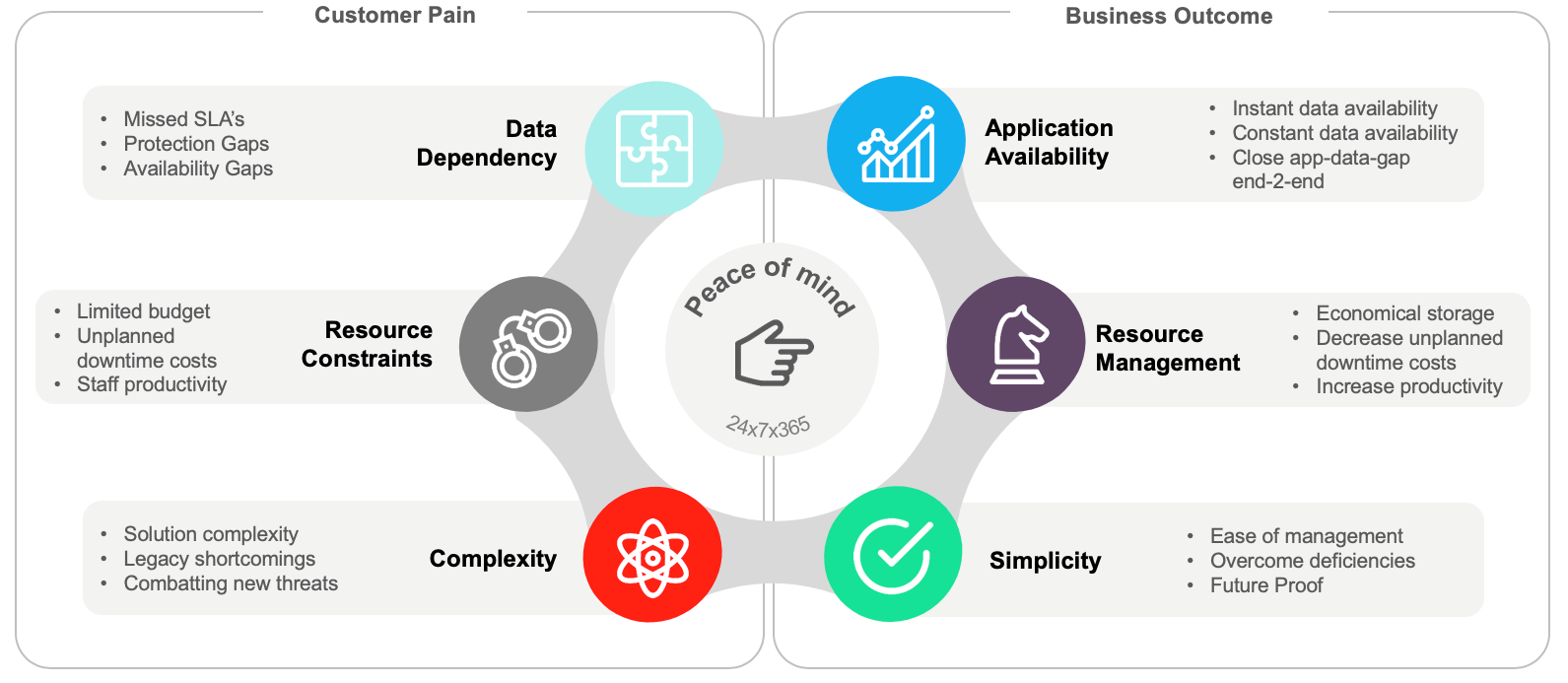 Figure 1. HPE and Veeam are better together: overcoming customer pain-points with positive business outcomes.
HPE customers have recognized the great value in combining Veeam Availability Suite with HPE's primary and secondary storage portfolio for several years now. Snapshot integrations with HPE Primary Storage arrays increase backup performance, providing lower recover point objectives (RPOs) while reducing load on applications and production infrastructure. The high performance of restores from storage snapshots mean lower recovery time objectives (RTOs) as well. Catalyst integration enables customers to utilize high deduplication of the StoreOnce. It also acts as protection against malware threats, due to the proprietary nature of the Catalyst protocol that hides StoreOnce content from any malware running at the OS level. This is all intuitively configured and managed from the Veeam UI. Whatever the customer focus or concern, HPE and Veeam have a data protection solution to meet their needs.

Veeam Complements HPE Infrastructure
Figure 2. HPE and Veeam deliver comprehensive application availability
Now, with the release of Veeam Availability Suite 10 (VAS V10), Veeam has more exciting HPE integrations to announce. Today, snapshot integration will be supported on Primera, HPE's 100% available intelligent storage for mission-critical applications.
Figure 3. HPE Primera: newly certified compatibility with VAS V10
This means customers will be able to orchestrate snapshots from the Veeam UI and use storage snapshots as a backup source. Peer persistence will also be supported on Primera, enabling backups from a second Primera array to avoid any extra backup load on the primary production environment.
Figure 4. VAS V10 includes snapshot integration with HPE Primera to protect your mission-critical applications. The image illustrates an example of Veeam orchestrated Backup from Replicated Storage Snapshots.
As on other HPE Primary Storage systems, the additional value Veeam adds to Primera snapshots is the ability to take snapshots every few minutes, to archive them for the desired amount of time, and to recover application items from any VM on any snapshot. This allows customers to perform granular application item restores, such as an individual email for an employee's Microsoft Exchange inbox. Why not also use snapshots for pre-production or test workloads? Veeam Data Labs automates this process so customers can leverage snapshots to run their tests at full speed. To avoid adding additional workload to the primary production infrastructure, customers can also choose to select replicated snapshots for the more I/O intensive tasks.

Figure 5. Veeam Data Labs from storage snapshots automates the process for using hardware snapshots to run pre-production and test workloads.
Veeam is also proud to announce expanded support for Catalyst in VAS V10. Backups from Veeam Agent for Windows and Veeam Agent for Linux can now be targeted at a StoreOnce Catalyst store and managed from the Veeam UI. Backups from the RMAN and SAP HANA plugins also support a StoreOnce catalyst store as a Veeam Backup Repository. This adds to the existing Catalyst support, which customers have enjoyed for several years, for backups from virtual environments on VMware, Hyper-V, and Nutanix AHV.
Figure 6. Improved StoreOnce Catalyst Support.
No doubt, one of the most exciting announcements in V10 for many customers will be Veeam's support for Catalyst Copy. In V10, customers can leverage the StoreOnce native, storage-based replication functionality to create multiple copies of their restore-points on multiple remote locations. Scheduled from the Veeam UI, this HPE storage-based replication maximizes data transfer speeds with the efficient, low bandwidth technology of Catalyst. As depicted in the image below, multi-site, parallel, and cascade replication models are supported, too.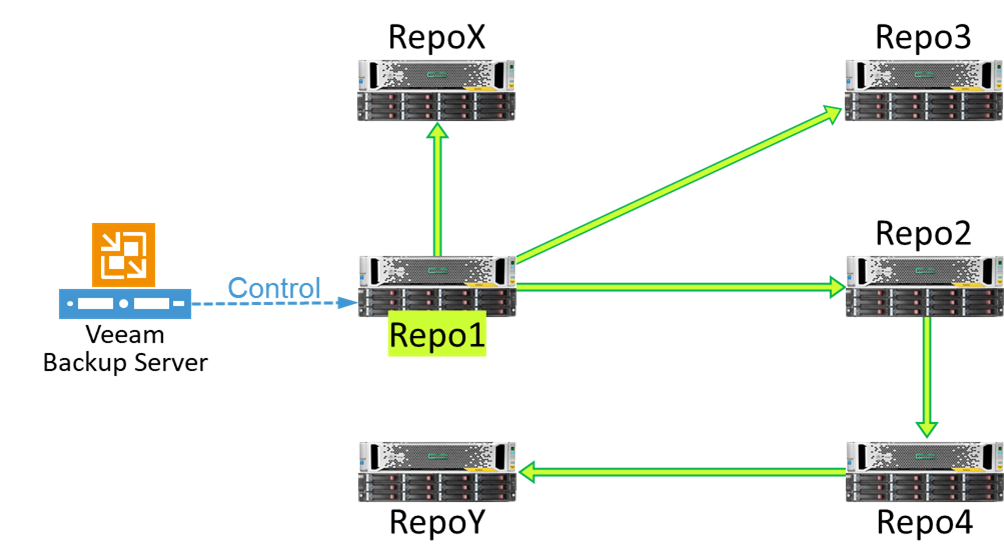 Figure 7. Support for Catalyst copy in Veeam Availability Suite V10.
In addition to the aforementioned HPE integrations, Veeam Availability Suite V10 will bring a variety of new features and business value to customers looking to expand their data protection abilities and performance. Here's a quick, bulleted list of the features, but these could easily each warrant a dedicated blog entry.
NAS backup. Veeam customers have expressed the need for granular restore of large NAS shares. V10 will allow customers to backup CIFS & NFS file shares, or a managed file server, to any Veeam Backup Repository. The ideal repository will be something like an Apollo server with an enormous amount of usable space. Performance to deduplication solutions will vary.
Multi-VM recovery. Now in Veeam Availability Suite V10, customers can restore multiple VMs in parallel for disaster recovery from massive data center outages. This mass-scale instant VM recovery feature will also be useful with disaster recovery testing in VAS V10.
Object storage features. Veeam expands support of object storage by introducing Cloud Tier Copy Mode for customers who want their backups to be immediately copied to cloud storage, thus storing a copy onsite and in the cloud. Cloud Tier Move Mode will still be an available option to delete older data onsite and move it to cloud storage. The feature supports AWS S3 as well as on-prem solutions, such as Scality S3 provider. Another exciting cloud storage feature from Veeam is integration with immutable S3 buckets. Veeam will now support long term retention of data to immutable S3 buckets in AWS or any S3-compatible storage that supports immutability.
Restore Anywhere. The demands of today's data mobility require products which can backup and restore workloads anywhere, and Veeam delivers this ability in V10. With V10, any Veeam backup can be restored to any virtual platform that Veeam supports.
Linux Goodness. For Linux fans, Veeam also introduces Veeam Backup Proxies on Linux and FastClone for XFS. These features will undoubtedly become more popular as customers try to stay a step ahead of cyber threats.
HPE and Veeam: 3-2-1 Data Protection Strategy
So what do all these new Veeam Availability Suite V10 features and co-innovations with HPE mean to the customer building a data protection solution? We believe customers need to move beyond the mundane (and failed) data management strategy of buying the latest tool that promises to solve all of their problems. Instead, customers need to think about collaborative data management solutions created by software and hardware partnerships like HPE and Veeam. HPE and Veeam presents a data management solution for the future, ensuring constant application availability by acknowledging and addressing the fact that data outages and data loss will occur. The challenge for a data management solution is reducing or eliminating application outages resulting from these inevitable threats.
If you manage your company's backups, you are likely already aware of the 3-2-1 data protection rule, but it will be useful to recap the strategy briefly. Briefly stated, the 3-2-1 rule says you need 3 copies of your data, with 2 copies on different media, and 1 copy offsite and preferably offline. Customers who utilize a 3-2-1 data protection strategy coupled with HPE and Veeam integrations can enjoy complete data protection and guarantee constant application availability, a very high achievement in today's complex technology environments.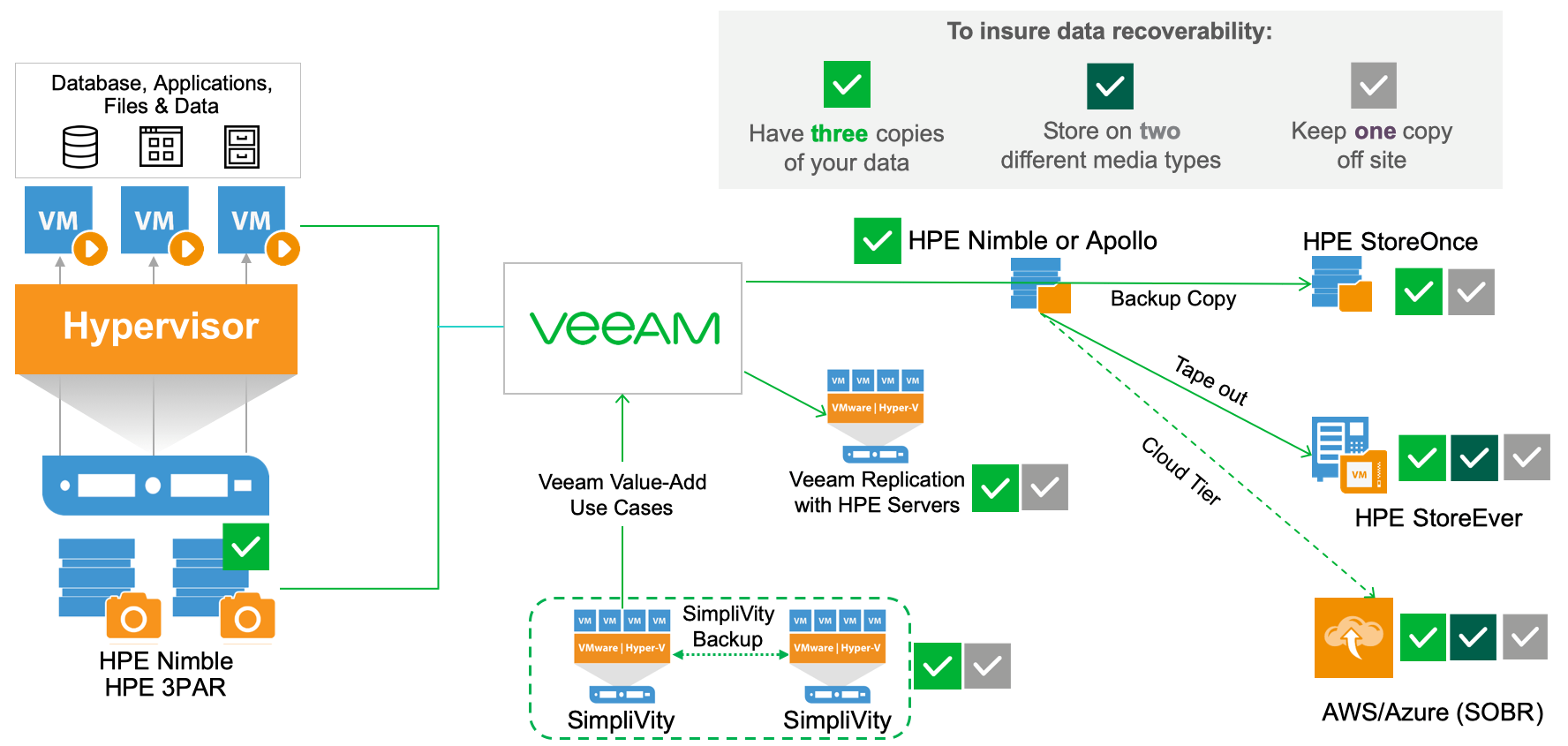 Figure 8. 3-2-1 backup rule.
Now, let's discuss where to put these copies of your data.
First Copy
The first data copy must protect application data at the point in which you provision an application, from the very start. This is ideally on the array where you initially created the data. Veeam integration with HPE Primary Storage helps customers orchestrate snapshots as frequently as every 15 minutes, lowering RPOs, and thus reducing the amount of lost data when a restore is necessary. HPE Primary Storage snapshots are very fast restore points as well. With snapshots, you don't just get a quick-and-frequently-created restore point, you get quick RTOs, too. So HPE Primary Storage integration for storage snapshot orchestration is a key component of Veeam's data protection strategy for the majority of data restores.
Second Copy
Storage snapshots are the first part of a 3-part data protection strategy, and they also help with the creation of the second copy of your data as well. Veeam integration with HPE Primary Storage can also use the storage snapshot as a data source for the backup. This increases backup performance, thus lowering the amount of time the daily backup runs. You have several options for a backup repository on HPE hardware, so we will discuss those next. Which option you choose is based on a discussion of what attributes you desire for your environment, and what you expect for your backup media.

Figure 9. Multiple concurrent Instant VM recovery from hardware snapshots.
For a fully-featured Veeam repository, Nimble and Apollo are good choices. Nimble storage will deliver superior performance for full VM recovery, instant VM recovery, Sure Backups, and DataLabs. When performance is the top consideration, Nimble is the clear choice to protect workloads, verify the backups with Veeam's SureBackup feature, and run on-demand devops environments with Veeam's DataLabs feature. With Veeam, HPE Nimble helps customers put their backup data to work, adding value to secondary backup data which would otherwise be idle. Customers with high demands for low RPOs from backup repositories should also carefully consider Nimble as an option.
However, the Apollo 4200/4510 is definitely more than just a serviceable choice for these features. While the Apollo can't be expected to match the performance of a Nimble array, it offers its own advantages. The performance will still be acceptable for all the restore scenarios discussed above for the Nimble, and the Apollo overcomes that slightly lower performance with an intriguing tradeoff of capacity. The Apollo 4200 and Apollo 4510 can be configured to store up to 320TB and 768TB of data respectively as net capacity. That's an impressive amount of space, especially when combined with the block-cloning technology of resilient filing system (ReFS). Apollo is also a clear choice for NAS backup, a feature new to Veeam Availability Suite V10.
If customers expect to perform most of their restore scenarios and testing from HPE Primary Storage snapshots, and expect to perform primarily full-VM restores from backup repositories, the StoreOnce is an excellent choice. The StoreOnce introduces a unique value in VAS V10 which we can discuss next when we talk about creating a third copy of your data.

Figure 10. Instant VM recovery from different HPE backup storage targets.
Third Copy
As previously discussed, Veeam also delivers Catalyst copy support in VAS V10 so customers can take advantage of the global deduplication of the StoreOnce at their primary data center. Then they are able to utilize catalyst copy to move the data to a second StoreOnce offsite. Catalyst copy makes StoreOnce an excellent backup target solution for large enterprises requiring efficient, storage-based data replication.
Veeam also allows customers to move data offsite to Amazon Web Services (AWS) and Microsoft Azure with the Scale-out Backup Repository (SOBR). This feature would be most interesting to HPE customers looking to offload backups to a long-term cloud repository with an immutability option.
Finally, a discussion of a data protection solution would not be complete without a consideration of tape. Veeam supports offloading copies of backups to tape and HPE is still a market leader with their StoreEver Tape libraries. This ultimate air-gap solution is the last line of defense against physical disasters or cyber-attacks.
Final Thoughts
Looking back several years ago, HPE and Veeam celebrated the partnership that drove our many mutual accomplishments over a very short period of time. As our partnership has matured, so has our relationship, and the realization that we embrace mutual values and priorities. Both companies are laser-focused on providing customers application availability through intelligent cloud data management. We share mutual goals of simplicity and delivering the excellent customer experience. HPE and Veeam understand the unique requirements of enterprise customers and their infrastructures; we've gained that insight through numerous Veeam integrations with HPE's storage portfolio. Our partnership illustrates our mutual passion to protect data at its inception so our customers can reap continued value from their digital currency. The HPE integrations in Veeam Availability Suite V10 are yet another example of our commitment to our mutual customers and companies' vision.
Veeam Availability Suite V10 extends Veeam's leadership in comprehensive Cloud Data Management, providing advanced protection for any application, any data, across any cloud. If the safety and availability of your applications and data are important to you, we encourage you to look at the capabilities of HPE and Veeam.
For more information, please check out our web pages @
https://www.hpe.com/us/en/alliance/veeam.html
https://www.veeam.com/hpe-storage-solutions.html
---

Meet HPE blogger, Federico Venier. Federico is a Storage and Data protection expert in HPE WW Technical Marketing. He works as technical lead in the HPE & Veeam alliance where he influences the integration roadmap, prepares collaterals for the Presales community, presents at conventions and spends a lot of time testing every new feature in his integration lab. You can find Federico on LinkedIn @ https://www.linkedin.com/in/federicovenier
Meet Veeam Blogger Christopher Donohoe. Christopher is the HPE Alliance Global Solutions Architect at Veeam. He is responsible for

all technical initiatives within the HPE alliance, and serves as an escalation point and subject matter expert for HPE and Veeam pre-sales organizations. Christopher maintains relationships with key stakeholders in sales, marketing, and product management in HPE and Veeam with the purpose of knowledge transfer and ongoing business development. You can find Christopher on LinkedIn @ https://www.linkedin.com/in/veeamenabler/

Storage Experts
Hewlett Packard Enterprise
twitter.com/HPE_Storage
linkedin.com/showcase/hpestorage/
hpe.com/storage

Find out about the latest live broadcasts and on-demand webinars
Read more

Visit this forum and get the schedules for online Expert Days where you can talk to HPE product experts, R&D and support team members and get answers...
Read more
View all
© Copyright 2022 Hewlett Packard Enterprise Development LP