>

>

>

How Predictive Analytics makes YOU and everyone el...
Forums

Blogs

Information

English

How Predictive Analytics makes YOU and everyone else smarter
When it comes to flash arrays, there's little differences between the "boxes." So how do you know which one is better? What separates the outstanding from the average? Simple: Predictive Analytics with AI. Analytics + AI = Simpler, Smarter, Safer Storage. And HPE arrays, powered by HPE InfoSight AI and predictive analytics, deliver just that.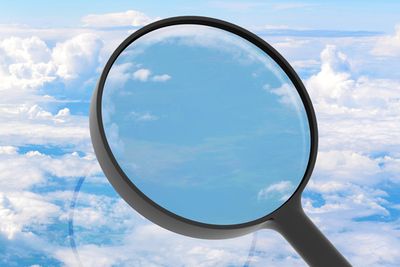 Technology is everywhere today. Everywhere. Everything is connected and everything creates data.
In fact, there's more data being generated today than ever. Over the last few months I've had conversations with Cs, Directors, Admins, you name it. If they work in technology, I've spoken to them. And you know what they tell me is their number 1 problem? Keeping up. Not deploying new apps or sifting through the endless minutia that is vendor marketing. Nope. Just keeping up with the business and the ever-changing data.
But those new apps that need to get deployed, they're not going away. Neither are new technologies or technology shifts or new demands from the business. It all has to get done. That's why now more than ever "good enough" just doesn't cut it. Not for your business. No how, no way.
Where do we start?
Now we already know apps are everywhere, we know more data is coming, and we know that it's a major problem. So how do we go from keeping up to getting ahead? Is there a stable, simple and long-term solution for getting over that hump? We don't want a "quick fix" and we most definitely don't want another box.
So the idea is to leverage a piece of our infrastructure that is already connected to everything, already sees everything, and can be a centralized point of attack in the ever-increasing data problem.
And that's where smarter storage comes into play. It's not just about flash, or NVMe, or any other buzzword. Those things are cool but they're everywhere. Everybody has that.
No. It has to be about storage that, by design, was already put together with thoughtful consideration of how apps work on servers and, in turn, how that relays to the storage itself. And it has to be about storage that, by design, understands the complexities of networking, of how apps work on storage, about the profile of applications and the fluctuations therein. It has to be all that and so much more.
Predictive storage is the smarter way forward
What is Predictive Storage and what does it do for you? Here's a simple two-part answer:
Predictive Storage is storage that was designed to be thoughtful of the ecosystem it resides in—something that can only be done when you have an infrastructure perspective.
Predictive Storage is also storage that actively learns from the environment it resides in and adapts to optimize, make recommendations and correct issues all on its own.
You see, it's not enough to just drop it on the floor, connect some stuff to it, follow some guidelines, and hope you get some great data reduction numbers. Data Reduction numbers are important, *cough* HPE Nimble kicks everyone's a** there *cough*, but that doesn't get us from keeping up to getting ahead. Only Predictive Storage can do that.
And when you have Predictive Storage, your infrastructure gets:
Simpler in more ways than one to reduce all the infrastructure complexity. After all, when you generate business in a few clicks, you should be able to manage the infrastructure that runs it in a few clicks.
Smarter by resolving issues outside of
Safer by proactively protecting data and resolving issues before they happen.
HPE has amassed more data than any other vendor out there. We've got data from tape libraries to blades, from mainframe to storage and beyond. All of that data that shows how different technologies interact in the infrastructure and how different applications work differently in different situations has been collected for years. But now, for the first time we actually have the tools at our disposal to make that data actionable. That's the very first step.
The second step is then making that better storage—built with an infrastructure perspective—and giving it to you, our customers, with the built-in analytics that keeps getting starter, ensuring an optimized experience, and also delivering the ability to solve problems well beyond the storage itself. Consider this: 53% of issues resolved by HPE Storage occur outside the storage itself.
That's Predictive Storage and only HPE can deliver right now. It's InfoSight-full! The other guys are either in their own way or have a "storage only" perspective and that doesn't cut it.
Being prescriptive: what an intelligent support experience really means
"Man I can't wait to call support! I love calling support!" said no one ever. Truth is no matter how great a given company's support is, no one ever wants to deal with them. That's why HPE Storage leverages built-in intelligence that enables you to proactively improve performance, optimize available resources and make infrastructure planning simpler than ever.
This is where HPE InfoSight gets prescriptive, providing answers and recommendations to the questions never answered by traditional monitoring.
Whether it's the intelligence to decide flash usage in a hybrid array, diagnose abnormal latencies, predict upgrade needs or infrastructure sizing, HPE InfoSight eliminates the pain of managing your performance and lets you finally Get Ahead of data.
With the breadth of our telemetry through our deep sensors, the depth of our awareness beyond storage, we generate preemptive recommendation at the application-level to make all of the above simpler and so much smarter.
How smart is it really?
Consider this: The insights we provide aren't just generated from your environment-which would be cool on its own as long as we kept you in check with vendor best practices and current support options.
No, we go above and beyond by cross-referencing what's happening in your environment with thousands of arrays across ~240,000 customers doing the same thing.
With machine learning, the cycle of diagnostics and prevention is so evolved, any chance of you facing any business impact—whether new or unexpected—becomes infinitesimally small.
In other words, the best support experience is way less support interactions and the only way to do that is through a Predictive Storage experience that only comes from HPE Storage today. ESG wanted to check this out for themselves and what they found absolutely validates what we're saying. Check out the ESG research to see for yourself.
Pausing for an obligatory cloud message…
I'm going to keep this short and sweet: The numbers on cloud adoption are sketchy and yet every analyst and startup shoves it down our throats constantly.
I get it. Truth is whether you are thinking about cloud or not thinking about it, one thing that's clear is any technology decision you make today must have a cloud option. That's why HPE Storage is 100% Cloud Ready, with HPE Cloud Bank Storage and HPE Cloud Volumes.
What good would simpler, smarter storage be if it wasn't ready for the future with cloud options—and whether or not you exercise those options is up to you.
And now back to Predictive Storage...
We have you covered
Predictive Storage takes us from keeping up to getting ahead. It's smarter and it simplifies infrastructure. By solving problems proactively, even beyond the storage, coupled with a 6-nines availability guarantee, it's safer and by extension so are we.
But maybe the best thing about HPE Storage is that it's super easy to get. I'm not talking about some gimmicky "upgrade the same thing for free every three years" program either. I'm talking about timeless consumption models that allow you to get storage when you need it, how you need it and how often you need it. All designed to fit your environment seamlessly and all well within a budget that makes sense for you.
After all, what good would Predictive Storage be if it wasn't able to stay modern and efficient with all-inclusive licensing, free tech refresh options and flexible capacity buying options. Plus it's designed to be ready for future technologies like NVMe and storage class memory.
This is exactly what we do: we simplify hybrid IT by delivering smarter, safer, simpler storage infrastructure that protects your investments. We see through this from a support perspective, from a usability perspective and from an overall ownership perspective.
By taking one giant step for storage with predictive analytics and AI, we let you put the focus back on bringing your business strategies to life.
Senior Technologist & Strategist for Worldwide Storage at Hewlett Packard Enterprise, also known as "The World's Strongest Technologist" because of my rare combination of powerlifting and long-standing technical experience. As a subject-matter expert & strategist, I have forged a unique perspective of the storage industry.
About the Author
Jorge_Maestre
Senior Technologist & Strategist for Worldwide Storage at Hewlett Packard Enterprise, also known as "The World's Strongest Technologist" because of my rare combination of powerlifting and long-standing technical experience. As a subject-matter expert & strategist, I have forged a unique perspective of the storage industry.

Find out about the latest live broadcasts and on-demand webinars
Read more

Visit this forum and get the schedules for online Expert Days where you can talk to HPE product experts, R&D and support team members and get answers...
Read more
View all
© Copyright 2022 Hewlett Packard Enterprise Development LP