>

>

>

Introducing HPE Alletra: Flipping the switch to t...
Forums

Blogs

Information

English

Introducing HPE Alletra: Flipping the switch to the cloud experience
With HPE Alletra, we're delivering a breakthrough portfolio of cloud-native data infrastructure solutions designed to power all your data from edge to cloud.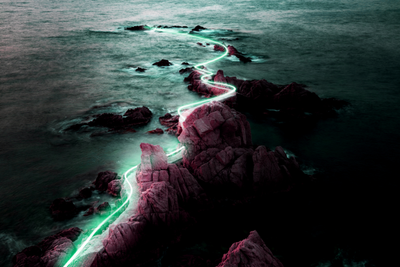 These days, every organization I talk to is trying to move faster to unlock innovation, get ahead, and ultimately disrupt the status quo. Data is the fuel that powers better — and faster — decisions, the kind needed to supercharge any business. But the question every organization asks is: how best to harness data and manage infrastructure when it's distributed across edge to core to cloud?
The reality is that with more data exploding everywhere means more complexity than ever before. Cloud has set the standard for agility with on-demand access, resource elasticity, and charges for services based on actual usage. So much so, organizations crave the cloud experience for all their applications and all their data wherever they live. While the cloud experience has made self-service possible, IT is still wasting time fighting fires and dealing with disruptions. That's where AI comes in. Just like how AI is enabling self-driving automobiles, it also holds the potential to put data infrastructure on auto-pilot and make IT invisible. By understanding a roads twists and turns, AI can predict and prevent problems before they happen.
With these forces — data, cloud, and AI — it's creating a paradigm shift in data infrastructure to change the requirements for what organizations need to disrupt and drive change in the future.
An evolution in data infrastructure emerges
What does our new paradigm for data infrastructure entail? Our approach must be cloud-native by design — that is, purpose-built for cloud operations and consumption from edge to cloud. Going cloud-native exploits the advantages of the cloud computing delivery model and ensures IT resources are always-on and instantly available. Cloud-native data infrastructure is underpinned by intelligence, effortless to manage, and available as-a-service to instantly respond to any demand. Not only does this drive faster time to market, it also enables an improved customer experience.
In thinking of a new kind of data infrastructure, effortless, as-a-service IT was the exact experience we wanted to deliver for our customers. Instead of a manual, admin-driven approach with tons of knobs and dials for tuning, we set out to architect and build an intelligent, programmable, responsive, elastic, and fault-tolerant cloud-native data infrastructure that could power data anywhere.
Cloud-native data infrastructure is here
This is why I'm so excited to introduce the world to HPE Alletra, a portfolio of cloud-native data infrastructure solutions designed to power all your data, from edge to cloud. HPE Alletra is powered by Data Services Cloud Console, for a cloud operating and consumption experience wherever data lives. For the first time, you can get the same agility, the same simplicity, and the same cloud consumption for every single app, and across each app's lifecycle.
HPE Alletra is nothing less than a paradigm shift for data infrastructure from edge to cloud, because now you can:
Shift from owning and maintaining data infrastructure to simply accessing and utilizing it on-demand and as-a-service.
Run any app, from traditional to modern, and meet any SLA with the right performance, the right resiliency, and the right efficiency.
Unleash the true potential of hybrid cloud with consistent data services and seamless data mobility across clouds.
Maximize your agility with cloud experience for every app
With HPE Alletra, we've stripped away all the complexity: in eliminating up to 99% of your operational time, we enable you to drive cloud speed and agility. By abstracting the data infrastructure control plane from the data plane and moving it to the cloud, we give you a single, consistent operational experience. And instead of managing dozens of on-prem storage devices from various consoles, with our Data Services Cloud Console you get one consistent experience for HPE Alletra:
Plug-n-play in minutes, because a new system need only be connected to the network for automatic discovery and configuration.
Effortless provisioning at scale. Shift from storage provisioning based on a LUN-centric, manual process to an intent-based, AI-driven approach in which applications are always deployed on the right resources.
Manage from anywhere. Manage data infrastructure across its lifecycle with an intuitive software-as-a-service (SaaS)-based user experience that's accessible from anywhere and on any device.
Crucially, we didn't want the HPE Alletra experience to be bogged down with the hassles of ownership and maintenance fees. This is why we're delivering HPE Alletra as-a-service — allowing you to free up cash flow and increase financial agility. With HPE Greenlake, our customers can pay per use, scale up and down, or opt for a complete turnkey solution to take all the weight off their shoulders.
Run any app and meet any requirement without tradeoffs
Since today's data and infrastructure requirements are incredibly diverse, we designed and built HPE Alletra for every application, from traditional to modern. Workload-optimized systems deliver architectural flexibility without the complexity of traditional data infrastructure. This means you can meet any SLA with the right performance, resiliency, and efficiency to match the specific needs of each application.
To execute on the HPE Alletra portfolio vision, today I'm excited to announce the first two models available: HPE Alletra 9000 and HPE Alletra 6000. Both are proven and tested All-NVMe systems that are built from the DNA of HPE Primera and HPE Nimble Storage.
Everything we do with HPE Alletra 9000 starts with optimizing it for 100% availability to meet and exceed mission-critical workloads. That's why we designed it for unconstrained scalability built on a unique, multi-node, all-active architecture and the best set of built-in data protection capabilities for any RTO or RPO requirement –including automatic site failover across active sites with Active/Active Peer Persistence. HPE Alletra 9000 will join HPE Primera as the only two systems on the market that come standard with a 100% availability guarantee. This is why HPE Alletra 9000 is ideal to consolidate large scale traditional and next-generation extreme latency sensitivity applications like online transaction processing (OLTP), database workloads, containers, and mixed workloads.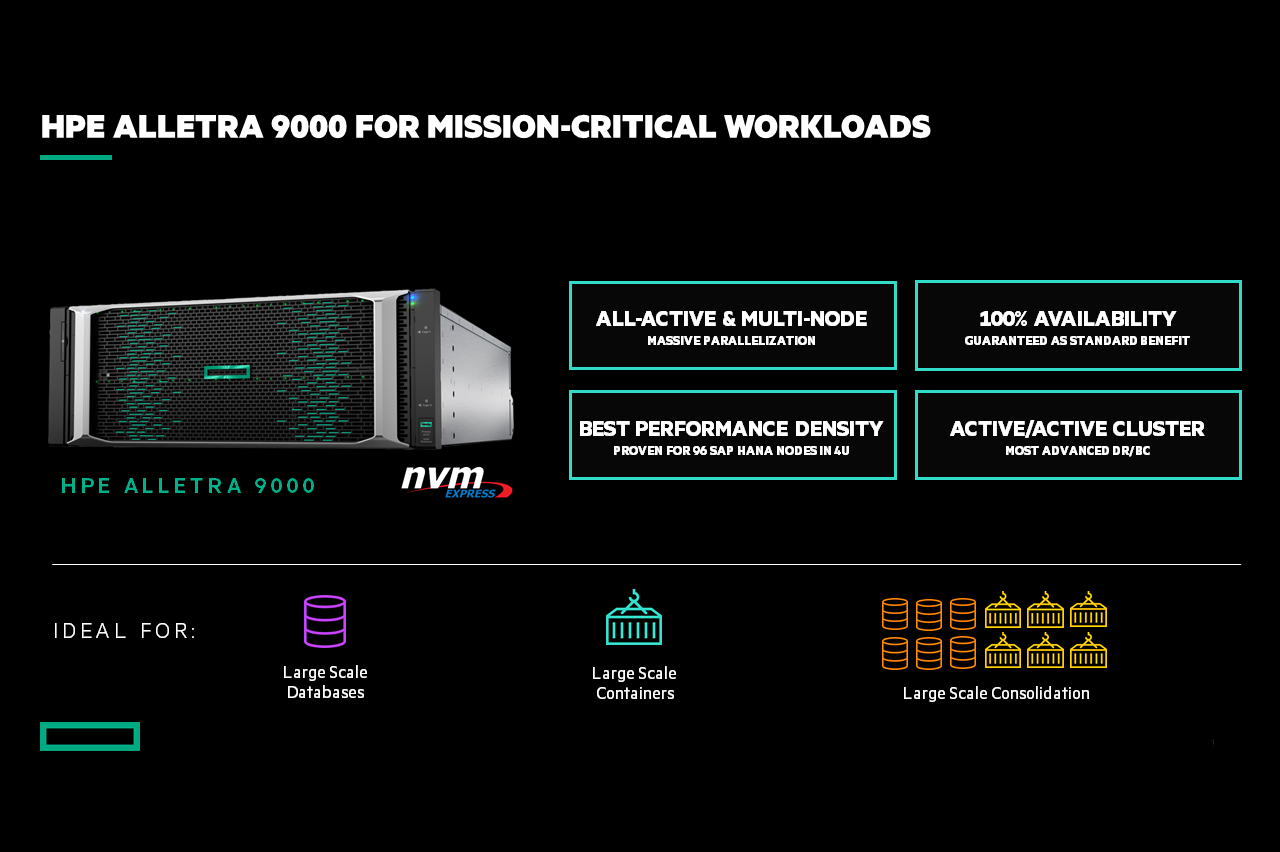 Everything we do with HPE Alletra 6000 starts with optimizing if for best price- performance on a resilient system businesses can count on. It's built on an ultra-efficient architecture designed to deliver fast, consistent performance with industry leading data efficiency. The always-on data services and app‑aware intelligence eliminates performance and efficiency trade-offs. For the past 10 years, HPE Nimble Storage has delivered industry leading space efficiency with 6x9s of proven availability measured across the entire installed base. HPE Alletra 6000 will carry on this tradition. This is why HPE Alletra 6000 is ideally suited for business-critical databases, or medium scale Virtual Machine (VMs) and container farms.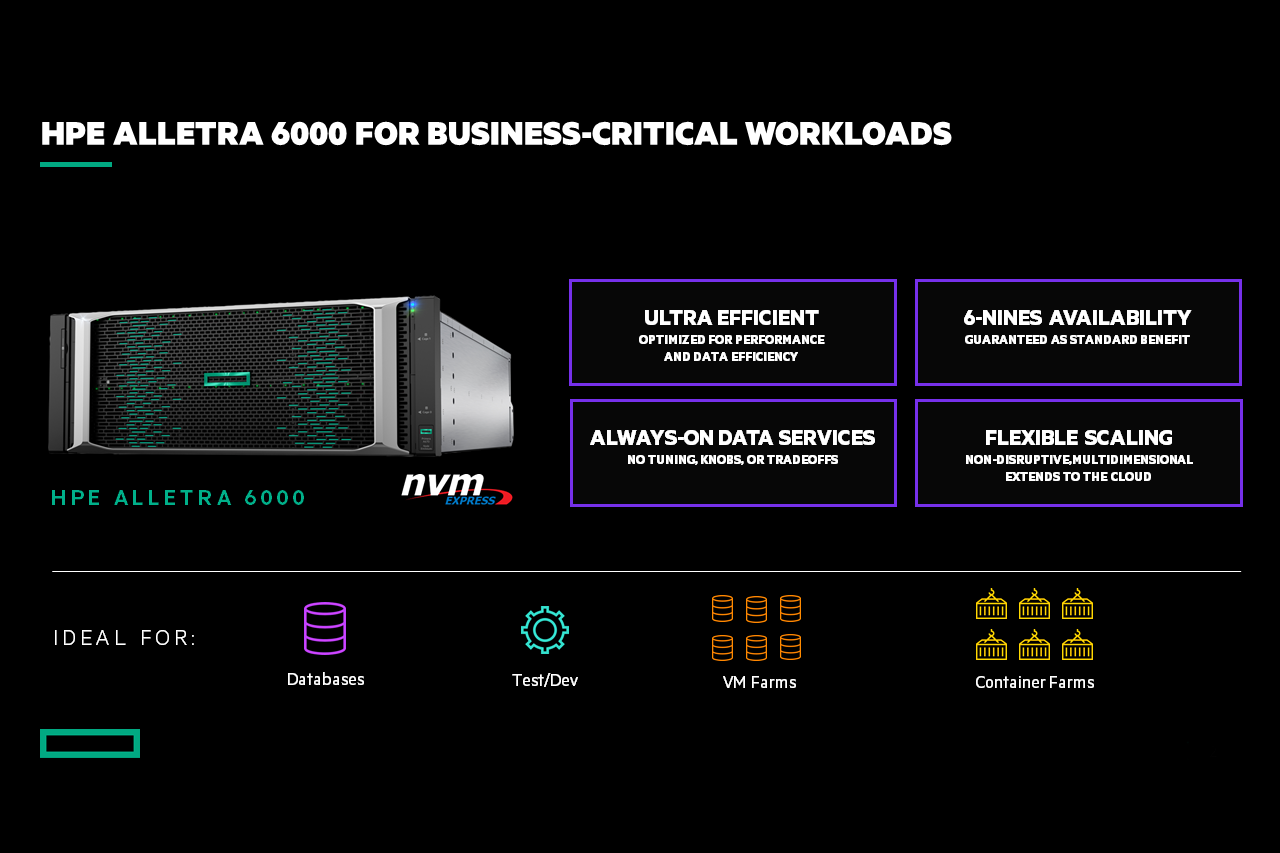 Free Your Data and Unleash Hybrid Cloud
Finally, to deliver cloud-native data infrastructure we knew we needed to deliver a consistent experience across private, public, and hybrid clouds. And HPE Alletra does exactly that, unleashing the true potential of hybrid cloud with one platform across edge-to-cloud. This means you can elevate your hybrid cloud flexibility to support each stage of your application lifecycle. And you can drive better business outcomes by moving on-premises data and applications to the cloud and back again without egress costs. In mobilizing data across clouds, you get the best of every cloud to power your innovation.
HPE Alletra is timeless
Just like HPE Primera and HPE Nimble Storage, HPE Alletra is engineered to eliminate forklift upgrades with a non-disruptive process. We're excited to extend the Timeless Storage Program to HPE Alletra to transform the entire ownership experience. No more forklift upgrades. Flat support pricing with direct access to experts. Everything you could think of to make sure your investments get better with age.
Summary
I'm incredibly proud and excited to be part of the extended HPE Alletra team. By powering all data from edge to cloud with the cloud experience, we're delivering the agility our customers need to unlock innovation and drive new business initiatives. This could not be achieved without a paradigm shift for data infrastructure.
Check out these resources for more more exciting news!
New blogs!
New videos!
Join us for an in-depth look at Unified DataOps, the exciting new vision for data management and infrastructure from HPE that accelerates digital transformation — edge to cloud.
UNLEASH THE POWER OF YOUR DATA — WITH UNIFIED DATAOPS FROM HPE
Wednesday, May 26, 2021
9am PT | 10am MT | 11am CT | Noon ET
Duration: 30 Minutes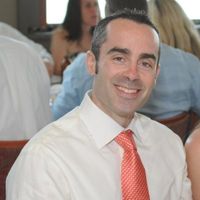 Matt Morrissey has been in the storage industry for over 20 years and has worked for HPE for the last 10. As a Senior Product Marketing Manager, he is passionate about showing the world how HPE Primera is redefining mission critical storage.
Connect with Matt on Twitter and LinkedIn.
Storage Experts
Hewlett Packard Enterprise
twitter.com/HPE_Storage
linkedin.com/showcase/hpestorage/
hpe.com/storage

Find out about the latest live broadcasts and on-demand webinars
Read more

Visit this forum and get the schedules for online Expert Days where you can talk to HPE product experts, R&D and support team members and get answers...
Read more
View all
© Copyright 2022 Hewlett Packard Enterprise Development LP