>

>

>

New HPE Alletra models eliminate tradeoffs for cri...
Forums

Blogs

Information

English

New HPE Alletra models eliminate tradeoffs for critical apps
Meet HPE Alletra 9000 and 6000: two new, purpose-built, all-NVMe storage systems with an impressive pedigree, designed to meet enterprise-class requirements at the core. The cloud-native data infrastructure systems offer 6-nines+ guaranteed availability, simplified deployment, and intent-based provisioning — all managed from anywhere and delivered as-a-service through HPE GreenLake. HPE recently changed the game for storage with the introduction of category-defining HPE Alletra to power data from edge to cloud. Inspired by the Greek word for electric, HPE Alletra flips the switch to a cloud experience for all your data. Since the announcement, the reception has been astonishing. But don't take my word for it — read the news: CRN, ArchitectingIT, and StorageReview are just a few examples.
Powered by Data Services Cloud Console, HPE Alletra consists of a portfolio of cloud-native data infrastructure solutions. The first two HPE Alletra models, the 9000 and 6000, are purpose-built, all-NVMe storage systems designed to meet enterprise-class requirements at the core. Together, they offer a unified experience, with 99.9999%+ guaranteed availability, simplified deployment, and intent-based provisioning — all managed from anywhere and delivered as-a-service through HPE GreenLake.
In this 2-part blog series, I'll first dive deeper into each of the HPE Alletra models. In part 2, I'll look at how their capabilities transform a common mission- and business-critical workload — SAP HANA.
HPE Alletra 9000 for mission-critical workloads
To understand HPE Alletra 9000, start with its heritage. It was born from the DNA of HPE Primera, which redefined expectations around mission-critical storage. By embedding the industry's most advanced AI for infrastructure, HPE InfoSight, HPE Primera became the only storage system on the planet that combined autonomous operations with extreme resiliency and performance. I say "was" because all of HPE Primera's features and capabilities are now present in HPE Alletra 9000.
The need for speed
Mission-critical means your apps can't just be fast some of the time. They need to be fast all of the time.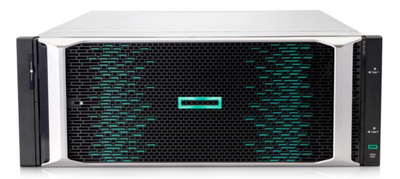 HPE Alletra 9000This is why HPE Alletra 9000 was designed for speed, kind of like an airplane. Think about it: when it comes to speed, pretty much nothing beats an airplane. I know it's been a while, but I'm pretty sure the last time I flew every single engine of the plane was being utilized and none were being saved for the return flight.
We took the same approach with HPE Alletra 9000. A multi-node, all-active architecture taps into more horsepower to reap the full benefits of NVMe. Not only do you get mission critical resiliency, but you're also freed from constant tuning because HPE Alletra 9000 delivers balanced I/O across all physical components.
The best things come in small packages
If HPE Alletra 9000 was a superhero it would be Antman. That's because HPE Alletra 9000 is a performance beast in a teeny, tiny, footprint. In just 4U, it's capable of pumping out over 2M IOPs all at sub-millisecond latency. That's 3x the performance density of the self-proclaimed "world's fastest storage array." By setting a new bar in density and performance for mission-critical workloads, HPE is delivering a boatload of benefits to our customers. Not only do you get predictable performance for consolidating both traditional and modern workloads, but you achieve this with fewer moving parts. No more racks of storage to maintain, tune, and provision. With much less capacity required up front, HPE Alletra eliminates overprovisioning while significantly reducing power and cooling costs.
No time for downtime
While some storage vendors will only talk 9's of availability when replication is deployed to a second storage array, we wanted to do something extra special for HPE customers. HPE Alletra 9000 is optimized for mission-critical workloads, delivering 100% availability. We stand behind this commitment for both HPE Alletra 9000 and HPE Primera, the only storage systems to offer 100% data availability guaranteed as a standard benefit. Most importantly, this means no extra hardware or software required to replicate to a second system, no hidden terms, and no 30+ pages of best practices to follow.
Of course, for an application never to go down, it has to be protected against every eventuality – including natural disasters or acts of sabotage – and that means application data needs to be located in multiple places. This is why we architected HPE Alletra with the optimal set of built-in data protection capabilities for any RTO or RPO requirement. The crown jewel of our replication portfolio is Active Peer Persistence, which provides automatic site failover across active sites. Active Peer Persistence can serve reads and writes on a given volume from both sites simultaneously. Not only does this optimize application latency (reads are always served locally), but it also saves you from the hassle of managing VM or database instance affinity to a site. And best of all, storage failover and failback are automatic and completely transparent to your hosts and apps.
HPE Alletra 6000 for business-critical workloads
HPE Alletra 6000 also has an incredibly strong pedigree, as it was born from the heritage of HPE Nimble Storage. For the last 10 years, HPE Nimble Storage has been redefining the storage landscape with game-changing innovations across intelligence, predictive support, and hybrid cloud. All of that richness from HPE Nimble Storage carries forward to HPE Alletra 6000 along with so much more.
Work smarter, not harder
Industrial engineer Allen F. Morgenstern originally came up with this efficiently worded phrase in the 1930s because he wanted to increase the ability of people to produce more with less.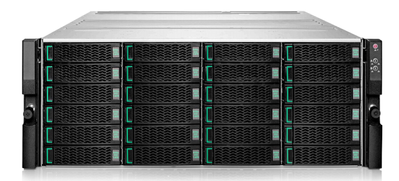 HPE Alletra 6000The same guiding principle holds true for storage for business-critical workloads. It has to begin with efficiency. HPE Alletra 6000 (like HPE Nimble Storage before it) delivers fast, consistent performance with industry-leading data efficiency. The secret sauce is the OS as it optimizes data layout on the media. As data is written or updated on the array, the changes are processed for data reduction first and then written to the media in large stripes. This unique and ultra-efficient approach opens up numerous advantages. One example – it frees HPE Alletra 6000 to run with multiple compression algorithms which compress data depending on resource utilization. What's more, HPE Alletra 6000 is smart enough to know when to use the different algorithms, further increasing the system's efficiency.
Every second of every day, HPE Alletra 6000 achieves a near-perfect balance between efficiency and high performance. This is why it consistently delivers superior price-performance backed by a resilient system that businesses can count on.
No knobs to tune
In the old days, the more control you had over a storage system to optimize and tune performance the better. Traditional storage was highly configurable, and, like the control room in a recording studio, you needed a ton of expertise to operate it. For storage, there were always dials and knobs for stuff like volume attributes, port flags, service levels, thin provisioning and deduplication, workload planning, and more. Modern storage architecture has progressed to a point where all this detailed control actually inhibits agility and raises costs. A shining example of how far we've come with technology, HPE Alletra 6000 has no knobs to tune, relying instead on automation and always-on data services to do a better job than traditional storage in a fraction of the time.
Battle tested and proven 99.9999% availability
HPE Alletra 6000 is built on this battle tested and proven architecture. For over a decade, HPE Nimble Storage has a proven track record of delivering 99.9999% data availability. That's a fact based on customer data as opposed to crazy math simulations that other vendors use. And each HPE Alletra 6000 array comes with a 6-nines availability guarantee as a standard benefit for every customer.
One contributing factor to our proven availability is Triple+ Parity RAID, which can handle three simultaneous drive failures with zero performance impact. Triple+ Parity RAID allows a system to have zero data integrity issues even if every single drive in the system is experiencing sector read errors in parallel and three drives have been lost! That's a level of resiliency against time-correlated errors that no other array in the world even comes close to offering.
Get the right fit every time
IT requirements can vary widely from one week to the next, or even from hour to hour. HPE Alletra 6000 enables a scale-to-fit design which means you can easily access exactly the resources you need, when you need them. For example, you can grow the capacity and performance of a running system independently and non-disruptively. Also, you can scale out to four arrays in parallel in a single cluster to achieve linear performance and capacity scaling. There's no need to rip and replace anything, no complex silos to manage—just storage that always provides the right fit even in the face of evolving and changing requirements.
Run any app with no tradeoffs
Storage infrastructure cannot be one-size-fits-all because today's data requirements are far too dynamic and diverse. This is why we took a unique approach with HPE Alletra 9000 and 6000, designing them with purpose-built architectures intended for complementary use cases.
Mission critical means critical. Downtime for apps like online transaction processing (OLTP), database workloads, containers, and mixed workloads can be devastating to a business, causing severe and possibly permanent consequences. With an all-active architecture designed for unconstrained scalability, HPE Alletra 9000 is ideal for consolidating big and unpredictable traditional and next-generation apps that can never miss a beat.
Business-critical databases or medium scale virtual machine (VM) and container farms need fast, efficient, cost effective storage solutions. And with an ultra-efficient architecture for superior price-performance, the HPE Alletra 6000 is ideally suited.
Best of all, we've engineered all HPE Alletra models for a cloud-native design by tightly coupling them with our Data Services Cloud Console. This means through one consistent data experience you can easily meet any SLA requirement with the right performance, resiliency, and efficiency to exactly match the needs of each application or container. No tradeoffs.
I'll be back soon to talk about how these HPE Alletra models deliver in a real-world setting. In the meantime, you can learn more about HPE Alletra and our Data Services Cloud Console in this Chalk Talk posted by my colleague, Calvin Zito. Matt Morrissey has been in the storage industry for over 20 years and has worked for HPE for the last 10. As a Senior Product Marketing Manager, he is passionate about showing the world how HPE Primera is redefining mission critical storage. Connect with Matt on Twitter and LinkedIn.
Storage Experts
Hewlett Packard Enterprise
twitter.com/HPE_Storage
linkedin.com/showcase/hpestorage/
hpe.com/storage

Find out about the latest live broadcasts and on-demand webinars
Read more

Visit this forum and get the schedules for online Expert Days where you can talk to HPE product experts, R&D and support team members and get answers...
Read more
View all
© Copyright 2021 Hewlett Packard Enterprise Development LP