>

>

>

The new HPE StoreFabric M-series SN2010M: Simple, ...
Forums

Blogs

Information

English

The new HPE StoreFabric M-series SN2010M: Simple, efficient and high-performance Ethernet switch
The SN2010M Ethernet switch is the latest addition to the HPE StoreFabric M-series product line. This half-width switch has the same storage-aware features as its brethren, making it ideal for top-of-rack (ToR) deployments in primary and secondary storage or hyperconverged environments.
The switch is packed with 18 ports of 1/10/25GbE with 4 splittable ports of 40/100GbE and has enough switching capacity to deliver up to 1.7Tb/s of aggregate throughput.
Concerned about latency? The entire M-series including the SN2010M deliver latencies of less than 300ns port-to-port.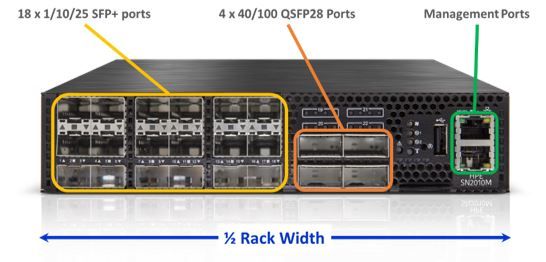 HPE StoreFabric M-Series SN2010M Spectrum™ based Ethernet switch system

HPE StoreFabric M-Series SN2010M Ethernet switch with Rack Mount
You can see here how the SN2010M's unique form-factor offers full redundancy in 1RU by placing two half-width switches side by side.

Ethernet switching as a storage fabric
As a storage switch, administrators will benefit from the scalable performance and efficiency as well as the simplicity of deployment and management. As you become a more experienced user, you'll realize that using the right networking to interconnect software-defined storage (SDS) and hyperconverged infrastructure (HCI) clusters is critical to reap the promised benefits in the most efficient way possible. Not only are you more cognizant of using a dedicated network with predictable and guaranteed performance to handle storage and HCI data flows, but you are also better able to realize how using the right switches in the network fabric can significantly impact the efficiency of your storage and hyperconverged infrastructures.
Many users have turned to SDS and HCI to consolidate legacy data center silos into a modern data centers consisting of racks of server nodes (each node being compute, storage or hyperconverged). With SDS and HCI, existing x86 servers, often equipped with 10GbE network interfaces, continue being used as part of the infrastructure. As such, racks are commonly configured with 16 x86 server nodes, each with 10 or 25GbE links to the network. With a half-width switch, administers can put two units side-by-side, achieving required network connectivity and high availability (HA) in a single rack unit space. The commonly used 16-node server cluster would achieve HA using 32 out of 36 device ports of two SN2010s, or near-perfect sizing of the switch to common deployment model.
Before unique half-width switches 48+4-port switch had to be install, which left more than half of the switch ports unutilized. To make the situation worse, switch redundancy for high availability, which is the case for most enterprise deployments, further exacerbated the under-utilization was exacerbated. Including wasted rack space, power consumption, and cooling. For example, two typical switches would have 96 10GbE ports + 8 uplink ports, but a typical SDS or HCI cluster is comprised of 16 nodes and would only use 32, or one third, of those ports. In deployments with confined space and stringent power and airflow requirements, the legacy TOR switches simply turned out to be unusable.
The following simple comparison is done with a 2U storage or HCI deployment and redundant switches as described above. The rack efficiency achieved by the half-width M-series switch is a significant 33% better.

Here's an explanatory anecdote: If the user does not use all the 18 device ports, they can be utilized to connect management interfaces on the servers at 1GbE. In this case, extra savings will be achieved by eliminating the need for a dedicated 1GbE management switch.
Uses cases for the SN2010M
While the SN2010M was designed with storage-aware features to make it the ideal switch for primary and secondary storage and hyperconverged environments, the low latency and fair bandwidth allocation provides superior performance for a variety of application data flows. This includes streaming video and other media and entertainment (M&E) use cases, banking and financial services and with support for multiple tunneling protocols can enable increased reachability within virtualized data centers.
Media and entertainment
Media production companies are moving away from currently used Serial Digital Interface (SDI) technologies to better address the explosive demand for bandwidth and performance and are turning to affordable Ethernet interconnects. Adoption of 4K and 8K Ultra-High-Definition (UHD) media streams require higher performance and lower latency and due to the time-sensitive nature of video, media endpoints are particularly sensitive to network jitter. Mobile video and outdoor broadcast units typically have stringent space and power constraints that are increasingly difficult for legacy data-center switching products to accommodate. This opens a whole new set of operating requirements including power, cooling, space and physical robustness.
Traditional vendors tend to simply reposition their vertically integrated and black-box data center Ethernet switches to the media and entertainment market. Since these switches are purpose-built specifically for the data center racks, they are unable to meet the physical and digital constraints imposed by other media use cases. Legacy data center Ethernet switches introduce jitter, drop packets during bursty traffic conditions and 10GbE is no longer sufficient to support 4K and 8K UHD media streams and therefore are not a good fit for broadcast traffic.
Major media companies are adopting Ethernet technologies to address the increasing need for high bandwidth, high performance and low latency, at an affordable price point. The M-series SN2010M with its compact form factor, low-power footprint and robust data path is ideal for M&E interconnect applications.
Scalable PTP support
M&E as well as financial applications are increasingly relying on Precision Time Protocol (PTP) to accurately timestamp packets and synchronize endpoints. The M-series SN2010M supports scalable PTP on both Layer-3 routed interfaces as well as on any number of routed and non-routed VLAN interfaces. It can act as a PTP master for over 1000 endpoints. This improved scale is especially useful for topologies with many endpoints that need accurate timing synchronization.
Containerized and Docker applications
Another use case example is the support for virtual machines (VMs) and Docker containers which enable software to be run in isolation on the switch itself. This provides faster and secure delivery of customized applications, giving you a unique edge to quickly integrate and improve development cycles and share storage resources between containers.
M-series switches allow containerized applications with full access to an SDK to run on the switch system itself. With this infrastructure in place, lightweight applications such as media endpoint registration and discovery or element control and configuration can be hosted directly in the fabric without requiring an additional external server infrastructure.
Delivering what you need when it comes to storage fabric
The migration to SDS and HCI is moving into the mainstream. As each technology matures, it's clear that the rapidly growing market has created the need for optimized 10/25GbE Ethernet switches for efficient, high-performance deployments. The good news is that the new M-series SN2010M meets these requirement, making it the perfect switch for both HCI and for SDS clusters connections and the ideal fit for an Ethernet storage fabric.
The same features set it apart for storage deployments can assist in deploymets in a variety of uses cases,. These features include the lowest latency of any mainstream switch, zero packet loss (no avoidable packet loss, for example, due to traffic microbursts) and delivery of performance fairly and consistently across any packet size, as well as mix of port speeds or a combination of ports assist in deployments in a variety of use cases. The SN2010 is available from HPE now.
Take a deeper dive and learn more
Blogs:
White papers:
Video:
TekTalk webinars:
Web:
---
Meet

Around the Storage Block blogger Faisal Hanif, Product Management, HPE Storage and Big Data. Faisal is part of HPE's Storage & Big Data business group leading Product Management & Marketing for next generation products and solutions for storage connectivity, network automation & orchestration. Follow Faisal on Twitter @ffhanif

Find out about the latest live broadcasts and on-demand webinars
Read more

Visit this forum and get the schedules for online Expert Days where you can talk to HPE product experts, R&D and support team members and get answers...
Read more
View all
© Copyright 2022 Hewlett Packard Enterprise Development LP