>

>

>

>

CPG failed caused by copy space grow failed
HPE 3PAR StoreServ Storage
Forums

Blogs

Information

English
Topic Options
Mark Topic as New

Mark Topic as Read

Float this Topic for Current User

Bookmark

Subscribe

dennischen
Advisor
Mark as New

Bookmark

Subscribe

Mute

Email to a Friend
‎09-07-2018 06:17 AM
‎09-07-2018 06:17 AM
CPG failed caused by copy space grow failed
Hi,
I have a 3par 8400 storage, A CPG was failed caused by the lack of space to grow. In the IMC and SSMC, I can see the CPG NL_r6 was failed.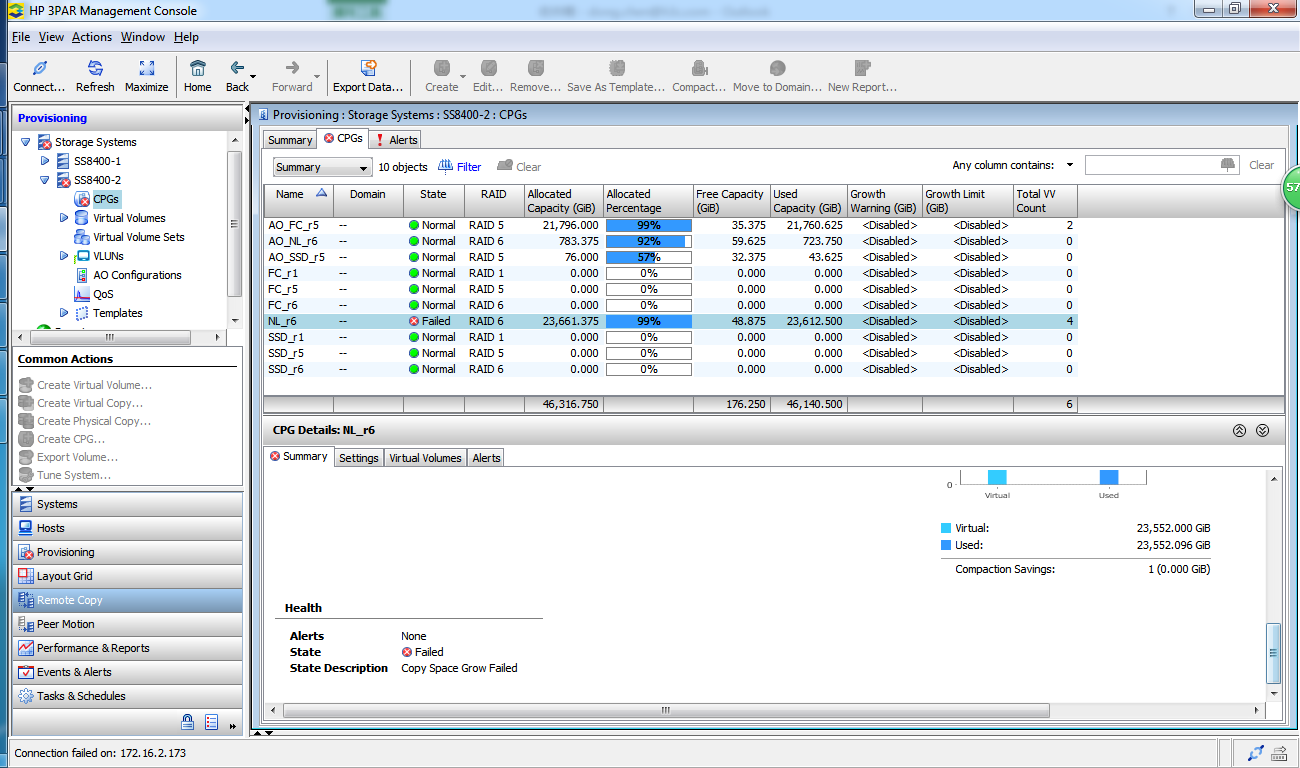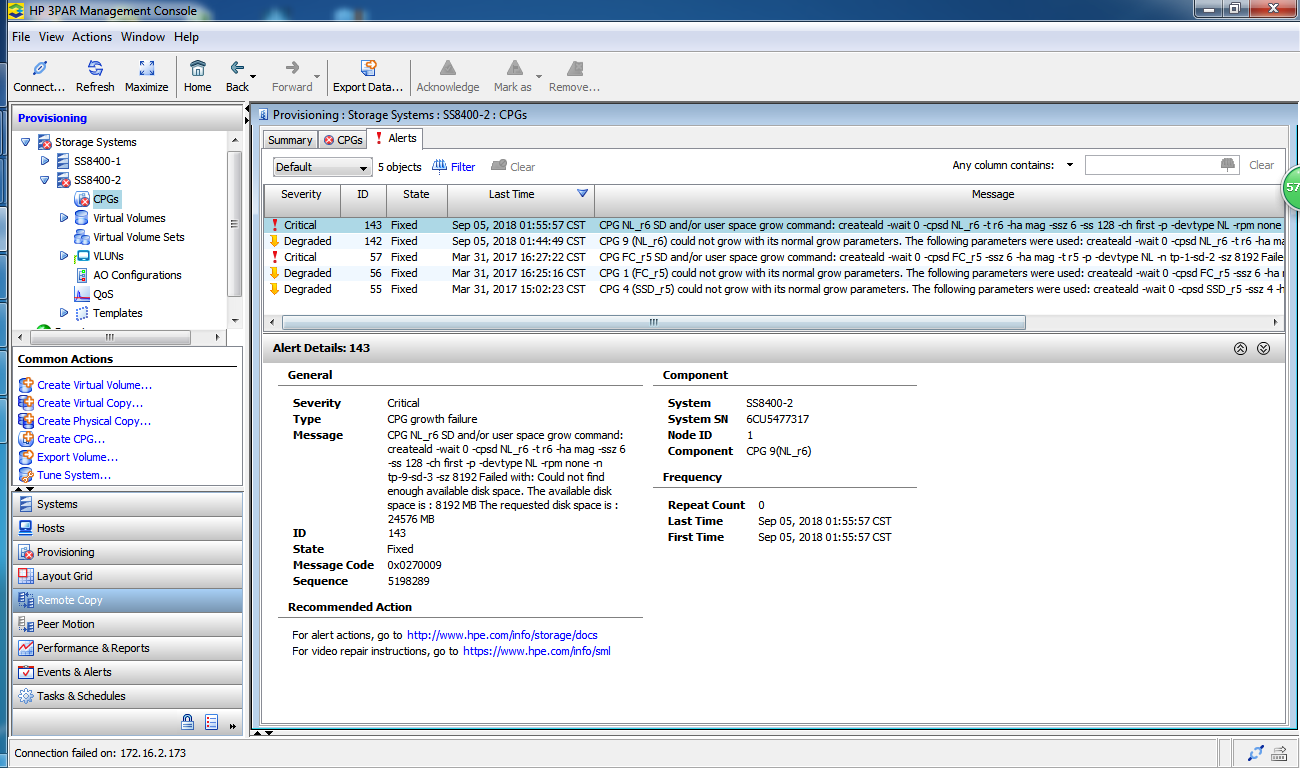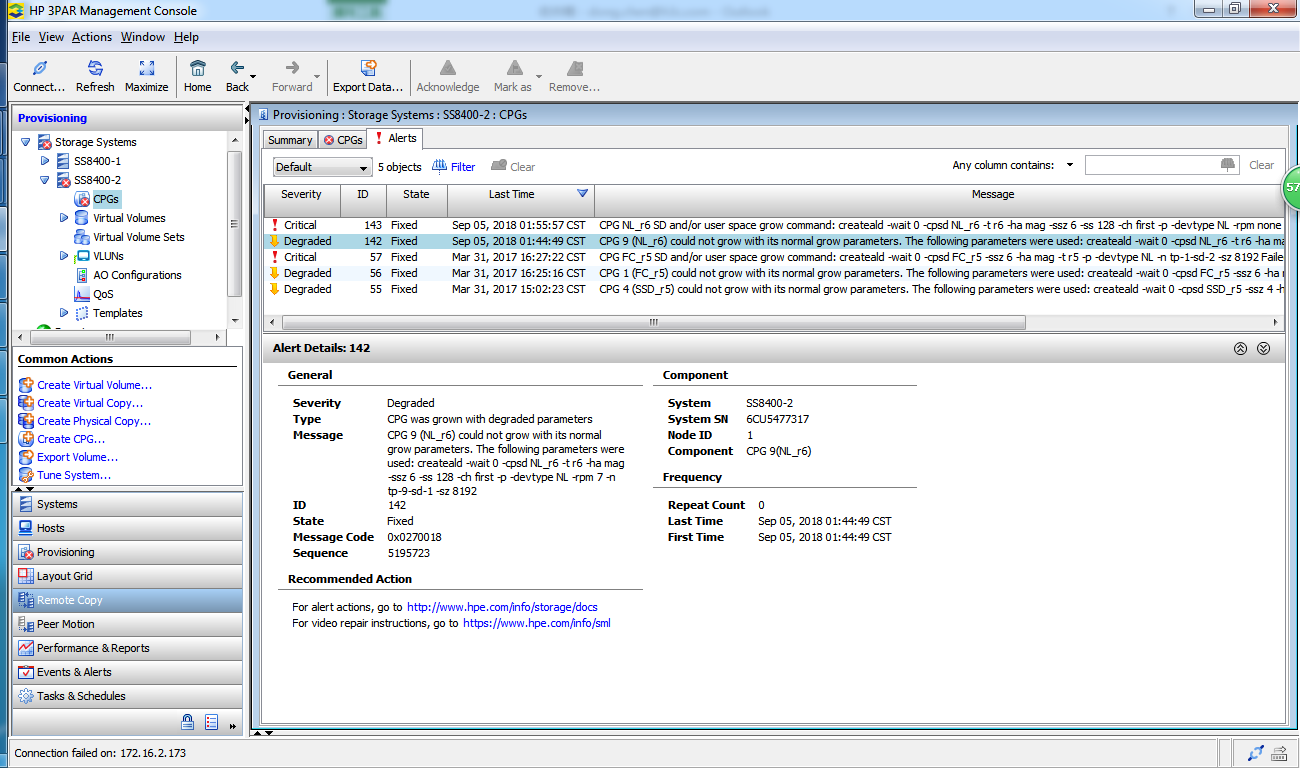 Then, I deleted some snapshot in the NL_r6 CPG, and compact the NL_r6 CPG, in order to get some more space. Waiting for the free chunklet growing, but the CPG is still failed...
Someone suggests the setsysmgr restart might work... Is it necessary restart the sysmgr process to fix this problem? and NOT sure is there any risk while doing the sysmgr restart in production.. Thanks for any advise.
SS8400-2 cli% showpd -c -p -devtype NL
-------- Normal Chunklets --------- ---- Spare Chunklets ----
-- Used -- -------- Unused -------- - Used - ---- Unused ----
Id CagePos Type State Total OK Fail Free Uninit Unavail Fail OK Fail Free Uninit Fail
72 3:0:0 NL normal 3611 3089 0 77 25 0 0 0 0 420 0 0
73 3:1:0 NL normal 3611 2997 0 40 154 0 0 0 0 420 0 0
74 3:4:0 NL normal 3611 2997 0 42 152 0 0 0 0 420 0 0
75 3:5:0 NL normal 3611 3089 0 77 25 0 0 0 0 420 0 0
76 3:8:0 NL normal 3611 3089 0 77 25 0 0 0 0 420 0 0
77 3:9:0 NL normal 3611 2997 0 41 153 0 0 0 0 420 0 0
78 3:12:0 NL normal 3611 2997 0 42 152 0 0 0 0 420 0 0
79 3:13:0 NL normal 3611 3089 0 77 25 0 0 0 0 420 0 0
80 3:16:0 NL normal 3611 3089 0 77 25 0 0 0 0 420 0 0
81 3:17:0 NL normal 3611 2997 0 42 152 0 0 0 0 420 0 0
82 3:20:0 NL normal 3611 2997 0 43 152 0 0 0 0 419 0 0
83 3:21:0 NL normal 3611 3089 0 78 25 0 0 0 0 419 0 0
------------------------------------------------------------------------------------------
12 total 43332 36516 0 713 1065 0 0 0 0 5038 0 0
© Copyright 2022 Hewlett Packard Enterprise Development LP