>

>

>

What do you need to take your next step in AI?
Forums

Blogs

Information

English

What do you need to take your next step in AI?
AI is in production and delivering value across multiple facets of our everyday lives. Organisations such as Gartner finds that even during a challenging 2020, 77% of companies using AI were increasing their investment or maintaining it, rather than cutting back.
But if you aren't using AI at scale yet, it can feel like a distant goal. As if you're on the outside, with no obvious way in.

The early stages of your AI journey are often the toughest – and not just because of technological complexity.
At HPE, we have helped customers in a range of industries from financial services to retail, and we see a recurring series of challenges.
Data scientists are hired and need access to an AI platform, so they can develop and experiment with models before deploying them into production. AI models have many purposes, such as applying Natural Language Processing to insurance claims, or using computer vision address loss prevention in retail.
But the issues arise when data scientists need to work in an ecosystem of stakeholders at an enterprise. Everyone in that ecosystem needs to speak the same language – because AI is a team sport. However, we often see:
Data scientists talking to IT about the AI frameworks they want to access – such as TensorFlow, PyTorch, MXNEt – and accelerated compute platforms to train their models.
The IT department being mainly interested in "non-functional requirements" such as the server platform, CPU, GPU, storage, security, and manageability.
There is also the challenge of setting up your first AI projects. To get to value quickly, you need to reduce trial and error and bring AI models smoothly into production. Having access to the right software and knowledge can be just as important as raw compute performance – ideally, you need both.
To address these issues, HPE has developed the HPE Accelerate AI Starter Kits. They are pre-built, NVIDIA-Certified Systems with flexible options to help you meet 99% of use cases out of the box. And they're designed to provide a simple, powerful way to progress your AI journey.
Here's how they help.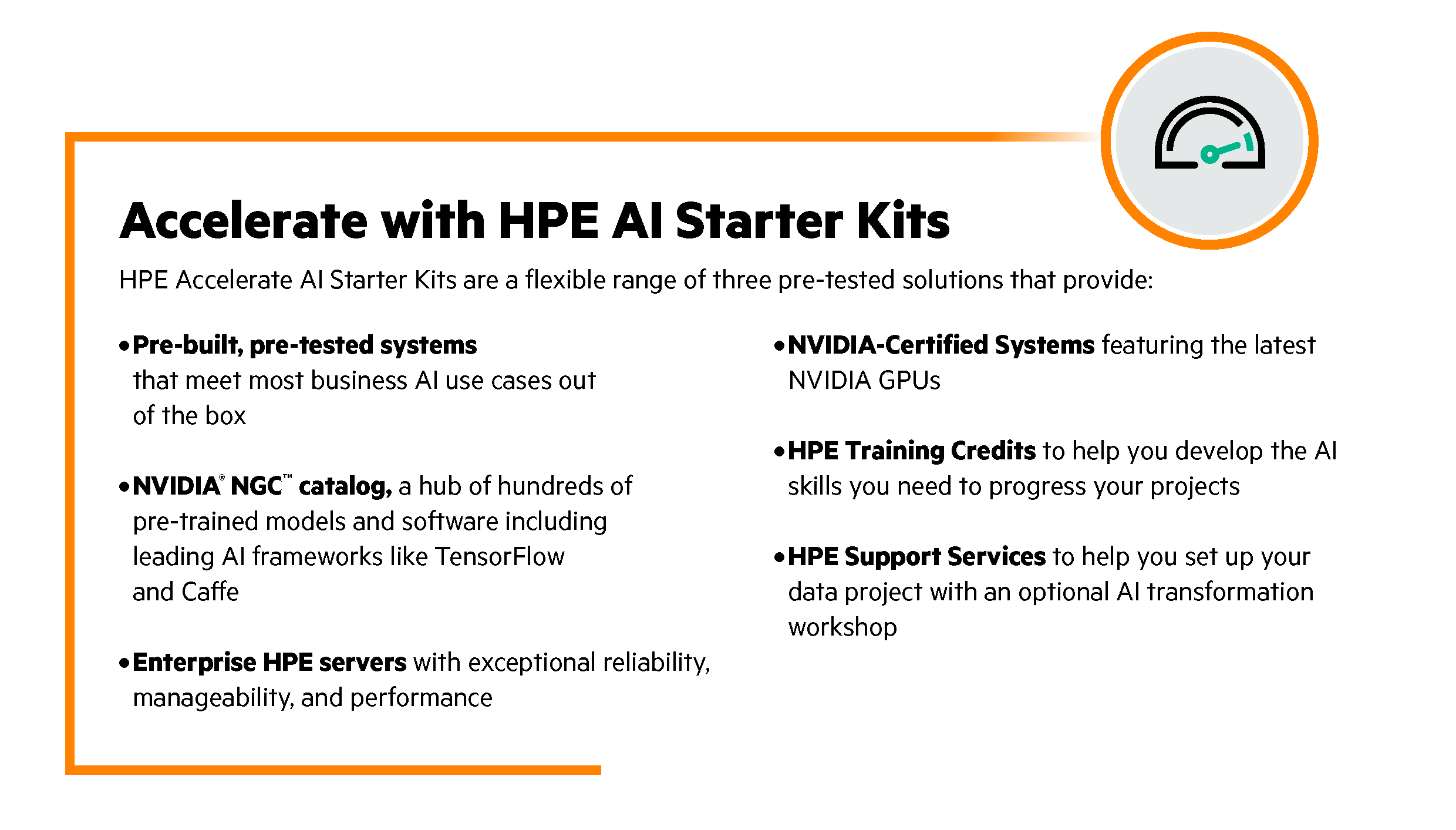 We created HPE Accelerate AI Starter Kits to provide clarity in situations like the one I described above.
Bringing in new infrastructure can involve many different stakeholders, from product managers in the line of business and the data scientists that support them, to the IT team that needs to deploy, manage and support. It's not just about meeting one set of needs – performance, reliability, or management – because other departments have AI priorities too.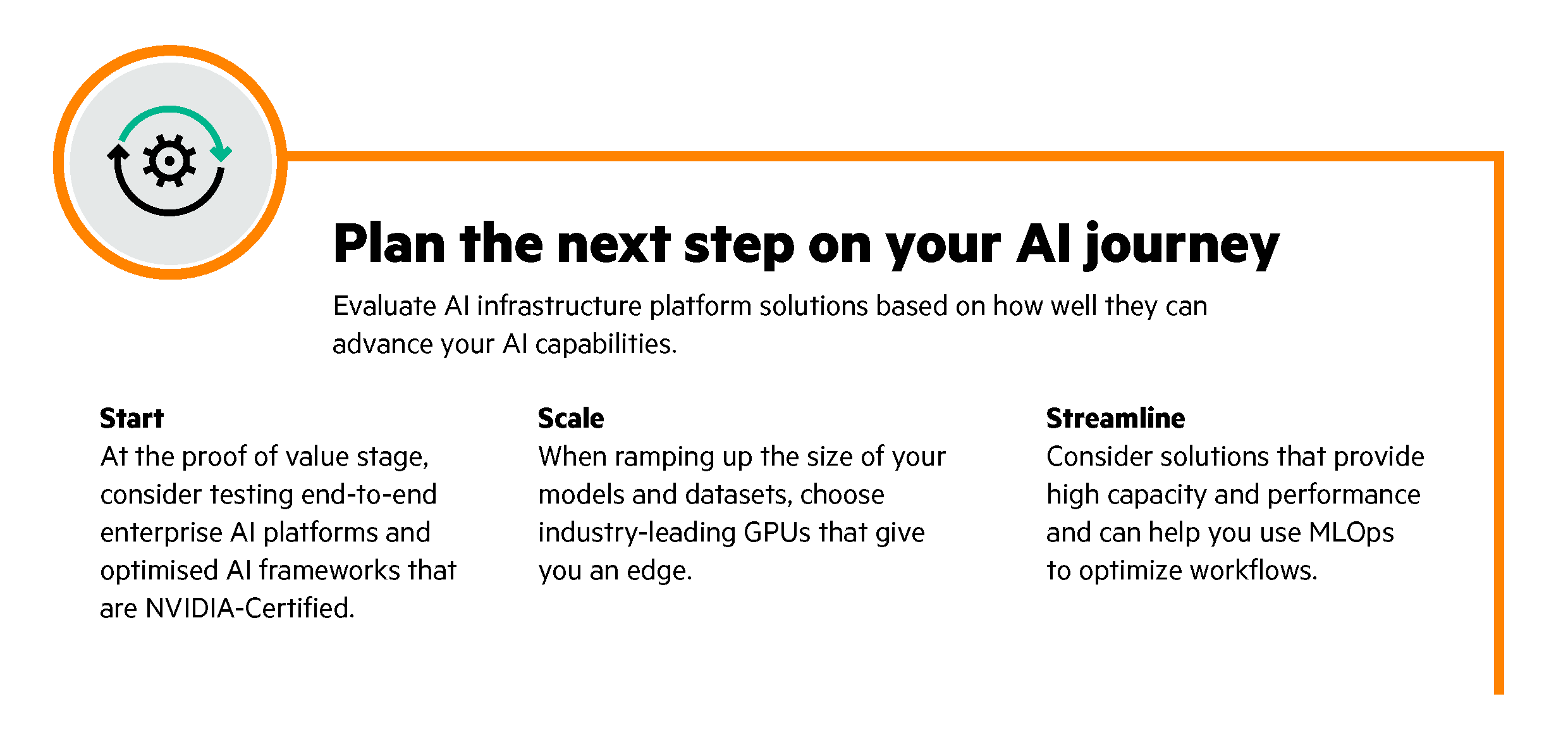 HPE Accelerate AI Starter Kits are designed to tick ALL the boxes and quickly take you to the next stage of your AI journey:
A lot of the hard work is done for you. These are pre-configured, pre-built, and pre-tested solutions. HPE will install and deploy your kit for you.
You get training to help you deliver your AI project. AI Starter Kits are not just hardware. They come with HPE Training Credits, so you can access HPE education programs to help you develop the AI skills you need. If you need anything else, HPE Pointnext has a whole suite of services to help you reach your goal.
There's a kit designed for your use case, with three flexible options to choose from. The Entry Kit is your path into AI for inference and training. The Training Kit is for more advance AI model training. And if you are further into your AI journey, the ML Ops POC Bundle streamlines your AI project from development to production.
This is enterprise-ready AI infrastructure. It's built on dependable HPE Apollo and HPE ProLiant Gen10 Plus servers with NVIDIA GPUs and certified to run software from the NVIDIA® NGC™ catalog. The NGC catalog is a hub of industry-standard AI frameworks, models, and containers that are optimized to run AI workloads. The library includes TensorFlow, Caffe, PyTorch, CUDA, and many others. So, you know you can run the AI software you need optimally, on systems that fit right into today's IT environments.
With these flexible options, you've got everything you need to take your next step in AI – the infrastructure, the skills, and the expert support.
So, if you weren't confident about getting into AI before, you can be now.
Keep accelerating with NVIDIA technologies
Being certified in the latest NVIDIA technologies is an important feature of these AI solutions. AI tasks such as deep learning run best on parallel computing accelerators such as GPUs, and NVIDIA GPUs lead in AI performance benchmarks and the worldwide market.
The HPE AI Training Kit features the NVIDIA A100 Tensor Core GPU, the flagship processor built on NVIDIA Ampere architecture to provide up to 20X higher performance than the previous generation. And the NVIDIA A30 Tensor Core GPU in the Entry Kit provides a great balance for AI training and inference.
All solutions are certified by the NVIDIA-Certified Systems™ programme, which means they're proven to deliver the performance, manageability, security, and scalability that today's AI projects need.
So, while they're named "AI Starter Kits", don't underestimate what these solutions deliver.
If you want industry-leading performance, you've got it – and you'll have everything you need to turn that performance into value, too.
Your confident next step in AI
So, how have things turned out for HPE customers who have adopted our AI Starter Kits? The data scientists have everything they need to develop, deploy, and scale their AI solution. IT teams get reliable, manageable and scalable infrastructure that fits their existing environment.
And their businesses have begun their digital transformation. Many organisations that wanted to get into AI now have valuable AI projects in production.
If you need everyone talking the same language so you can take a confident next step in AI, click below to learn more about HPE Accelerate AI Starter Kits.
Learn more about HPE AI Starter Kits solutions
---

Saleh Al-Nemer
Hewlett Packard Enterprise
twitter.com/hpe
linkedin.com/company/hewlett-packard-enterprise
hpe.com/sa

Find out about the latest live broadcasts and on-demand webinars
Read more

Visit this forum and get the schedules for online Expert Days where you can talk to HPE product experts, R&D and support team members and get answers...
Read more
View all
© Copyright 2022 Hewlett Packard Enterprise Development LP