>

>

>

Everything Storage at Discover Virtual Experience ...
Forums

Blogs

Information

English

Everything Storage at Discover Virtual Experience – and you can get it all for free!
One of my favorite events every year is HPE Discover in Las Vegas. It's always packed with sessions, announcements, demos, and the great community of customers, colleagues, and partners I look forward to connecting with. I'm disappointed that we won't be physically together for Discover, but I think we will have the next best thing, HPE Discover Virtual Experience (DVE). On the VERY positive side, attending DVE is absolutely FREE.
Read on to learn what storage will be doing at DVE.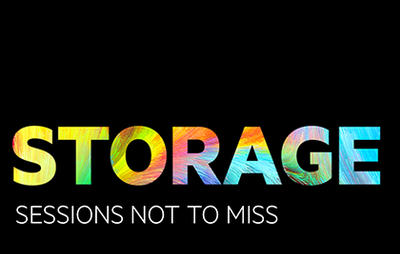 So the first thing you need to do is go register for HPE Discover Virtual Experience. Did I mention that it's free to all participants? I guess I did! I just registered and it took me less than 2 minutes.
One thing that is important to know is that there will be several live sessions scheduled for audiences in the Americas, APJ, and EMEA. You can see the agenda for each region here. For example, Anotnio's keynote is June 23 at 8 AM PDT for AMS, June 24 at 11 AM CAT for EMEA, and June 24 at 12 PM JST for APJ. Be sure to check the agenda for the other live sessions that will occur between June 22-24. (If you absolutely can't attend those live sessions, rest assured that they will be availble on-demand through August.)
Using the Content Catalog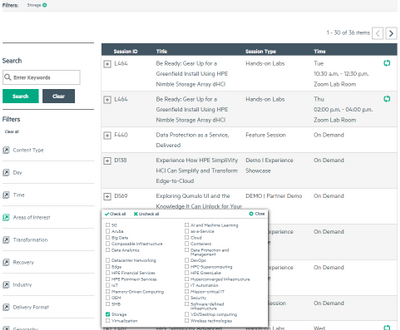 I've been playing around with the DVE Content Catalog. It is the same catalog that we've used for Discover in the past, but here are a couple of pointers to help you easily find the right sessions, demos, Hands on Labs or whatever it is you're looking for.
The easiest way to find what is available is to go to the Content Catalog. On the left-hand side, you'll see lots of options to filter - for example content type, day, time, areas of interest, and more. You can use the filters to show the storage sessions by clicking on Areas of Interest and pick Storage (because I know that is what you all REALLY care about!)
Another way to find Storage content is to use the Search box that is above the filters on the left side of the page. You can search for general topics like "storage", "containers", "HCI', session number, and so on. If you want to see specific products like HPE Primera, SimpliVity, Nimble Storage, etc, you can also search for those topics, too.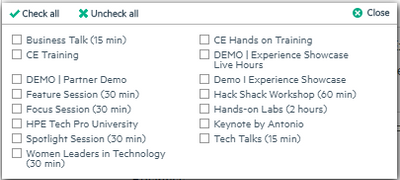 One last thing before we move on to my Storage recommendations. When you're on the Content Catalog and click on Content Type, the image I've included to the left is what you'll see. You can see all of the different kinds of content that is available and some include how long they will be. I want to point out that Feature, Focus, and Spotlight sessions are a maximum of 30 minutes. These sessions in Las Vegas would have been 60 minutes. The Event team understands that watching an event virtually isn't the same as being there, so our goal is to give you the most information in the shortest amount of time. These shorter content "chunks" should also help you to schedule viewing, even with your busy schedule.
Links to get you right into storage
For the rest of my article, I'll give you details on sessions, Hands-on-Labs, and demos for storage. Many of us want to just jump right into it, so here are links that will take you to the Content Catalog and show you the meat of the storage content at DVE:
So with all that said, let me now give you the play-by-play details.
Storage sessions not to miss
I'm searching the Content Catalog now, and I can use filters to get you to a link that will take you directly to the content I'll share with you now. This link will show you all of the storage "Business Talks" and "Feature Sessions". This URL will also show you sessions from partners like Scality, Qumulo, and others. My list focuses on the HPE sessions that are available on demand starting June 23:
Hands On Labs
We'll also have "Hands on Labs" that you can participate in. Here's a link to all of the storage HOLs. I don't know what the capacity of these are, but I know in Las Vegas, they filled up quickly. If you want to be a part of these, I highly recommend that you sign up ASAP! These have different days and times on June 23-25 so pick what works, but don't wait. Here are the HOLs:
L464: Be Ready: Gear Up for a Greenfield Install Using HPE Nimble Storage Array dHCI
L467: HPE SimpliVity Advanced Features
L468: Have a Minute? Failover Your Secondary Site With HPE SimpliVity With RapidDR
L463: Implementing HPE Primera With Windows
L466: Managing an HPE SimpliVity Environment
L465: New to HPE InfoSight for HPE's Nimble Storage, Primera and 3PAR storage?
Demos Live Hours
Like a DIscover event in Las Vegas, DVE will have demos for you to learn more. You can watch demos at any time on demand but there are special "live" hours for each region, and those are between June 23 -25. During these times we'll have experts on hand to help answer your questions:
There are six demos for storage and here's a link that will show you the storage demos. The demos include:
Psssst... Want to Know A Secret?
Discover Live Experience is a multi-week event and starting July 6th, there will be more Storage sessions that will pushed out for your Storage enlightenment! That will include a live Storage Spotlight session with our new SVP and GM of HPE Storage, Tom Black. The details for what we'll have that week aren't finalized yet, but I'll update this article with all of those details once we have them. - In the meantime, mark your calendars for the week of July 6th.
Beyond Storage (Does anything really exist beyond Storage?)
If you're interested in topics beyond Storage, you can explore the full line-up of sessions in our content catalog and build your own agenda. Be sure to check back often, as we add new sessions and demos daily.
Did I remember to tell you that registration for HPE Discover Virtual Experience 2020 is FREE? – And by the way, with your registration, HPE will donate $10 to your choice of one of 10 featured causes, so join us and give back to organizations helping people, businesses and communities around the world recover from the COVID-19 crisis. Read more about these organizations and the great work they are doing to support COVID-19 recovery around the world. (Terms and conditions apply.)
Starting June 23rd, please log in to the HPE Discover Virtual Experience and search by Session ID (listed above) or by area of interest to view a session.
We look forward to seeing you virtually at HPE Discover 2020!
Featured articles:
About The Storage Godfather (formerly HPEStorageGuy)
Calvin Zito, on November 16, 2019 marked 36 years with HP/HPE. He has worked in HPE Storage since 1990. Calvin was recently recognized as a 9 time VMware vExpert. As an early adopter of social media and active participant in communities, he has blogged for over 10 years. You can find him on: Twitter as @CalvinZito or contact him via email.

About the Author
SarelNaude1
I have been in the IT industry for over 25 years, gaining skills and expertise in different areas of technology with a strong focus on storage solutions in particular. My experience has allowed me to watch the industry change over the past 25 years and this has had a huge influence on the approach I take when it comes to recommending the right solutions to my clients.

Find out about the latest live broadcasts and on-demand webinars
Read more

Visit this forum and get the schedules for online Expert Days where you can talk to HPE product experts, R&D and support team members and get answers...
Read more
View all
© Copyright 2021 Hewlett Packard Enterprise Development LP